esports
ESL One Hamburg 2019
Key Takeaways
Next stop on the itinerary: ESL One Hamburg 2019 (25th - 27th October)
A review of ESL One Hamburg 2018 and a preview of the upcoming event
12 teams battling it out for $300,000 in prize money at the Barclaycard Arena in Hamburg
Dive into the world of Dota2
The teams: Virtus.pro, TNC Predator, Vici Gaming, Ninjas in Pyjamas, Team Liquid, beastcoast, Quincy Crew, Gambit esports, Vikin.gg, Fighting PandaS, Wind and Rain, Alliance
ESL One Dota2 Academy delivered by DHL
Tuesday
OMG! My tires are spinning hot! The action is about to get underway again. This will be the last Dota2 extravaganza of 2019 on the big ESL One show stage. And what better host city than Hamburg? Are you as hyped up as I am? If not, you soon will be when I tell you what's coming up.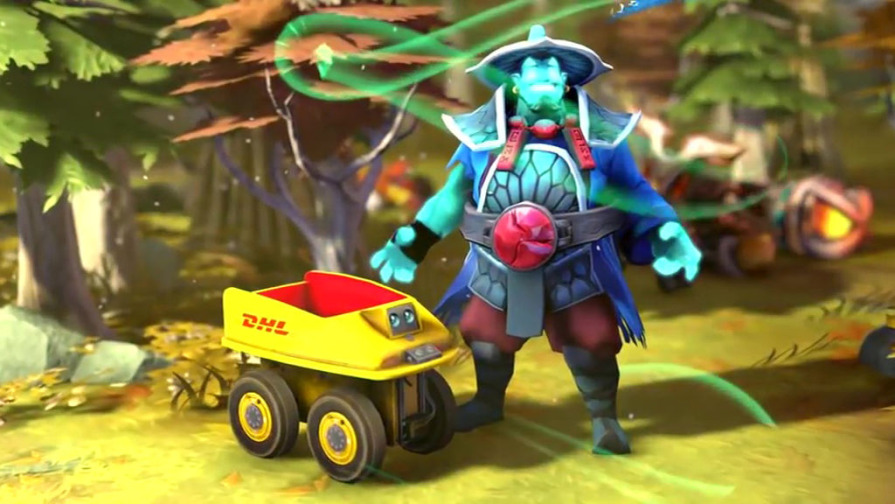 Dive into the world of Dota2
"Dive into the world of Dota2" is the banner headline for ESL One Hamburg 2019. And when I look at the great side-events they have planned, I'm convinced that we are in for a big occasion, including away from the main ESL One tournament.
For the mobile gamers among us, there is the Clash Royale World Championship to look forward to. Also sharing the billing is the inaugural Dota Underlords tournament with a prize pool of €5,000.
But I am obviously also looking forward to the Cosplay Contest and the beautiful and creative costumes that will be on display. Maybe I'll even dress up myself... Do you have a good idea for a suitable outfit?
You can, of course, also find me at the DHL booth, where you can pick up the usual bag of goodies. So be sure to stop by.
And what would a Dota2 tournament be without my buddy SirActionSlacks? I think you will be surprised by what we have got planned for you this time. 😉
ESL One Hamburg 2018 – Review
But before we start, let's take some time to look back at last year's tournament. I still remember it as if it were only yesterday when the greatest video of all time was released showing me in Dota2! <3
Of course, there were a few "minor details" such as the Team Secret lifting the winners' trophy, but (call me vain if you like) to see yourself as a virtual character is something very special. Wouldn't you agree?
The tournament wasn't bad either. After all, Team Secret made a spectacular comeback after being dispatched to the Lower Bracket by Virtus.pro. They deservedly won the tournament and took home a total of $125,000.
My very special highlight was of course the cos players. These style artists invest at least as much time and passion in their costumes as esports professionals do in their training. And that's plain to see.
Here are a few impressions from last year's Cosplay Contest:
ESL One Hamburg 2019 – Preview
The group phase has already started, and I've already told you about the great side-events. But the main news is that Hamburg is about to host the big ESL One Dota2 tournament for the third year in succession, this time with prize money of $300,000 at stake.
No fewer than 12 teams are about to challenge for the coveted trophy. The favorites include Vici Gaming and TNC Predator. But as on previous occasions, one of the underdogs could well turn out to be the surprise package.
These are the groups:
Win a #DHLSurprisebox
We once again have an epic DHL surprise box for some lucky fan to win. Vote now for the gaming innovation of the future: https://inmotion.dhl/en/esports/voting/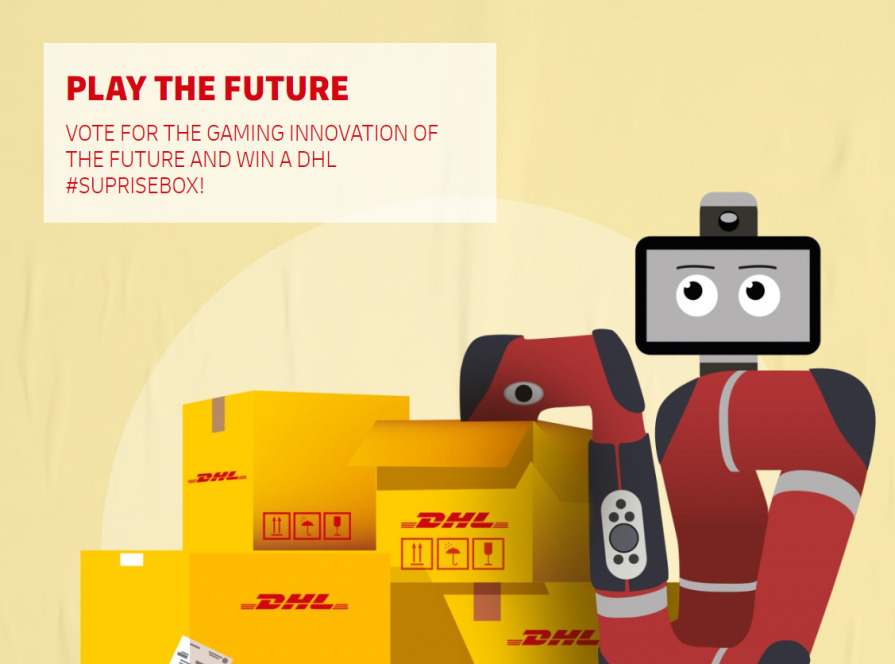 The group phase begins
They are off their marks, and I'm sitting spellbound in front of my monitor watching the games in the Group Stage.
As expected, Vici Gaming got off to a flying start in Group A, first defeating the winners of ESL One Hamburg 2017, Virtus.pro, and then also beastcoast by a score of 2-0.
VG lead the group ahead of Alliance who prevailed over beastcoast by a score of 2-0 but then had to settle for a draw against Vikin.gg.
Table for Group A:

In Group B, TNC Predator emerged comfortable winners against Team Liquid before disaster struck: due to health problems, the Quincy crew were unfortunately unable to proceed to their match against NiP.
However, TNC scored another emphatic victory, winning 2-0 against Ninjas in Pyjamas .
Table for Group B:

So it looks like the group phase will end as expected and the strongest teams will come through. But I'm intrigued to see how things develop tomorrow. I guess we are in for a few more surprises.
I'd be really interested to know who your favorite is. Tell me in the Comments box, or just write to me on Facebook.
Wednesday
On the second day of the Group Stage, the top teams in the tournament gradually crystallized out. In Group A, Vici Gaming extended their lead following a draw with Alliance and a 2-0 win against Vikin.gg. Alliance are now in 6th place (2 wins and 2 draws). So it's definitely going to be exciting here in the next few days.
The picture in Group B is somewhat clearer. TNC Predator continued on their triumphant march, pulling out a four-point lead over Ninjas in Pyjamas. A really strong performance, which make them the current runaway favorites for the tournament victory. But as we all know, anything can happen. After all, it's still only the Group Stage.
!DHLDROP
You can, of course, win Epic Drops from DHL again in Hamburg. Just enter the competition and, with a bit of luck, you could win a special surprise box packed with epic loot delivered directly to your home or to your seat at the event in Hamburg.
Click here for the competition: https://inmotion.dhl/en/esl/dhldrop/
Coming up next…
It's starting to get serious, because tomorrow is already the last matchday of the Group Stage and the main event begins on Friday. We'll soon know which teams will make it onto the big stage. I can barely keep my tires from spinning because, while my buddy SirActionSlacks is already busy interviewing the players, I can only write my blog and try to keep you happy.
Win 5x2 tickets
All my friends should have received a message from me via Facebook Messenger about the 5 x 2 tickets we're giving away. If you haven't received my message, you need to contact me via Facebook so that I can contact you more often with useful information and tell you about other competitions. https://www.messenger.com/t/EffiBOT.DHL
DHL EffiBOT Dash
If you can't wait till Friday when the main event gets underway, why not download this amazing mobile game in which you steer me and try to beat the high score. It works on Android or iOS devices.
In this game, you guide me through the DHL warehouse and have to avoid obstacles. Caution: It's addictive!
Click here for the game: https://inmotion.dhl/en/effibot-dash/
Thursday
It's crunch time. The last day of the Group Stage has begun, and today we'll find out who will be competing on the big stage in the Barclaycard Arena.
First off, Vici Gaming battled their way into the Upper Bracket quarter-finals with a 2-0 win against Fighting PandaS. Although beastcoast likewise registered a 2-0 victory over Vikin.gg, a draw for Alliance against Virtus.pro was enough to take them through to the Upper Bracket as well. These results spelled the end for Fighting PandaS and Vikin.gg.
In Group B, TNC Predator dropped a point for the first time this week. Taking it off them were Wind and Rain. But it wasn't a problem for TNC, because they now have as many points as Vici Gaming and also moved into the Upper Bracket. In parallel to this game, Gambit were winning against NiP and Quincy Crew were defeating Team Liquid. But both of the latter are now out of the tournament.
Here are some impressions of today's Group Phase matches:
The playoffs begin
Today, we also had the thrill of watching the first two playoff games in the Upper Bracket:
Vici Gaming vs. Gambit Esports
TNC Predator vs. Alliance
It would be hard to imagine two more intriguing encounters. As expected, TNC Predator drew first blood, relegating Alliance to the Lower Bracket by a score of 2-0.
However, the second game between VG and Gambit turned out differently to what I had anticipated, with Gambit defeating Vici Gaming 2-0. So now we know the line-up for the first Upper Bracket finale.
Gambit Esports vs. TNC Predator
Tomorrow, the action really hots up as the doors of the Barclaycard Arena open to hordes of fans. I look forward to seeing you there. Call in at the DHL booth and say hello.
Friday
Today's the day we finally get started, but this will be the last time this year that we'll see Dota2 on the ESL One stage, and I'm really excited about it, as you can imagine, so many great Dota fans in one arena with top-class games, terrific cosplayers, thrilling side events, and of course, plenty of DHL action with the DHL Drops, SirActionSlacks and much, much more. ESL One Hamburg will certainly be an unforgettable event, and I'm right in the middle of it all again!
Stop by and see me at DHL's booth to have your picture taken, like this nice guy:
Meet & Greet with SirActionSlacks
See SirActionSlacks in the flesh! DHL is going to make it possible for all you fans out there on Saturday, October 26th at 11:30 am next to DHL's booth. Stop by to pick up photos and autographs! You can also come and find me to get a DHLDROP sign so that you can win some amazing prizes!
ESL Dota2 Academy
I've just had some more great news today! ESL and DHL are launching the Dota2 Academy delivered by DHL to give Dota2 talents the chance to demonstrate their skills on the big stage. The program is designed to smooth the route into becoming a professional esports person and promote undiscovered talents.
Four ex-Dota2 veterans will put together teams from the top 40 players on Dotabuff Reach in Europe and North America. Each coach will select the most promising top players and show them how to survive in a professional esports environment.
The ESL Academy final rounds will be held as part of ESL One events in order to give players the chance to show off their skills to the largest Dota2 community live at the venue and online. In addition, $240,000 can be won in the first season!
Follow the link to find out more about the Dota2 Academy program: https://inmotion.dhl/en/esports/article/esl-to-launch-esl-academy-delivered-by-dhl
Sign up now: https://pro.eslgaming.com/academy/
DHL Superfans
Today, I met the winners of the DHL Superfan contest. These lucky guys won an all-inclusive VIP package with a backstage tour and can watch the games from the best spots in the arena, on cozy couches. And this is just the start of their amazing weekend!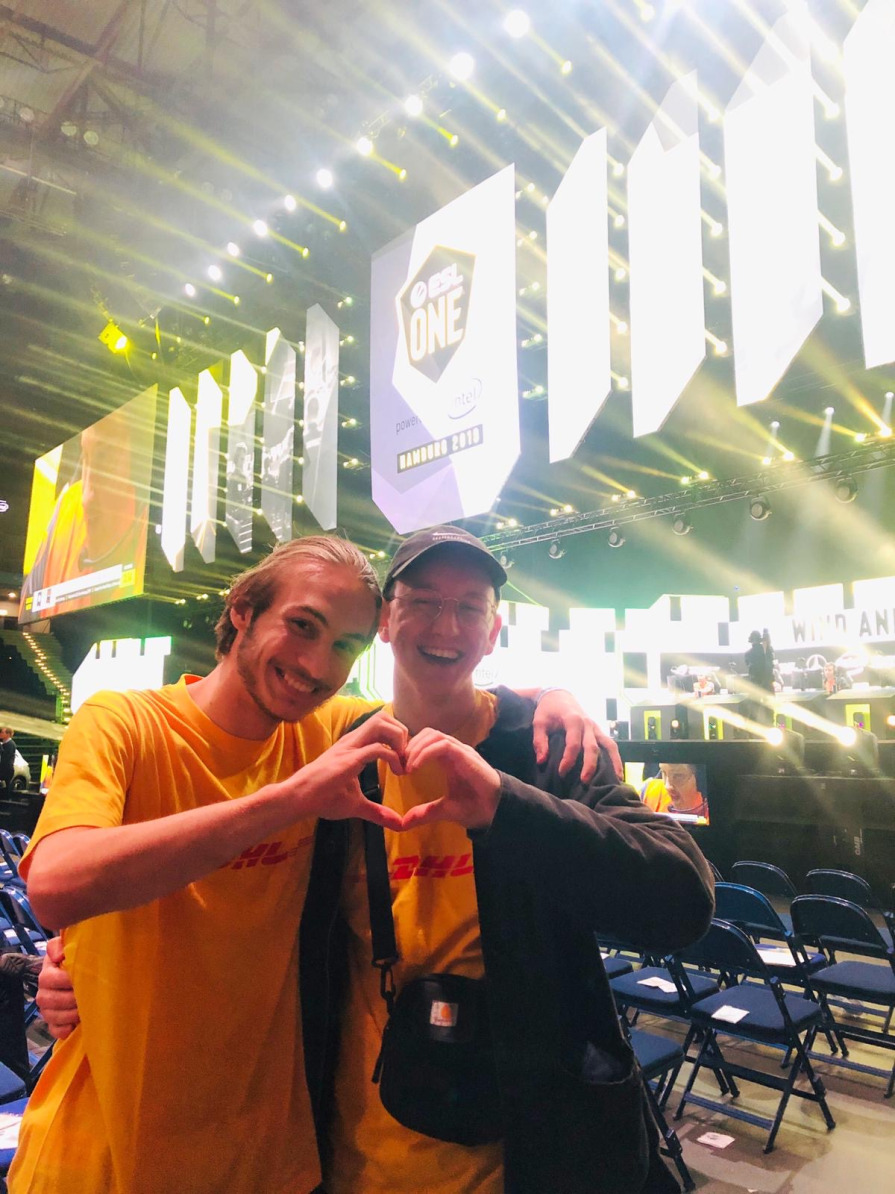 Play-offs, making history
In the first game of the day, beastcoast faced Wind and Rain, which immediately turned into a really exciting matchup. BC won through in the end by just 2:1.
The next encounter was Ninjas in Pajamas versus Virtus.pro, and the first game lasted an incredible 79 minutes, which is probably an ESL One record. The two teams did not give any quarter, but Virtus.pro prevailed in the end. The second game lasted only 33 minutes. VP won again, knocking NiP out of the tournament.
The third match of the day between Vici Gaming and beastcoast was just as thrilling. Once again, the game went all the way to the best-of-3. Vici Gaming forged ahead 1-0, but the beastcoast players did not give up and made an incredible comeback to finally win 2-1, which meant the end of the road for top favorites, VG.
What a fantastic first day we've had on the Main Stage at ESL One Hamburg 2019 with plenty of Dota2 action to get the tournament underway, and everyone watching was, no doubt, taken completely unawares by beastcoast's comeback.
And we've got these matches lined up for you tomorrow:
Alliance vs. Virtus.pro (1.00 pm)
Gambit Esports vs. TNC Predator (4.50 pm)
Beastcoast vs. TBA (8.45 pm)
Be a winner with DHL
And you too can be a winner with DHL whether you're actually here in the Barclaycard Arena or following the action from home! SirActionSlack tells you how:
Saturday
Today got off to a very special start, because SirActionSlacks was hosting a Meet and Greet at the DHL booth. At 11.30am on the dot, with the first arrivals already asking where he had got to, Slacks made a dramatic appearance, receiving all the visitors with his customary warmth and sincerity. Not a single fan left the DHL booth without a huge smile on their face after being given a big hug, an autograph and a photo of SirActionSlacks.
Here is the proof:
The playoffs continue
Immediately after the fan session at the DHL stand, the playoffs continued, pitting Alliance against Virtus.pro. The first map went to the Russians of VP, but Alliance fought back and managed to equalize in the second game. So the third game was a make or break encounter. Virtus.pro were unable to keep up with the Swedes, eventually losing 1-2, and are now on their way home.
In the second game of the day, which was also the first of the semi-finals, TNC Predator met Gambit Esports. Although Gambit enjoyed massive support from the arena, TNC were in dominant form, winning 2-0. The second game was actually a lot tighter than the first and lasted about an hour. So just as I predicted, TNC Predator proceed to the grand finale. Gambit drop down into the Lower Bracket final for the time being.
Cosplay Contest
A special highlight for me was of course the Cosplay Contest. I was able to admire some of the great costumes in advance, and I have to say that the artists behind the masks are doing a truly incredible job. Their passion and attention to detail is simply admirable.
The winner of the competition was Angelina with her really great Troll Warlord costume. But all other outfits were equally fantastic. If I felt that there was a costume that would suit me, I would definitely wear it. Maybe one of the artists can tailor one for me sometime? 😊
The line-up for Lower Bracket Finale has been decided
In the last game of the day, beastcoast came up against Alliance. But after the latter had ejected Virtus.pro from the tournament earlier in the day, their players were on fire and were intent on bringing bc, the surprise package of the competition, back down to earth. Alliance went ahead, but beastoast managed to level the score. In the third and last game of the day, however, Alliance were simply too strong.
The Lower Bracket Final is therefore all sorted:
Alliance vs. Gambit Esports
The winner of this encounter will go up against TNC Predator. Both teams have already suffered 2-0 defeats by TNC this last week, so it's not hard to work out who will be the clear favorite in the grand finale. As we've seen so many times before, though, nothing is impossible in Dota2. We will know the result tomorrow. Anyway, I'm really looking forward to it.
A plot against SirActionSlacks and me?
Today, we uncovered clear evidence that SirActionSlacks and I have been the victims of a huge conspiracy between Sideshop keeper Purge and Faceless Void Cap. The two of them are after our interdimensional facility. But see for yourself:
Beat the pro
To round off the day, our DHL superstar Alex was invited to take on the German star midlaner of Team Liquid, Maximilian 'qojqva' Bröcker, in a one-on-one contest. An unforgettable experience for the young Brit, even though it ended with him narrowly losing against this accomplished professional.
Dienstag
OMG! Meine Reifen drehen durch! Es geht endlich wieder los! Ein letztes Mal Dota2 auf der großen ESL One Showbühne in diesem Jahr. Und dann auch noch in Hamburg! Seid ihr auch so aufgeregt wie ich? Falls nicht, werdet ihr es gleich sein, wenn ich euch verrate, was euch alles erwartet!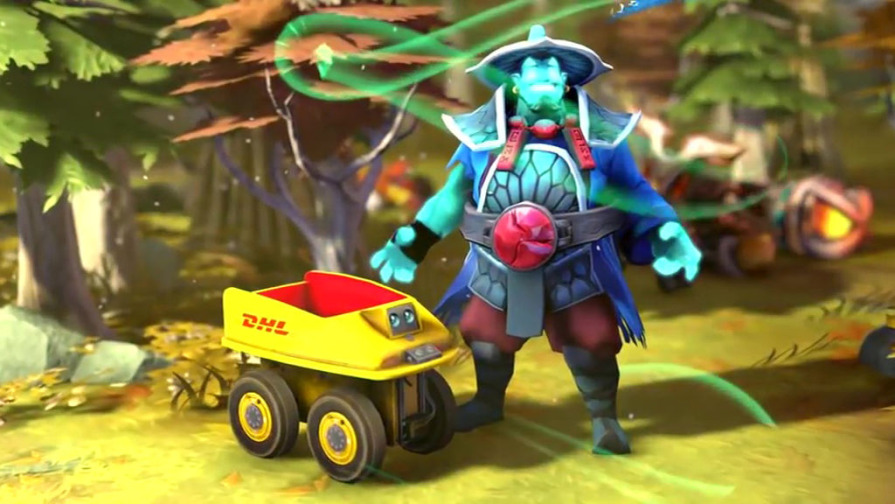 Tauche ein in die Welt von Dota2
"Dive into the world of Dota2" lautet das Motto der ESL One Hamburg 2019. Und wenn ich mir die großartigen Side-Events so ansehe, bin ich mir sicher, dass auch abseits des großen ESL One Turniers ein großartiges Event auf uns wartet.
Für alle Mobile Gamer wartet zum Beispiel die Clash Royale World Championship. Außerdem wartet das allererste Dota Underlords Turnier mit einem Preispool von € 5.000,- auf euch.
Aber ganz besonders freue ich mich natürlich wieder auf den Cosplay Contest und die wunderschönen und kreativen Kostüme. Vielleicht verkleide ich mich sogar selbst! Habt ihr eine gute Idee für eine geeignete Verkleidung?
Selbstverständlich findet ihr mich auch wieder beim DHL-Stand, wo ihr wie immer tolle Goodies abstauben könnt. Schaut also unbedingt vorbei!
Und was wäre ein Dota2 Event ohne meinen Kumpel SirActionSlacks? Ihr dürft gespannt sein, was wir diesmal für euch vorbereitet haben. 😉
ESL One Hamburg 2018 – Rückblick
Doch bevor es los geht, nehmen wir uns kurz etwas Zeit und blicken zurück auf die wundervolle ESL One Hamburg 2018. Ich erinnere mich noch, als wäre es gestern, als das großartigste Video aller Zeiten veröffentlicht wurde: Ich in Dota2! <3
Natürlich gab es da noch ein paar "Side-Facts", wie den Sieg von Team Secret, aber (und nennt mich ruhig eitel) sich selbst als virtuellen Charakter zu sehen, ist schon etwas ganz Besonderes. Findet ihr nicht?
Das Turnier war aber auch nicht schlecht. Immerhin legte Team Secret eine beachtliche Aufholjagd hin, nachdem sie von Virtus.pro ins Lower Bracket geschickt wurden. Sie haben sich verdient den Turniersig geholt und nahmen insgesamt $ 125.000,- mit nach Hause.
Mein ganz besonderes Highlight waren natürlich die Cosplayer. Diese Künstler investieren mindestens genau so viel Zeit und Herzblut in ihre Kostüme, wie Esports-Profis in ihr Training. Und das sieht man auch!
Hier ein paar Eindrücke vom Cosplay Contest des letzten Jahres:
ESL One Hamburg 2019 – Vorschau
Nun beginnt bereits die Gruppenphase und ich habe euch schon von den grandiosen Side-Events erzählt. Aber selbstverständlich steht nun zum dritten Mal in Folge in Hamburg das große ESL One Dota2 Turnier an, bei dem es wieder um $ 300.000,- geht!
Insgesamt 12 Teams kämpfen ab sofort um die begehrte Trophäe. Mit dabei sind unter anderem die Favoriten Vici Gaming und TNC Predator. Aber diesmal könnte auch ein "Underdog" überraschen.
Das sind die Gruppen:
Gewinne eine #DHLSurprisebox
Auch diesmal könnt ihr wieder eine epische Überraschungsbox von DHL gewinnen. Stimme jetzt für die Gaming Innovation der Zukunft ab: https://inmotion.dhl/de/esports/voting/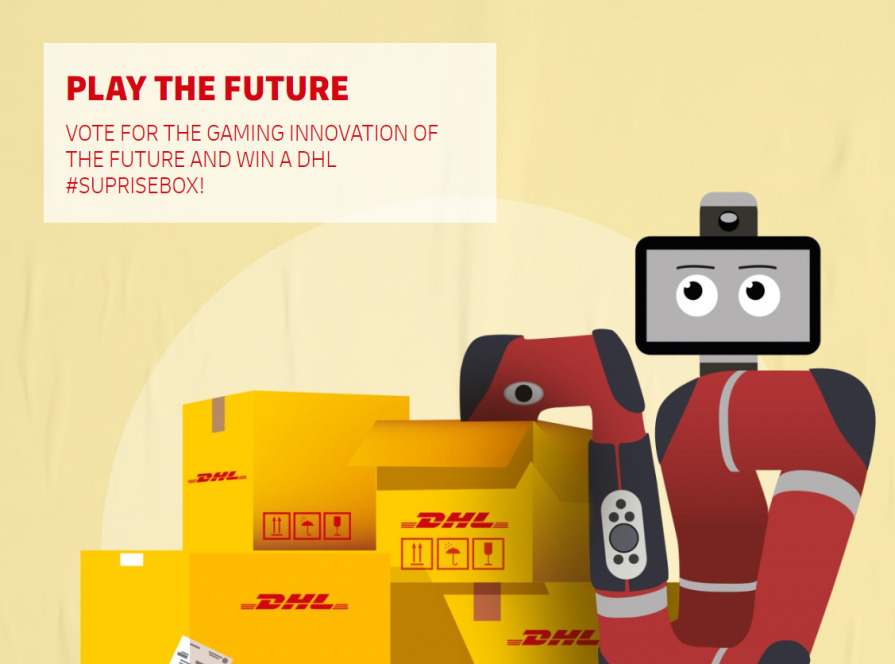 Die Gruppenphase beginnt
Es geht los und wie gebannt sitze auch ich vor dem Bildschirm und verfolge die Games der Group Stage.
Vici Gaming legte in Gruppe A wie erwartet vor und besiegte gleich zu Beginn die Sieger der ESL One Hamburg 2017, Virtus.pro, und im Anschluss auch beastcoast mit 2:0.
Somit führt VG die Gruppe erst einmal vor Alliance an, die zwar beastcoast mit 2:0 bezwingen konnten, dann aber gegen Vikin.gg nur ein Unentschieden schafften.
Tabelle Gruppe A:

In Gruppe B konnte sich TNC Predator stark gegen Team Liquid durchsetzen, bevor es zu einem kleinen Desaster kam. Wegen gesundheitlichen Problemen konnte die Quincy Crew leider nicht zum Spiel gegen NiP antreten.
TNC legte jedoch dann noch nach und schlug auch die Ninjas in Pyjamas mit 2:0.
Tabelle Gruppe B:

Es sieht also ganz danach aus, als würde die Gruppenphase wie erwartet ausgehen und sich die stärksten Teams durchsetzen. Aber ich bin gespannt, wie es morgen weiter geht. Ich vermute, wir werden noch einige Überraschungen erleben!
Mich würde wirklich interessieren, wer euer Favorit ist. Verratet es mir in den Kommentaren, oder schreibt mir einfach auf Facebook.
Mittwoch
Am zweiten Tag der Gruppenphase kristalisieren sich langsam die Top-Teams des Turniers heraus. In Gruppe A baut Vici Gaming ihre Führung nach einem Unentschieden gegen Alliance und einem 2:0-Sieg gegen Vikin.gg etwas aus. Platz 2 belegt derweil Alliance mit 6 Punkten (2 Siege und 2 Draws). Hier wird es also in den nächsten Tagen definitiv noch spannend werden.
Etwas deutlicher geht es gerade in Gruppe B zu. TNC Predator setzen auch heute ihre Siegessträhne fort und setzen sich mit ganzen 4 Punkten Vorsprung vor den Ninjas in Pyjamas ab. Eine wirklich starke Leistung, die sie aktuell zu den klaren Favoriten auf den Turniersieg machen. Aber wir alle wissen, dass noch alles passieren kann. Schließlich befinden wir uns noch in der Gruppenphase.
!DHLDROP
Natürlich könnt ihr auch in Hamburg wieder Epic Drops von DHL gewinnen! Nimm einfach beim Gewinnspiel teil und mit etwas Glück kannst du eine spezielle Überraschungs-Box vollgepackt mit epischem Loot gewinnen, die direkt zu dir nach Hause oder zu deinem Sitzplatz am Event vor Ort in Hamburg geliefert wird!
Hier geht's zum Gewinnspiel: https://inmotion.dhl/de/esl/dhldrop
Coming up next…
Es wird langsam ernst, denn morgen ist bereits der letzte Spieltag der Gruppenphase und am Freitag geht es endlich mit dem Main-Event los. Wer es schließlich auf die große Bühne schafft, wird sich bald zeigen. Ich kann meine Reifen kaum noch still halten, denn während mein Mate SirActionSlacks bereits fleißig die Spieler interviewt, kann ich nur meinen Blog befüllen und euch glücklich machen.
Gewinne 5x2 Tickets
All meine Freunde sollten über den Facebook-Messenger meine Nachricht erhalten haben, bei der ich insgesamt 5x2 Tickets an euch verlose. Wer meine Message nicht bekommen hat, sollte mich schnell via Facebook anschreiben, denn ich werde euch noch öfter mit tollen Infos und Gewinnspielen beglücken: https://www.messenger.com/t/EffiBOT.DHL
DHL EffiBOT Dash
Wer es kaum noch erwarten kann, bis es am Freitag endlich für alle los geht, sollte dieses grandiose Mobile Game herunterladen, in dem ihr mich steuern und versuchen könnt, den Highscore zu knacken. Probiert euer Glück auf Android- oder iOS- Geräten!
In diesem Game kannst du mich durch das DHL-Lager steuern und musst Hindernissen ausweichen. Vorsicht: Suchtgefahr!
Hier geht's zum Spiel: https://inmotion.dhl/en/effibot-dash/
Donnerstag
Es ist soweit! Der letzte Tag der Gruppenphase ist angebrochen und heute entscheidet sich, wer auf der großen Bühne in der Barclaycard Arena spielen wird.
Zunächst kämpfte sich Vici Gaming mit einem 2:0-Sieg gegen die Fighting PandaS direkt ins Upper Bracket Viertelfinale. Obwohl beastcoast Vikin.gg ebenfalls mit 2:0 besiegte, genügte Alliance ein Remis gegen Virtus.pro, um ebenfalls ins Upper Bracket einzuziehen. Das bedeutet allerdings auch das Aus für Fighting PandaS und Vikin.gg.
In Gruppe B gab TNC Predator erstmals einen Punkt ab. Und zwar spielten sie gegen Wind and Rain unentschieden. Kein Problem für TNC, denn sie haben nun gleich viele Punkte wie Vici Gaming und zogen ebenfalls ins Upper Bracket ein. Parallel zu diesem Game, gewann Gambit gegen NiP und die Quincy Crew besiegten Team Liquid. Für die letzten Beiden Teams waren dies jedoch auch zugleich die letzten Spiele in dem Turnier. QC und Liqzuid sind ebenfalls aus dem Rennen.
Hier ein paar Impressionen der heutigen Gruppenphase:
Die Playoffs beginnen
Heute durften wir zudem auch noch die ersten beiden Playoff-Spiele im Upper Bracket bestaunen:
Vici Gaming vs. Gambit Esports
TNC Predator vs. Alliance
Zwei Begegnungen, die interessanter kaum sein könnten. Zuerst legte, wie vermutet, TNC Predator vor und warf Alliance mit 2:0 ins Lower Bracket.
Das zweite Game zwischen VG und Gambit sollte dann anders kommen, als ich erwartet habe, denn Gambit besiegte Vici Gaming mit 2:0. Somit steht das erste Upper Bracket Finale fest:
Gambit Esports vs. TNC Predator
Morgen geht es dann endlich los und die Tore der Barclaycard Arena öffnen. Ich freue mich schon auf euch! Schaut unbedingt beim DHL-Stand vorbei und besucht mich!
Freitag
Es ist soweit! Heute geht es endlich los. Das letzte Mal Dota2 auf der ESL One Bühne in diesem Jahr. Habe ich schon erwähnt, dass ich aufgeregt bin? So viele tolle Dota-Fans in einer Arena. Die Top-Spiele, die großartigen Cosplayer, die spannenden Side-Events und natürlich ganz viel DHL-Action mit den DHLDrops, SirActionSlacks und vieles mehr, werden die ESL One Hamburg ganz bestimmt zu einem unvergesslichen Event machen. Und ich bin wieder mittendrin!
Besucht mich doch einfach beim DHL-Stand und macht ein Foto mit mir, so wie dieser nette Kerl:
Meet & Greet mit SirActionSlacks
SirActionSlacks hautnah zum Anfassen! Dies ermöglicht DHL allen Fans am Samstag, den 26. Oktober um 11:30 Uhr direkt beim DHL-Stand. Kommt vorbei und holt euch euer ganz persönliches Foto und ein Autogramm! Dabei könnt ihr auch mich besuchen und euch ein !DHLDROP-Schild holen, um tolle Preise zu gewinnen!
ESL Dota2 Academy
Eine weitere tolle Neuigkeit erreichte mich heute! Die ESL und DHL starten die Dota2 Academy delivered by DHL, die Dota2-Talenten die Möglichkeit bieten soll, ihre Fähigkeiten auf der großen Bühne unter Beweis zu stellen. Das Programm soll den Weg zum professionellen Esportler beschleunigen und soll unentdeckte Talente fördern.
Vier ehemalige Dota2-Veteranen werden Teams aus den Top-40-Spielern auf Dotabuff Reach aus Europa und Nordamerika zusammenstellen. Jeder Trainer wählt die vielversprechendsten Top-Spieler aus, um ihnen zu zeigen, wie man in einem professionellen Esports-Umfeld besteht.
Die Endspiele der ESL Academy werden im Rahmen der ESL One Events ausgetragen, um den Spielern die Möglichkeit zu bieten, ihre Skills vor der größten Dota2-Community live vor Ort und online präsentieren zu können. Zudem winken in der ersten Season bereits $ 240.000,-!
Hier könnt ihr mehr zum Dota2 Academy Programm erfahren: https://inmotion.dhl/en/esports/article/esl-to-launch-esl-academy-delivered-by-dhl
Registriert euch jetzt: https://pro.eslgaming.com/academy/
DHL Superfans
Heute traf ich auf die Gewinner des DHL Superfan-Contests. Die Glücklichen haben ein komplettes VIP-Package gewonnen, bekamen eine Backstage-Tour und durften sich die Games auf den besten Plätzen der Arena, auf gemütlichen Couches, ansehen. Und das war erst der Beginn ihres unvergesslichen Wochenendes.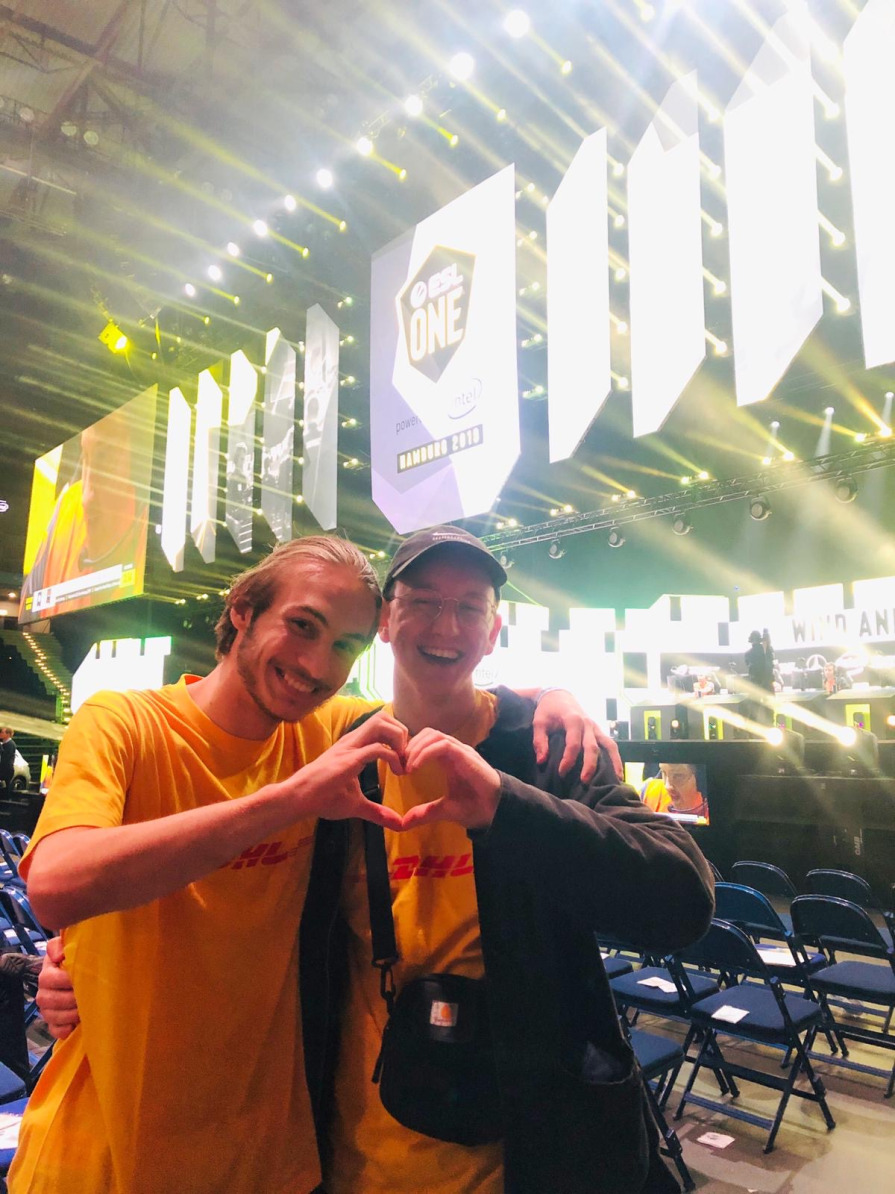 Playoffs, die Geschichte schreiben
Im ersten Spiel des Tages traf beastcoast auf Wind and Rain und es kam sofort zu einem Matchup auf Augenhöhe. Schließlich setzte sich BC knapp mit 2:1 durch.
Die nächste Begegnung hieß Ninjas in Pyjamas vs. Virtus.pro und das erste Game dauerte unglaubliche 79 Minuten. Das dürfte wohl ein ESL One Rekord sein. Die beiden Teams schenkten sich einfach nichts, doch schließlich gewann Virtus.pro. Das zweite Game dauerte zwar nur noch 33 Minuten, konnte aber ebenfalls VP gewinnen und damit kickten sie NiP aus dem Turnier.
Die dritte Begegnung des Tages hieß Vici Gaming gegen beastcoast und sollte nicht weniger langweilig werden. Auch hier ging es wieder in die volle länge des Best-of-3. Vici Gaming legte mit 1:0 vor, doch die Spieler von beastcoast gaben nicht auf und starteten ein unfassbares Comeback. Schließlich gewann bc mit 2:1, was das Aus für den Top-Favoriten VG bedeutete.
Was für ein fantastischer erster Tag der Main-Stage auf der ESL One Hamburg 2019! Mehr Dota2 konnte man sich für den Start des Turniers nicht wünschen. Und das Comeback von beastcoast überraschte wohl alle Zuseher.
Und morgen geht es bereits mit den folgenden Begegnungen weiter:
Alliance vs. Virtus.pro (13:00 Uhr)
Gambit Esports vs. TNC Predator (16:50 Uhr)
Beastcoast vs. TBA (20:45 Uhr)
Gewinne mit DHL
Egal ob ihr vor Ort in der Barclaycard Arena seid oder zu Hause zuseht: Mit DHL könnt ihr überall gewinnen! SirActionSlack verrät euch wie:
Samstag
Heute starteten wir mit einer ganz besonderen Aktion in den Tag, denn am DHL-Stand gab es ein Meet and Greet mit SirActionSlacks. Pünktlich um 11:30 Uhr, als die ersten Fans schon fragten, wo er denn bleibt, tauchte Slacks plötzlich mitten unter ihnen auf und empfing alle so herzlich und liebevoll, wie wir ihn kennen. Kein einziger Fan verließ den DHL-Stand nicht mit einem breiten Lächeln im Gesicht, nachdem er oder sie sich eine dicke Umarmung, ein Autogramm und ein Foto von SirActionSlacks abgeholt hatte.
Hier der Beweis:
Die Playoffs gehen weiter
Gleich nach der Fan-Session am DHL-Stand gingen auch die Playoffs weiter. Und zwar traf Alliance auf Virtus.pro. Die erste Map ging an Russen von VP, doch Alliance kämpfte sich zurück und konnte im zweiten Spiel ausgleichen. Im dritten Spiel ging es um alles oder nichts. Doch Virtus.pro konnte mit den Schweden nicht mithalten und verlor schließlich 1:2 und müssen somit die Heimreise antreten.
Im zweiten Spiel des Tages, das zugleich das allererste Halbfinalspiel war, traf TNC Predator auf Gambit Esports. Obwohl etliche Fans auf der Seite von Gambit waren, zeigte TNC ihre Dominanz und gewannen 2:0. Das zweite Game war jedoch deutlich knapper als das erste und dauerte rund eine Stunde. Somit zieht TNC Predator, wie von mir prognostiziert, ins große Finale ein. Gambit rutscht vorerst ins Lower Bracket Finale.
Cosplay Contest
Ein besonderes Highlight für mich war natürlich der Cosplay Contest. Ich konnte vorab schon ein paar der großartigen Kostüme bewundern und muss noch einmal sagen, dass die Künstler, die hinter den Masken stecken, wirklich Unglaubliches vollbringen. Diese Leidenschaft und die Liebe zum Detail sind einfach bewundernswert.
Die Siegerin des Wettbewerbs war Angelina mit ihrem wirklich grandiosem Troll Warlord Kostüm! Aber auch alle anderen Kostüme waren einfach spitze! Würde mir so ein Kostüm gut stehen, würde ich auch eines tragen. Vielleicht kann mir einer der Künstler ja einmal eines schneidern. 😊
Das Lower Bracket Finale steht fest
Im letzten Spiel des Tages traf beastcoast auf Alliance. Doch nachdem letztere heute Virtus.pro aus dem Turnier warfen, waren die Spieler heiß auf mehr und wollten dem Überraschungs-Team bc die Aufholjagd verderben. Alliance legte vor, doch beastoast konnte im zweiten Game aufholen. Doch im dritten und letzten Game des Tages konnte Alliance überzeugen.
Somit steht das Lower Bracket Finale fest:
Alliance vs. Gambit Esports
Auf den Gewinner dieser Begegnung wartet TNC Predator. Beide Teams wurden in diesem Turnier bereits mit einem Spielstand von 2:0 von TNC besiegt. Ihr ahnt also wer als klarer Favorit in das große Finale gehen wird. Doch in Dota2 ist nichts unmöglich. Wir werden das Ergebnis morgen sehen! Ich freue mich schon drauf.
Eine Verschwörung gegen SirActionSlacks und mich?
Heute wurde endlich der Beweis veröffentlicht, dass SirActionSlacks und ich Opfer einer riesigen Verschwörung von Sideshop Keeper Purge und Faceless Void Cap sind. Die beiden haben es auf unsere interdimensionale Sortieranlage abgesehen. Aber seht es euch am besten gleich selbst an:
Beat the pro
Zum Abschluss des Tages durfte unser DHLSuperfan Alex noch gegen den deutschen Star-Midlaner von Team Liquid, Maximilian 'qojqva' Bröcker, im 1 vs. 1 antreten. Ein unvergessliches Erlebnis für den jungen Briten, auch wenn er leider knapp gegen den Profi verlor.
Sunday
This turned out to be one of the most emotional days in the history of ESL One. But at the start of the day, it still looked set to be oh-so predictable. When I asked via Messenger which team would win today, most of you replied "TNC Predator." But the odds started to shift as finals day wore on.
The second semi-final
In the first game of the day, which was also the penultimate of the tournament, Gambit came up against Alliance. It was an exciting game in which Alliance took an early 1-0 lead, but Gambit then fought back to win the two subsequent rounds. A score of 2-1 took Gambit into the grand finale.
#DHLDrop Winner
During the break, SirActionSlacks once again made one lucky fan very happy with the presentation of the DHL Surprisebox.
DHL Superfan interview
The break was also the opportunity for our DHL super fan, Alex, to interview a professional player from the Vici Gaming line-up. He was totally relaxed throughout, asking the VG pro some really interesting questions, such as which hero he currently finds great and which he prefers not to use.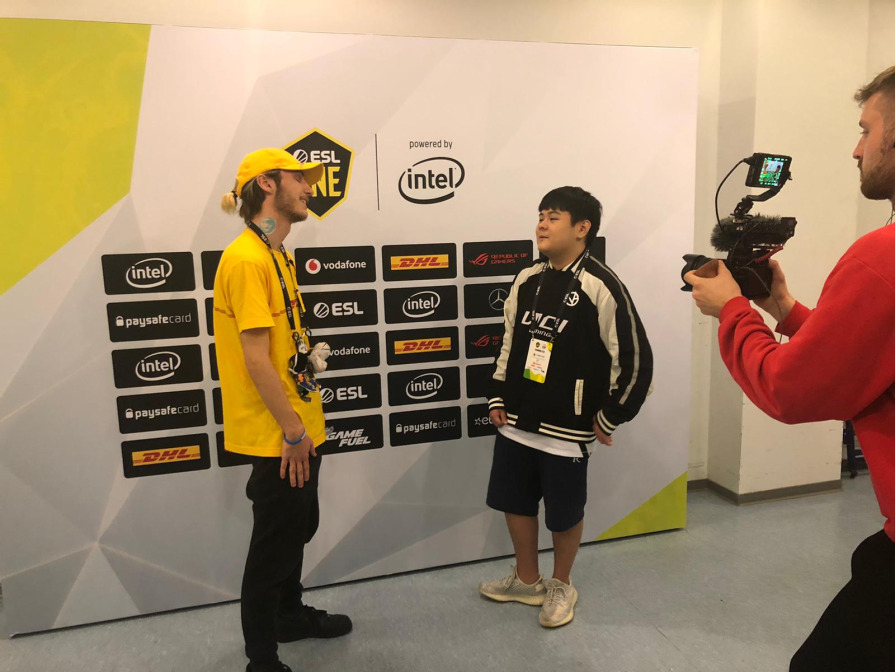 Afterwards, Alex also met SirActionSlacks and was able to take some personal photos with the star. This has been a truly unforgettable weekend for the young gamer.
The grand finale
So at last, it was crunch time and the final match of ESL One Hamburg 2019 got underway. The favorites, TNC Predator, against the underdogs, Gambit. And as is so often the case, the outsiders were the crowd pleasers. It developed into an incredibly exciting contest.
TNC put the first game to bed in just 22 minutes. Everything seemed set for another overpowering performance by the Philippines-based outfit. But you should never write off Gambit! They won the second game after 41 minutes to level up the score at 1-1.
TNC Predator then restored their lead, and the fans were baying for another equalizer. And their wishes did not go unanswered, as Gambit took the fourth round to draw level again.
So it was that the final went the full five-game distance, much to the delight of the fans in the arena. But the last game in a Bo5 is actually always a Bo1, which means that both sides start from scratch.
This final round came to an end after half an hour and – just as I had predicted – TNC Predator emerged victorious. But the game was an absolute thriller and could easily have gone Gambit's way.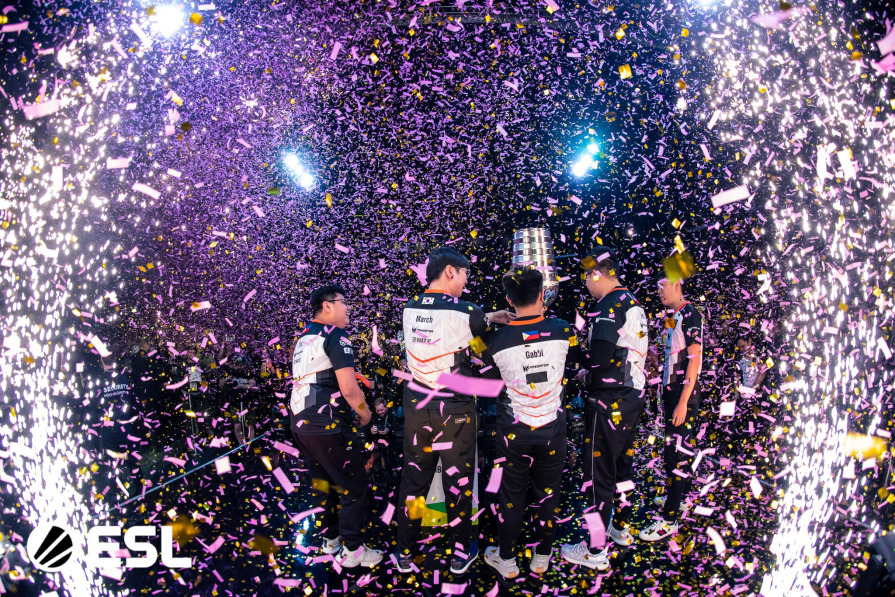 TNC Predator are the winners and take home prize money of $125,000! Congratulations!
Here are some photos from today's final
#Momentsthatdeliver
As always, I've put together a video of our DHL Moments that deliver, encapsulating the most emotional moments of the tournament: