esports
ESL One New York 2019
Key Takeaways
My next stop: ESL One New York 2019 – 28th and 29th September
Review of ESL One New York 2019 and preview of next event
Eight teams battling for $200,000 in Barclays Center, New York
The biggest esports event on the east coast
The teams: ENCE, Team Liquid, Astralis, FaZe Clan, Evil Geniuses, OpTic Gaming, G2 Esports and eUnited
Wednesday
It's been a while now since ESL One Cologne, but I still like to think back to how Team Liquid were able to crack the Intel Grand Slam. Most of all, I miss the great atmosphere in the arena. (The smartphone light show in the Lanxess Arena was legendary!)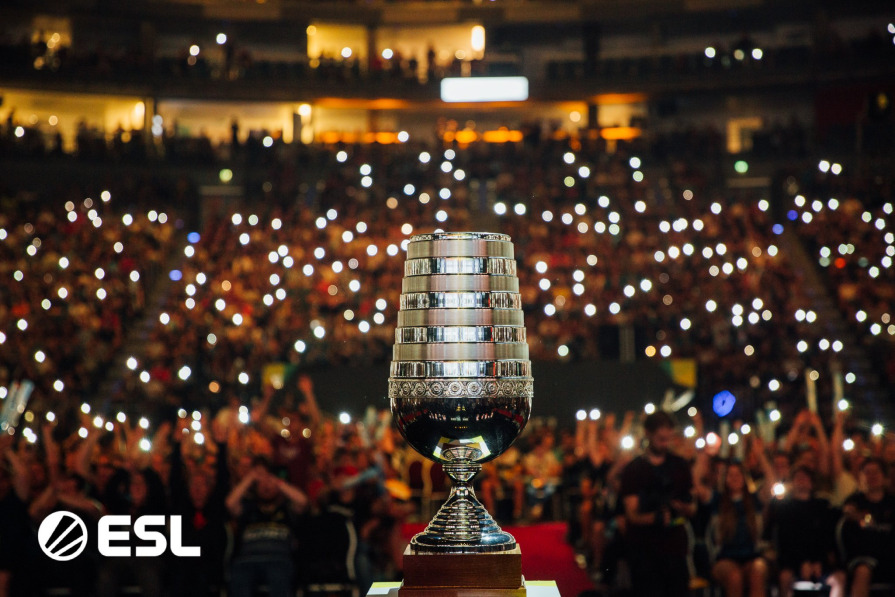 I've now already made my travel arrangements for the next great ESL One event in New York and am really looking forward to esports in the Big Apple!
The group stages for ESL One New York 2019 begin tomorrow, so maybe now is a good time to take a quick look back at last year.
ESL One New York 2018 – Review
Although it was actually a home game for NRG Esports and Team Liquid, mousesports took the title home to Germany last year. However, the final round between Liquid and mousesports was really close and went to the wire!
In our blog about ESL One New York 2018, you were able to see for yourselves what went on behind the scenes. This time around, though, I want to personally fill you in with all the important details to do with the event, so be sure to sign in often, because I update my blog several times a day!
ESL One New York 2019 - Preview
I'm really looking forward to New York, because Esports fans are in a class of their own, and of course, it's not every day that you get to experience such fabulous CS:GO contests in the Barclays Arena. After last year's triumph, the tournament is certain to be another mega success.
But what exactly is it that have we've got to look forwards to? Well, we have eight top international teams, plus six invited teams, Astralis, Team Liquid, ENCE, NRG Esports, FaZe Clan and OpTic Gaming, and two teams who've joined via the qualis, G2 Esports and eUnited.
Who'll be in the running to win the $200,000? Will Astralis emerge triumphant again or will Team Liquid use their home advantage this time? Do other teams even have a chance against them? Of course, I'm really looking forward to seeing legends like karrigan, rain and olofmeister, who currently play for FaZe.
Play the future
And once again, you can win an epic DHL #Surprisebox. Vote for the gaming innovation of the future and pick up the prize: https://inmotion.dhl/en/esports/voting/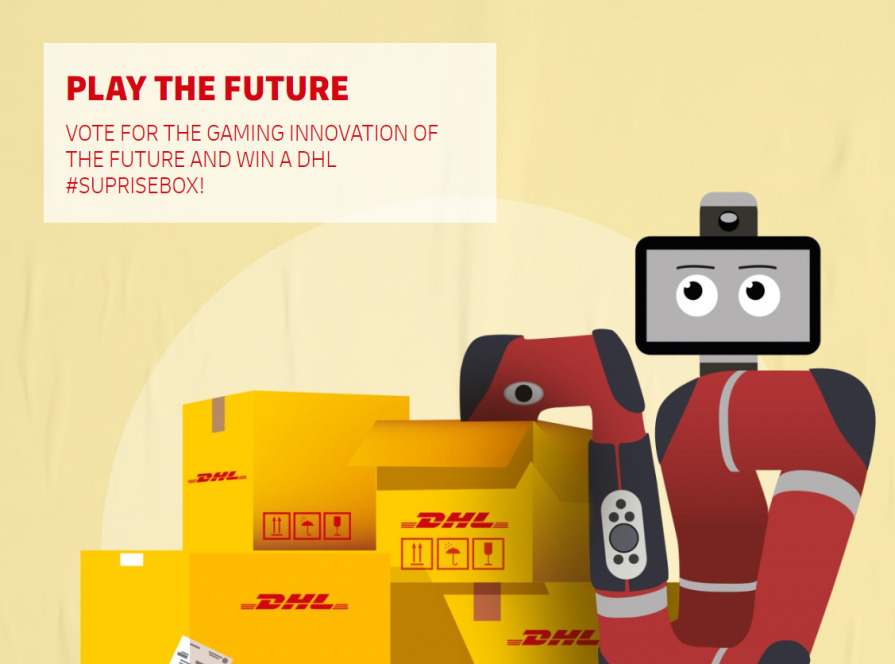 Epic drops at biggest esports event on the east coast
Of course, I will have more Epic Drops for you once more in New York. And once again, you can win special surprises that will bring you right to our doorstep or take you to your very own seat at the event in the US.
If you're joining us at the arena, we will be handing out !DHLDROP signs for fans to hold up from the stands at predetermined moments. Winners will be chosen at random and will receive their price from our special CS:GO postman.
And all you have to do is fill in the form: https://inmotion.dhl/en/esl/dhldrop/
DHL Effibot Dash
If, like me, you can't wait for ESL One New York 2019 to start, you can try beating the high score in my brand new game. In my DHL EffiBOT Dash, you have to navigate me through the camp while skillfully avoiding obstacles.
Can you beat the high score? Have a go now at: https://inmotion.dhl/en/effibot-dash/
Thursday
Team Liquid met eUnited and G2 faced ENCE in the first group stages. G2 got bogged down on the first map (Dust2), and the match went into extra time before they were able to prevail. However, both favorites, Liquid and G2, ultimately won through 2-0.
In Group B, Astralis also beat OpTic and NRG Esports, now playing under the name, Evil Geniuses, 2-0.
The first 'Clash of the Titans' between Team Liquid and G2 came next. Liquid really got the drop on their opponents on Dust2, taking the first map point by 16-3. Inferno went to G2 in extra time (17-19), and Liquid finally booked their place in the semi-finals in the overpass (16-8). Final score 2-1 to Team Liquid.
It was all or nothing in the other match going on simultaneously between eUnited and ENCE, but the Finns showed their strength and sent eUnited packing. 2-0 for ENCE, who will face G2 in tomorrow's decider.
So, the favorites were really on form today, and Evil Geniuses are back in CS:GO after beating FaZe in the elimination match. Things are hotting up, and it will be very interesting to see who will be in the running to take first place in New York.
Coming up next
We've got more great games coming up on Friday, starting with Astralis versus EC, who have yet to show their true strength. OpTic Gaming will go up against FaZe Clan at the same time. The losers of this match will exit the tournament.
And then there's the two deciders. G2 will face ENCE in Group A – that's a definite, already.

I can't wait to see who we'll be cheering on the big stage on Saturday! Who's your favorite to win ESL One New York 2019? Just write your thoughts into the comment area below!
Friday
The last games in the group stage are taking place today and as always, I'm very excited about it. Barclays Center New York will be filled with thousands of esports fans tomorrow, and everyone will be cheering on their favorite teams.
Battling for CS:GO throne
I can't wait to see who'll be in the running to win the $200,000 prize money in NY. The main thing, though, is that the battle is now on to crown the world's best CS:GO team.
Team Liquid caused a sensation at ESL One Cologne 2019. They not only won the tournament but the Intel Grand Slam as well and $1,000,000 along with it. Everyone thought in the summer that Liquid would be unstoppable, but Astralis are back!
It was Astralis, who reigned supreme in the CS:GO stakes (and won the Intel Grand Slam in December 2018) until Team Liquid's amazing rise to fame. However, Astralis now seem to have regained some of their former strength, because they were clearly able to assert themselves at the Berlin Major in early September and leave Liquid trailing far behind. But will Liquid be able to benefit from their home advantage in New York? I definitely think we're in for a great finale. 😉
DHL DELIVERING ESPORTS TO CHINA
I heard another great piece of news recently. There will be another terrific CS:GO event later this year! The Intel Extreme Masters (IEM) Beijing will be taking place from 7th to 10th of November and of course, DHL will once again be Official Logistics Partner. So that means, I'll be returning to Mumbai in Asia, and I'm still really looking forward to meeting the very friendly esports community in China as well!
Participating teams can win $250,000 in all in Beijing, and of course, the event is also part of the Intel Grand Slam where teams can win a $1,000,000 in gold bars for four wins in major CS:GO tournaments.
This event will be a milestone in ESL history and in the entire esports scene, as the world's best CS:GO teams will be heading to China in larger numbers than ever before.
Here you can find all information about the IEM Beijing: https://inmotion.dhl/en/esports/article/dhl-delivering-esports-to-china
Buddies old and new
As a blogger, I get to hear about all the happenings in the CS:GO scene, for sure! Many old and new teams are taking part in CS:GO, and after years of Counter Strike abstinence, Evil Geniuses quickly tore apart NRG Esports but 100Thieves and Misfits want to get involved again too.
In the transfer market at the moment, things are also going better than ever before. Complexity, for example, have split from their lineup and have already announced their first new signings. ENCE too have announced a big change. The Finns have put their IGL, 'Aleksib' on the bench and have gone instead for former mousesports rifler, Miikka 'suNny' Kemppi.
G2 have replaced 'Shox' with 'kioShiMa' and 'NEO' and 'GuardiaN' have made way for 'broky' and 'coldzera' at FaZe. Both teams now have the chance to show what their new lineup can do in New York.
And that's just the tip of the iceberg! I'm really looking forward to seeing which new teams will still be with us in Beijing and which transfers will soon be taking place.
But for the moment, let's focus on events at ESL One New York 2019!
Did you know?
DHL, the official logistics partner of ESL, is this year helping to write eSports history in seven different locations throughout the world. Which means that 770 tonnes of staging, 4,480m² of screens and 1,050 Maxonomics gaming chairs will be transported over a total distance of 44,500 kilometers in 2019.
DHL was also there in 2018, helping to organize ESL events around the world that were watched by 68,000 fans in the arenas and more than 630 million livestream viewers, and in which the prize money amounted to more than $3.45 million. Oh, and let's not forget the more than 385 million ESL social media impressions.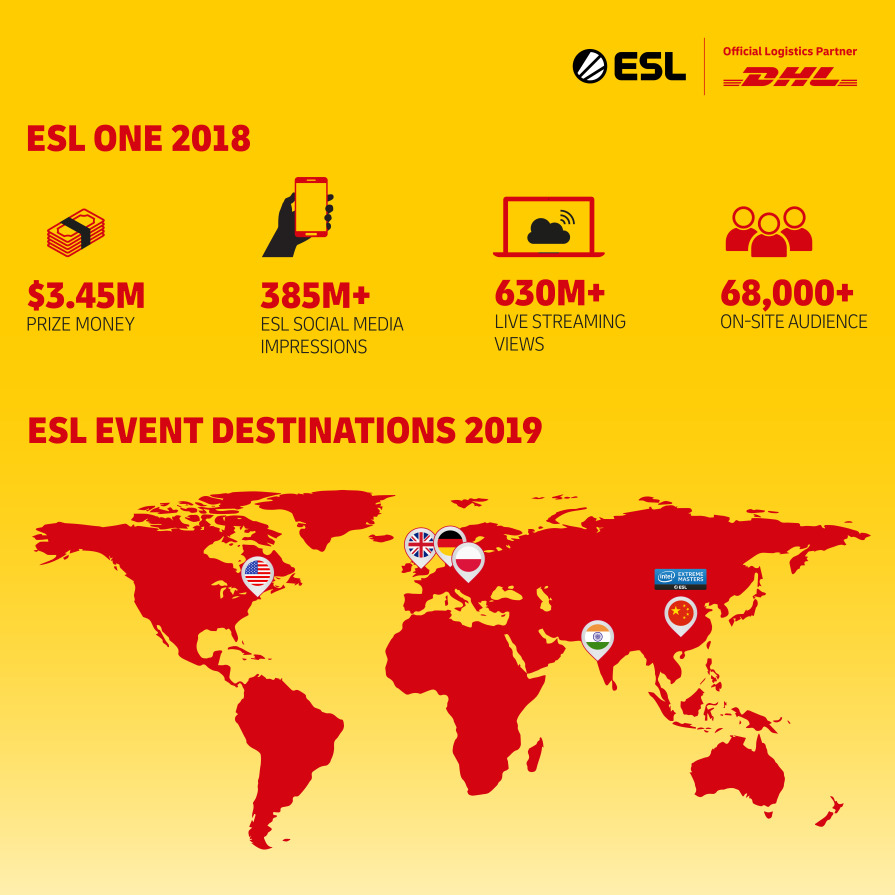 The first shock results
Many thought that only Team Liquid could stop Astralis. But far from it! Evil Geniuses defeated the Danes on Dust2 and Inferno to pull off the first of several surprises in New York. Astralis were not yet out of the race, but at least for now, the edifice had shown signs of crumbling. For EG, however, the victory guaranteed early entry into the semifinals.
Meanwhile, ENCE were kicking eUnited out of the tournament and OpTic were beating FaZe Clan 2-0. So that means we have already seen the last of two very strong teams.
In the decider game between G2 and ENCE, neither team was doing the other any favors. G2 took the win on Dust2 in overtime, but then ENCE equalized on Nuke. The deciding round was on Overpass, where G2 prevailed. The result could scarcely have been any tighter.
In the last match of the group stage and the decider for Group B, Astralis came up against OpTic Gaming. Astralis was able to prevail 2-0 and thus also enter the semi-finals.
So I am really happy to see those Semifinals live on stage tomorrow:
Team Liquid vs. Astralis
Evil Geniuses vs. G2 Esports
Emotions of the day
The return of de_cache
De_cache was taken out of the active tournament map pool some time ago for a complete overhaul. At ESL One New York, we will have the opportunity to check out the revised map for the first time in a show match on Sunday starting at 11:35 EDT. The first teams to play this map are made up of an interesting mix of players from the best outfits such as Team Liquid, Evil Geniuses, G2 and OpTic Gaming.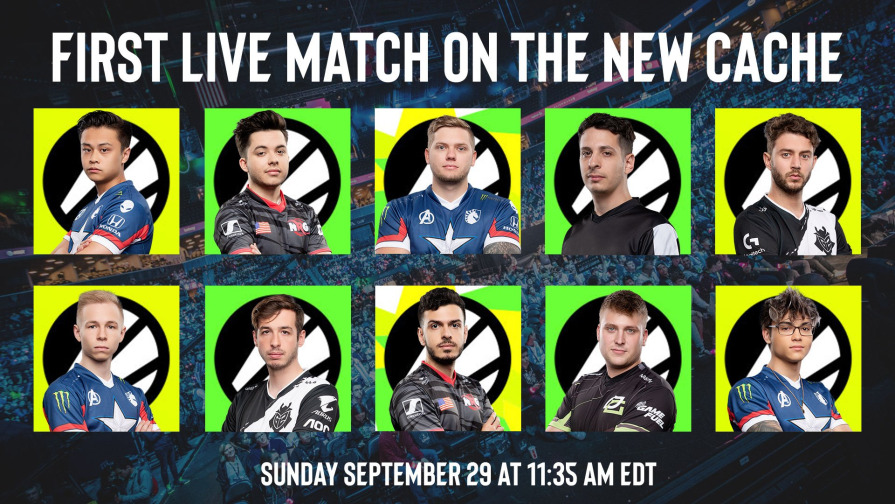 I'm really curious to see what the new map will look like and what Valve has changed. Hopefully the developers have given de_cache an update rather than a downgrade!
50 YEARS OF DHL – THIS IS ONLY THE BEGINNING
Of course, we also celebrate 50 years of DHL in New York. So you will definitely see the following spot during the livestreams. And I really love the spot. Especially the part where SirActionSlacks picks me up and travels with me around the world.
Everything you need to know about 50 years DHL, you can read here: https://inmotion.dhl/en/esports/article/50-years-of-dhl-this-is-only-the-beginning
Saturday
The great day has arrived. The Barclays Center has opened its doors, and thousands of fans are streaming in witness the biggest eSports spectacular on the East Coast. So, what can the fans in the arena and watching on their screens at home expect to see today?
There are only four teams remaining in the tournament – the other four have already been knocked out. On today's program, we have the two semi-finals as well as a couple of other standout events such as the ESL Mobile Open. Tomorrow, we will have a chance to check out the latest release of de_cache. Here is some advance info for you all: https://www.esl-one.com/csgo/new-york/cache/
DHL BoxStacker Game
We naturally have a presence at ESL One New York 2019 with our own stall. With a bit of luck, you might even find me there. You can play our terrific VR game and try to crack the high score.
Or grab your own DHLDrops sign and write your own personal message. And of course, you can take a lot of selfies with me too. I'm always happy to be photographed with dedicated eSports fans.
Battle of the giants
Wow! I almost haven't got the words to describe this incredible match between Astralis and Team Liquid – a contest that pitted the world's two strongest CS: GO teams against each other. And we the spectators were not to be disappointed either, as Astralis first dominated on Vertigo by a score of 16‑9 and seemed to have the match already sewn up. But then Team Liquid came back on Dust 2, winning by the same 16-9 margin.
Nerves were on edge and the atmosphere among the audience of the Barclays Center was explosive. Most of the spectators in the arena were rooting for Team Liquid who after all were playing at home in New York.
On the third map, Overpass, neither team was giving anything away, and although Astralis kept getting their noses ahead, Liquid would immediately close the gap again. But there had to be a winner in this game. And eventually Astralis clinched it by a score of 16-13, which means that they now go forward into the final. This was CS: GO in a class of its own, and I'm so glad that I was there for such a memorable game.
Now Astralis are wondering who their opponent will be in the grand finale. It will be one or the other of G2 or EG.
Win a !DHLDROP presented by Pala in person!
Once again, I can put a big smile on a fan's face. This time I'm looking for the absolute ESL One top fan with Pala. However, it's maybe best if Pala explains what makes an absolute top fan in a short video:
If you think you are this fan and want to win, then just tweet a selfie of yourself with the hashtag #DHLDROP and visit the following page: inmotion.dhl/dhldrop
EG are back!
One team clearly dominated the second semi-finals – Evil Geniuses. First, our good buddies won the map point on Dust 2 by 16-8 and then finally won the entire game on Nuke by 16-7. G2 did not have a chance. EG's performance was much better.
And so now, we have our teams for the grand finale: Astralis versus Evil Geniuses. Astralis are currently on excellent form, and after EG's performance in this tournament, they could well have a realistic chance against them. At any rate, I hope tomorrow's finale will be exciting!
Epic !DHLDROP with Pala in New York
During the break in the semi-final match between EG and G2, Pala and I made our first spectator happy at the Center. Pala picked the best !DHLDROP sign and personally handed over a package with its epic contents. (It always pays to be have a !DHLDROP sign with you during the breaks!)
We're now getting ready for the grand finale and an awesome show match of superlatives with the launch of the revised Map de_cache. I'm really looking forward to tomorrow and to the great atmosphere in Barclays Center!
ESL One New York 2019: DHL Drops - Box Challenge
Emotions on the day
Sunday
It was the day of the grand finale. The day when the revamped Cache would be unveiled. I could hardly sleep or, in my case, fully recharge my batteries, because I was so excited about what was to come.
What have I been up to here in New York? Pala and I have managed to make some fans very happy, and I've seen so many great teams go out of the tournament. For example, FaZe Clan who won ESL New York 2017 and were this time unable to win a single map. The crowd pleasers and Grand Slam winners from Cologne, Team Liquid, also went out of the race. ENCE and G2 were likewise sent packing.
Meet and greet with Pala
Today, I was circulating around the Barclays Center with Pala again, and in the lunch break, we even organized a Meet & Greet with lots of fans:
The new de_cache
De_cache was starting to look a bit tired. But that old gray map has now been transformed into a bright green battlefield. The revised map reminds me a bit of de_aztec, but it does offer some interesting new angles and ideas for fresh strategies. I'll be interested to see how often the new and improved Cache gets played at future tournaments.
The show match
The first teams to play the new de_cache were Team Toxic and Team Squeaky. Do the names sound unfamiliar? No wonder, because they were mixed squads made up of some of the world's best CS GO players and the names were the result of a Twitter poll. 😊
The team line-ups were as follows:
Team Toxic
Stewie2K (Team Liquid)
nitr0 (Team Liquid)
Ethan (Evil Geniuses)
JaCkz (G2 Esports)
steel
n0thing
Team Squeaky
EliGE (Team Liquid)
Twistzz (Team Liquid)
tarik (Evil Geniuses)
kennyS (G2 Esports)
k0nfig (OpTic Gaming)
SPUNJ
It was a strange but amusing match, because everything seemed totally uncoordinated and the teams obviously had no prior experience of functioning as a unit. Still, it was great to see the new map in action, and there was of course an eventual winner. Team Squeaky won the show match by a score of 16-12. Anyway, de_cache has the potential to become one of my favorite maps in CS:GO.
America on tenterhooks
After all, the final was between Astralis and Evil Geniuses, so the crowd was definitely on the side of EG. The first map in the Best of 5 was Inferno and, much to the delight of the home fans, the Evil Geniuses won by a clear margin of 16-3. The contest was shaping up to be a sensation!
The second map, Dust 2, was far more even. Astralis took an early lead and EG had to pull out all the stops to stay in touch with the Danes. EG gradually closed the gap before turning the game over again. Final score: 16-12 to Evil Geniuses. EG were only one map point away from lifting the trophy.
Buckethead and Pala choose the !DHLDOP winner
I had a lot of fun during the interval, because when I entered the arena with Pala, the audience roared "Buckethead". So Pala grabbed the young man with the buckets on his head to choose a lucky winner of our last DHL surprise box for New York. Excitement was reaching fever pitch in the hall. 😊
Astralis strike back
The third map was Train, and with EG having gone into a dominant 2-0 lead, the fans believed that a sensational victory was in the bag. But this game had it all. Play went into a second overtime, and Astralis narrowly prevailed by 22-20 to chalk up their first map point and make it 2-1.
The fourth map, Nuke, proved decisive, with Evil Geniuses seeing off the Astralis challenge 16-8. So it was that the Americans won the ESL One New York 2019, thanks in part to the vocal support of the home fans.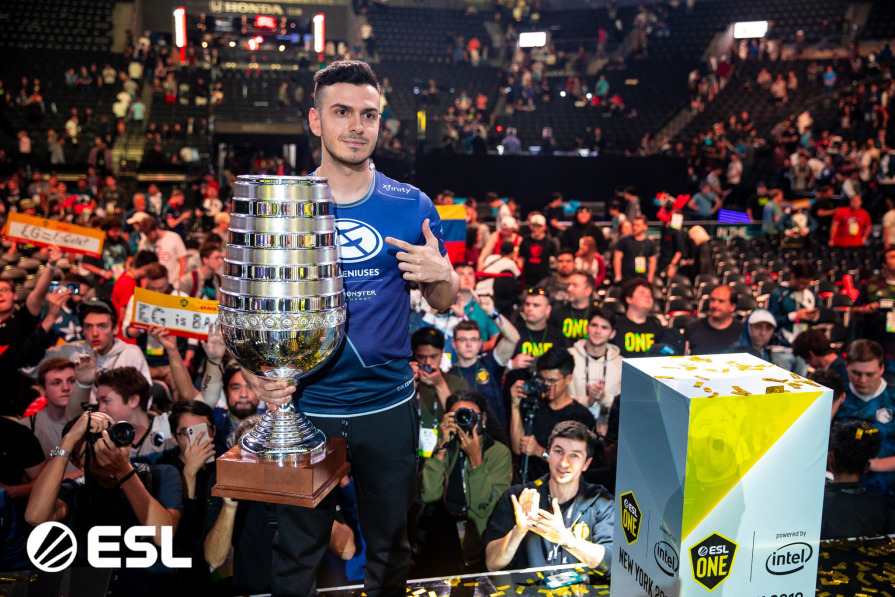 And the winner is...
And of course Pala found the best fan in the Barclays Center in New York and the winner of our !DHLDROP Selfie-challenge:
#MomentsThatDeliver
As always, for the conclusion of this great tournament, we have our #MomentsThatDeliver for you:
Next stop: ESL One Hamburg 2019
The next big ESL One event is already in the starting blocks. My next stop is Hamburg from 25th to the 27th of October, where Dota 2 Action is waiting for us again and I'm really looking forward to this event. So pack up your guns and get ready to defend the Ancients!