Rugby
Bolaca Breaks Away in LA – Watch the LA 7s Impact Player
It was an incredible comeback. Another one for the history books. South Africa won the HSBC LA Sevens with a thrilling 29-24 extra-time victory over Olympic champions Fiji. In this repeat of the Sydney final less than one month ago, this time the Blitzboks came out on top.
And how! Fiji looked certain to make it two wins in a row, opening with three unanswered tries in the first five minutes. But the South Africans never gave up, clawing their way back to tie the match in the final minute of normal time. The extra-time try by Sakoyisa Makata marked Fiji's sudden death.
Bolaca breaks away
For much of the HSBC LA Sevens, France's Tavite Veredamu topped the DHL Impact Player Table. But it was Fiji's Napolioni Bolaca who moved up the board and finished on top, one point ahead of South Africa's Stedman Gans and countryman Aminiasi Tuimaba.
It was Bolaca's breaks and offloads – which are awarded 3 and 2 points respectively – that made the difference. He scored six breaks and six offloads to Gan's four breaks and four offloads. With seven tackles and 17 carries, Bolaca topped the table with 54 points.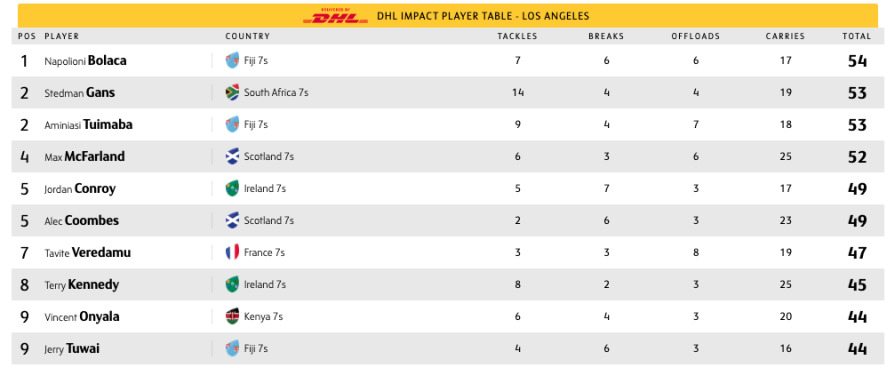 Gans certainly impressed the crowd with 14 tackles and 19 carries, which kept him right on Bolaca's heels  – as did gentle giant Tuimaba, who made a huge impact for his team with nine tackles, four breaks, seven offloads and 18 carries. Scotland's Max McFarland finished fourth, turning heads with 25 carries.
Our overall leader remains Ireland's Terry Kennedy, who also carried 25 times and landed in the eight spot on the DHL Impact Player Table. Veredamu is only two points behind with 195, while Terry's teammate Jordan Conroy is 19 points back in third.
Blitzboks close the gap as USA thrill home fans
At the halfway mark of the series, New Zealand have maintained their position at the top of the standings after claiming the bronze medal – their fourth podium finish in five rounds. The All Blacks Sevens are on 93 points but the Blitzboks have closed the gap to four points. Fiji is chasing from another 17 points back.
Olympic Champions Fiji produced some fine champagne rugby over the weekend, showing the rugby world that it's way too early to write them off.
Although hosts USA were unable to complete a hat-trick of titles on home soil, having been victorious in 2018 and 2019 in Las Vegas, the Eagles Sevens battled hard until the bitter end to claim fifth position with victories over France (24-5) and Ireland (24-19) following their quarter-final defeat by South Africa.
The home squad likely won a host of new fans with their thrilling performance. Not only were a whopping 30,000 in attendance at Dignity Health Sports Park, thousands more watched the live broadcast on NBC. USA star Carlin Isles finished the tournament with five tries, passing the 200 Series tries milestone alongside teammate Perry Baker during the tournament. The team proved they will be serious medal contenders in Tokyo this summer.
The DHL Impact Player Award
The DHL Impact Player Award recognizes the individual efforts players make to support their team with carries, tackles, line breaks and offloads. As a company that understands the importance of teamwork only too well, we don't just celebrate the try scorers, we appreciate the try makers. They produce moments of skill and flair that can make a critical impact and change the course of the game.
Players are awarded 2 points for offloads, 1 for tackles, 3 for line breaks and 1 for carries.
Using a statistical analysis of individual players' performances measured against four key criteria – offloads, carries line breaks and tackles – we're shining a spotlight on these impact moments again this year. Players who execute these skills during a match are awarded points – 2 for offloads, 1 for tackles, 3 for line breaks and 1 for carries – to create a total score that is tracked on the DHL Impact Player Table.
Winners will be announced at the end of each tournament and the overall series winner will be judged across all 10 legs for the Men's series and all 8 for the Women's series.
Throughout the series, you can also keep an eye out for DHL Impact Moments that World Rugby Sevens will be sharing on social. So be sure to follow @WorldRugby7s and #ImpactMoment.
The HSBC Vancouver Sevens
The Series now moves to Canada for the HSBC Vancouver Sevens March 7-8. Now that South Africa has closed the gap and Fiji has found their form, we're in for an exciting two days of sevens rugby!
Be sure to follow #DHLImpactPlayer and @DHLRugby on Twitter, Facebook and Instagram for all the updates and insight on the DHL Impact Player Award!
And catch each and every #ImpactMoment throughout the series.