Fashion
Drive – Business of Fashion's Podcast Series delivered by DHL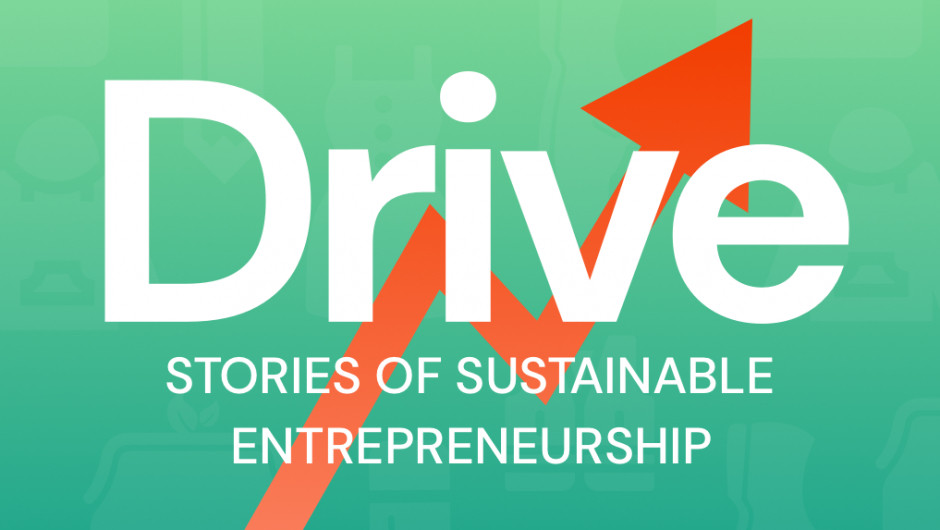 Season 2 - Sustainability in Fashion
Sustainable fashion refers to a more environmentally-friendly approach to designing, manufacturing and consuming clothes by extending the life of clothes or using recycled, upcycled and natural materials. Whereas ethical fashion focuses more on the social impact of the fashion industry such as fair living wages, working conditions, health and safety, treatment of animals and no forced labour and child labour.
Consumer preferences continue to shift towards sustainability, new values and a more conscious lifestyle, in other words consumers are beginning to expect more from brands. Thus, BoF's selection of sustainable brands shows the positively changing landscape of the fashion industry and its highly competitive, growing niche market.
Drive Episode 5:
Sustainable Fashion Pioneer Eileen Fisher on 35-years of Shifting Paradigms of Fashion
In this episode of Drive, the Business of Fashion's chief correspondent Lauren Sherman interviews the sustainability pioneer and fashion designer Eileen Fisher in front of a live audience of BoF professionals and students at Parsons School of Design. The benefit corporation and certified B corp, Eileen Fisher, is a New York-based fashion label practicing sustainable design and ethical manufacturing for the past 35 years.
Very early in her life Eileen Fisher inherited her zero-waste awareness and sensitivity to natural textiles from her mother. She consequently wanted to reduce the environmental impact of her label by paying more attention to materials, pattern cutting and supply chain from the beginning of her eponymous women's clothing brand. Natural and recycled fibers, organic dyes, ethical manufacturing, circular resale, recycling programs and many other low impact approaches became the focus for Eileen Fisher who wants to take responsibility for the entire life cycle of her garments.
Particularly interesting is that the company is entirely owned by Eileen Fisher and her employees. Companies with $440 million sales and 60 branded stores worldwide usually have or have had investor involvement, making Eileen Fisher a truly independent, ground-breaking fashion brand and a visionary leader.
If you're curious how Eileen Fisher reached global growth and how she deals with international supply and distribution chains, while staying true to her sustainable principles, then turn on the inspiring 45-minute long Drive podcast, episode 5.
Drive Episode 4:
Noah's Brendon Babenzien On Improving Business Ethics
The former creative director of Supreme, Brendon Babenzien, is the founder of the responsible menswear brand Noah and another dynamic leader in the sustainable fashion industry. In episode 4 of Business of Fashion's Drive Podcast, Babenzien talks about new consumer values, business ethics, profit margins, growth, collaboration and his new definition of success.
''We do our part, we make a better product and we ask people to keep it longer. We speak a lot about defying trends and just kind of being yourself and letting your own creativity come through and not leaning on labels or trends or whatever, which implies that you're much more creative. The people who look good with less, are obviously more creative people. And the people who wear the latest and greatest from head to toe – they're just rich.''
Babenzien describes his work as ''a form of cultural connectivity'' and uses his brand as a tool to speak out on issues that are important, while giving a voice to the people and organizations he cares about. Through various value-driven compaigns for Noah, the label gives portions of profits to the good causes of organizations such as Standing Rock Preservation and Ocean Against Plastic for Wildlife. This valuable cooperation allows to build an authentic community and following that strives to better the world little by little.
"If every business, every person in business, did little things, then the world would be a much better place. I can't prove that… but I believe in it, so I'm doing it."
Drive Episode 3:
Nicolaj Reffstrup on Ganni's Sustainable Fashion Efforts
Ganni's Nicolaj Reffstrup was interviewed by Imran Amed for BoF's new entrepreneurship podcast series 'Drive', delivered by DHL. The Danish brand Ganni was revamped by the husband-and-wife duo Ditte and Nicolaj Reffstrup and celebrates global success, today.
Ditte Reffstrup is a former fashion buyer and the label's creative director, who trailblazed a new era of Scandinavian style. Whereas Nicolaj Reffstrup's tech background and passion for sustainable strategies fuels his drive for continual improvement towards sustainable fashion standards.
Mapping and measuring the brand's carbon footprint became the main priority, as it creates awareness for the existing carbon footprint, while the carbon offset incentivizes to reduce future emission production. In this episode Reffstrup reveals how Ganni managed to increase the revenue with an annual average of 50% during the last three years, despite integrating sustainability.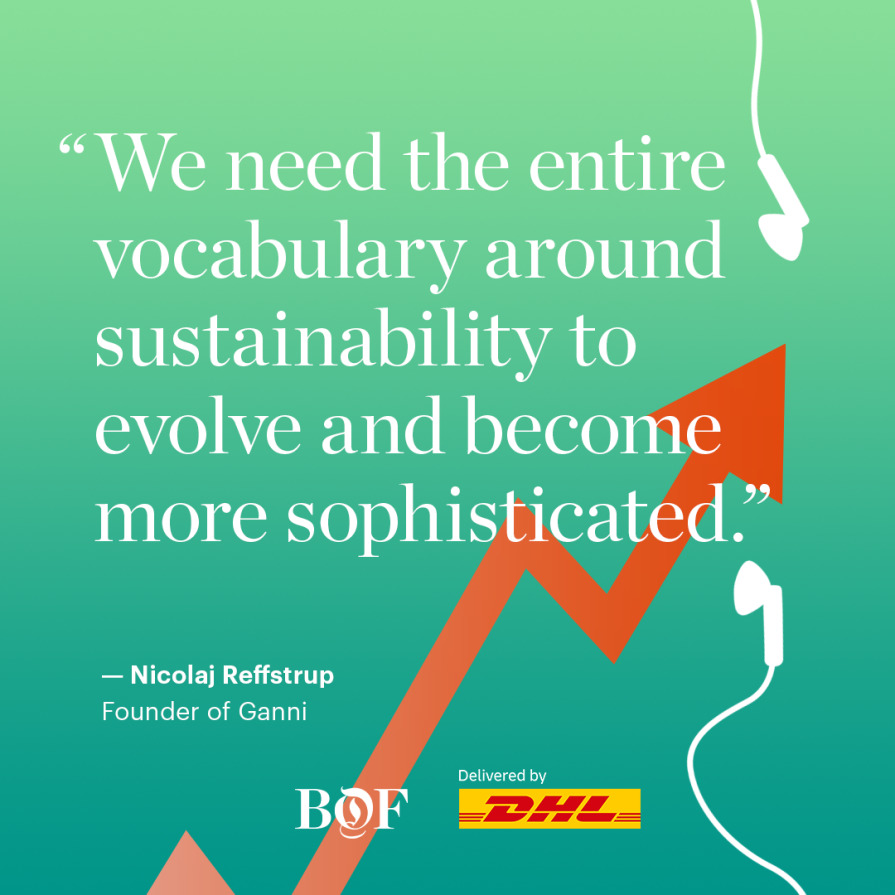 ''Our carbon footprint is the top priority. […] Start with your priorities. Turn it into something tangible, measurable, that people can relate to. It's kind of a way of imposing a monetary tax on your behaviour."
If you want to know how to successfully tackle sustainable goals when starting a fashion brand and why it is important to learn from bigger companies first – then listen to Drive Season 2, Episode 3 with Nicolaj Reffstrup on The Business of Fashion.
"I'm sure that consumers' perceptions will accelerate in the coming five years and I think you will need to be sustainable five years from now in order to be able to conduct your business."
Drive Episode 2:

Yael Aflalo On Adopting Sustainable Solutions
In Episode two of BoF's entrepreneurship podcast series, the Reformation founder and CEO Yael Aflalo shares her experiences in building an influential sustainable fashion business.
After years of frustration with the inefficient wholesale system of the fashion industry, she wanted to become an independent direct-to-consumer brand focusing on upcycling vintage fashion and deadstock textiles.
With her savings from Reformation's early years, along with a private-label project for Urban Outfitters, Aflalo relaunched Reformation as a B2C e-commerce business. She focused on finding new strategies and investors in order to be able to scale her sustainable fashion products and increase her impact on the fashion industry. Today, Reformation integrates various recycling and resale programs in order to circulate Reformation products.
"It's super important to have a holistic approach. Having a business mind, as a business owner you think holistically. But you also have to think about, what are the one or two things that I can do that are going to have the biggest impact for the smallest lift? That's really how we think about it, and that is [its] fibre."
Drive Episode 1:
Tim Brown on scaling Allbirds' Sustainable Footwear
BoF's entrepreneurship podcast series Drive, delivered by DHL, starts off with Allbirds' co-founder and co-CEO, Tim Brown, who explains how he managed through the ups and downs of establishing his pioneering footwear company.The San Francisco-based direct-to-consumer footwear brand was launched in 2016 as a registered B-Corporation, with the highest standards of verified social and environmental performance, public transparency, and legal accountability to balance profit and purpose.
Though well-versed in the functions of sports shoes and in the high performance of wool, the former professional football player and native of New Zealand had to assemble a specialised team in order to successfully disrupt the footwear market. Together with Joey Zwillinger, an engineer and renewables expert, he eventually developed the "world's most comfortable shoe" and sold over a million pairs of shoes in the course of two years.
Altogether it took almost a decade to release the perfected Allbirds sneaker, which is made of natural, recycled and renewable materials and with a low carbon footprint. Brown's perseverance kept him going even when times got tough, a trait that truly all great leaders and athletes share.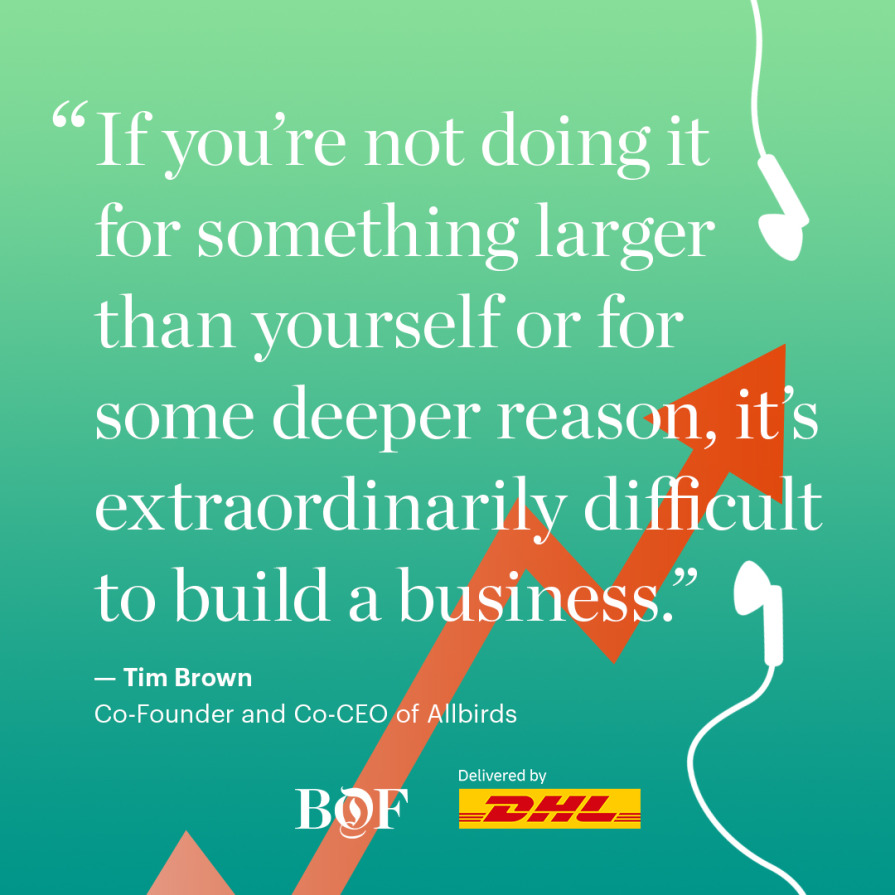 Season 1 - Entrepreneurship in Fashion
Drive Episode 1:
José Neves on building Farfetch
In episode 1, BoF's Imran Amed sits down with the Farfetch founder and chief executive José Neves. In the motivating interview he shares his entrepreneurial experiences of growing his self-funded Portuguese start-up to a disruptive but successful global marketplace for fashion, which has recently filed for an IPO on the New York Stock Exchange.
"I had this parallel life where there was dual track. I had a technology company in Portugal still running. I had a fashion business which was functional. I had to come up with something that actually leveraged maybe my unique strength. I'm not that good a shoe designer and not that good a programmer, but I have both."
In this episode you'll learn that entrepreneurial success doesn't come easy, on the contrary, it is a real challenge that requires determination and perseverance.
"From a personal level, I was absolutely hell bent [on] creating something in the intersection of technology and fashion, and that's when the idea of Farfetch came about."
Drive Episode 2:
Diane von Furstenberg on Building a Business in a Man's World
In episode two of BoF's new podcast series, Imran Amed talks to the fashion designer and entrepreneur Diane von Furstenberg about her 45-year business career. She shares the common highs and lows of a fashion business and how she began by using factory scraps to create the first iconic DVF wrap dress while pregnant.
"I wanted to be a woman who's in charge of her destiny, who could pay her bills. I wanted to be an independent woman. I went to Angelo Ferretti and said: 'I am pregnant. I am getting married and I'm moving to New York. Will you please, please, please allow me to make some clothes that I will try to sell in America?' So I would stay late at night with the pattern maker and grab any fabric that was on the floor, leftovers. That's how I made my first dresses."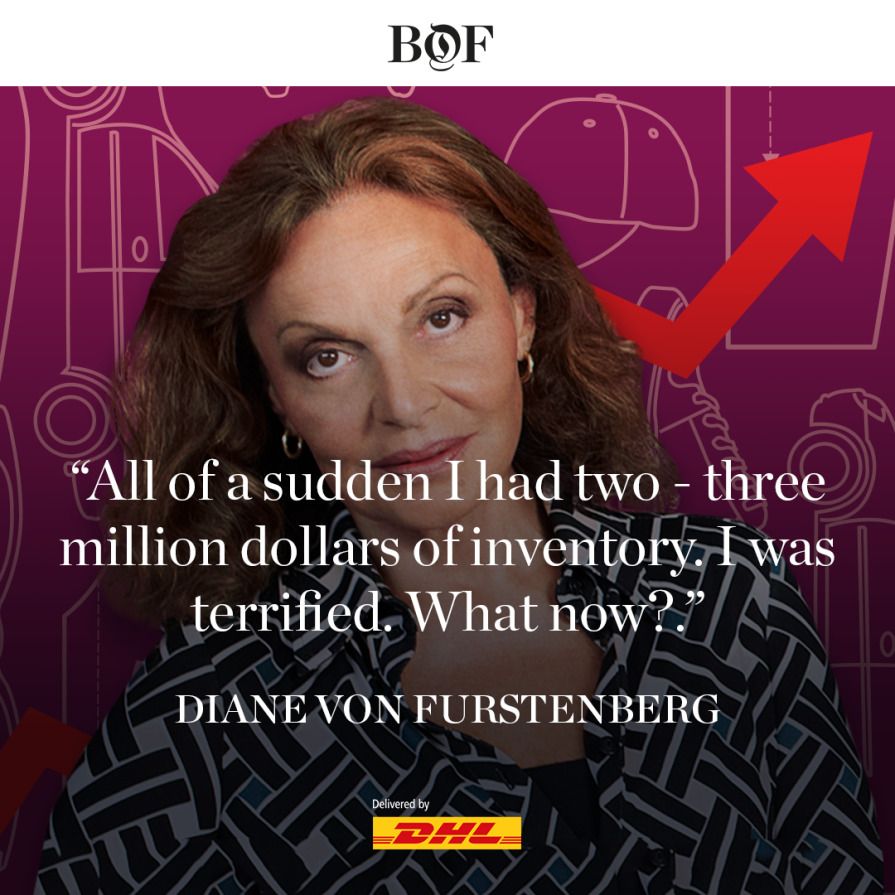 Adaptation, resilience, discipline and her passionate commitment sustained her thriving global enterprise for over 45 years. Listen to episode two in order to become a successful entrepreneur like DVF who sees failure as an opportunity to learn and grow.
"You have to live the moment and you have to own whatever it is, a catastrophe, anything. Face it, own it, deal with it."
Drive Episode 3:
Bobby Kim on Building Commerce with Community
Bobby Kim is the co-founder of the successful streetwear label The Hundreds and in Episode 3 of BoF's new Podcast series Drive, he is revealing his business secrets. Following his law studies Kim started off with a skateboard blog, while mixing various creative jobs from illustrating, designing and printing limited t-shirts with his partner Ben Shenassafar. By linking the LA skateboarding community and the skater culture with commerce he found a way of building his authentic streetwear brand – The Hundreds.
"When I look back on our early stuff, it was really poorly designed. We chose to print on really bad T-shirts. But we didn't see any of that. All we saw was, 'We have a story to tell. We believe that we — our community — are important.'"
Kim pioneered a business model built on creating interaction and engagement with followers and customers. The authenticity of skateboarding communities and their streetwear culture further explains the increasing importance and demand for authentic streetwear. Today, The Hundreds website has more views than any other big fashion website such as Gucci.
"I think this idea of authenticity and branding is what everyone's latching onto today. Early streetwear already captured that essence, and that's why it was successful. To me, the essence of best branding is saying 'no'. Streetwear kids, streetwear designers, streetwear brands, have no problem saying no, especially when you wave money in front of their face."
Drive Episode 4:
Alexandre Mattiussi on The Making of AMI
The fashion designer and AMI founder Alexandre Mattiussi began his career studying at Duperré School of Applied Arts in Paris. Later he worked in the design teams of Dior Homme, Marc Jacobs and Givenchy and gained in-depth knowledge about luxury design and pricing.
"I was working for big houses — Givenchy, Marc Jacobs — and as a customer, I couldn't afford the designs I was doing. This was the starting point. I said to myself, 'Okay. I'm doing a €2,000 sweater in cashmere. I'm sketching and designing a €1,000 jacket. It was super creative, all super expensive, and super luxurious. I said, 'Okay. It's completely disconnected with me, and I'm a designer. I should be the one who could wear, or afford, these designs."
Mattiussi started off by designing only shirts for AMI. Since he didn't feel prepared enough for making his business really grow and got offered a new position at Givenchy, he decided to close his business in 2002.
"No team, all by myself going to Limoges in the centre of France [where the shirts were produced]. I was selling maybe 800 shirts per season. It was not growing because I was not ready for it and I was not organised [enough] to make it happen and make it grow."
Nearly a decade later and with prepared funding and a refined market strategy Mattiussi gave AMI a second try. Today, his brand has over 300 luxury stockists and its own boutiques in Paris, Tokyo, London and Hong Kong.
"The advice I give to anyone who is starting a business is this: money could be a trouble very, very easily and very quickly. Your business is like a plant — you need to put water, or money, on it every day. If you don't, it dies. The first year [in business] costs a lot of money. You have the shows, you have the prediction, you have the company set-up, the press, everything. It costs a lot of money. So, you have to prepare yourself for success."
Drive Episode 5:
Warby Parker Founders on Forging Their Own Path
In episode five of BoF's podcast series Drive, the co-founders Neil Blumenthal and Dave Gilboa reveal the great success story of their $1.75 billion dollar estimated eyewear brand – Warby Parker.
"That we were outsiders to the industry was actually super helpful and beneficial. Most people that we talked to, who had years or decades of experience, their first reaction was to tell us why this idea would never work. Really, we were forging our own way and trying to think about what's going to make the most sense for our customers and the stakeholders we cared about."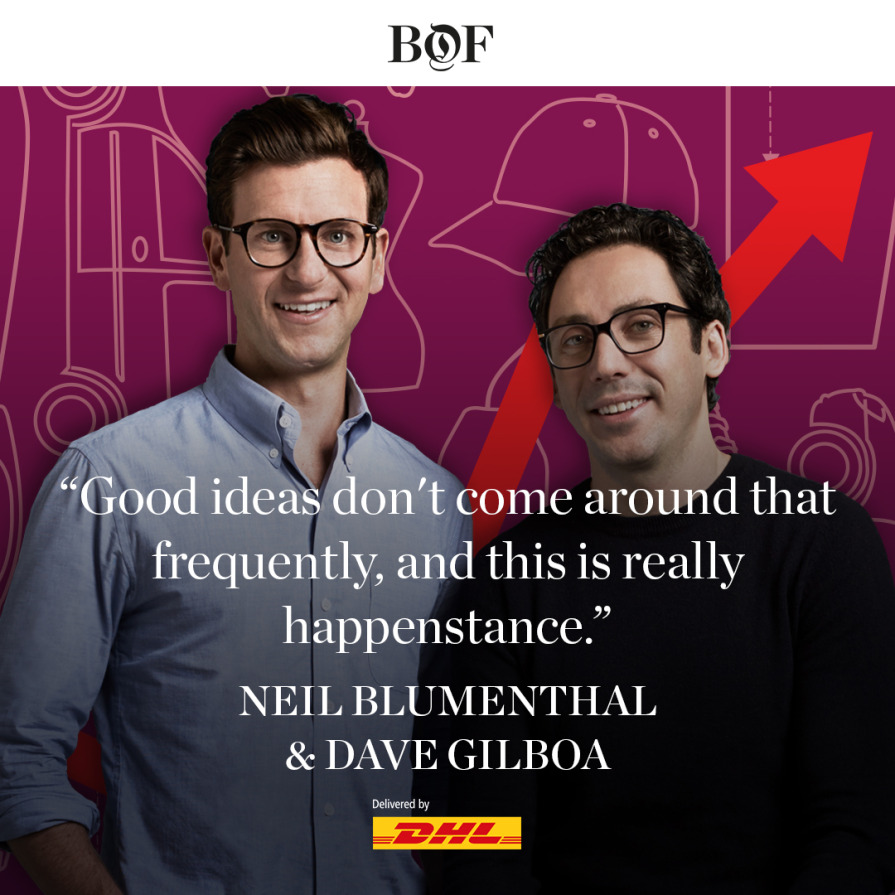 From the beginning in 2010, Warby Parker followed a direct-to-consumer model, offering a cheaper but very design-conscious alternative to high-priced prescription glasses and sunglasses. Their disruptive online innovation strategy combined with a focus on personal customer service and telemedicine services – gave them a unique market position. In the first years, customer visits at their home office as well as mouth-to-mouth-advertising further helped them build an authentic image and regular customers.Today, the company employs more than 1,400 people and operates over 75 innovative brick and mortar stores across the United States.
"From a business perspective — the bigger we get, the bigger the ultimate opportunity that we see in front of us becomes."
Drive Episode 6:
Tom Chapman on Growing MatchesFashion
In episode six of BoF's podcast series Drive, co-founder Tom Chapman explains how he and his wife managed to grow a single store into a global e-commerce business valued at over $1 billion. The merchants` willingness to break the rules of traditional retail, enabled them to transform their successful brick-and-mortar stores in London into an even more successful luxury e-commerce business.
"You have to have a vision of what you're going to do, and you have to deliver that vision. The selection, the curation, the storytelling and the logic of all the data — how do you marry those effectively? Because often, the logic tells you not to do something. Looking back, I would say there was no specific long-term strategy: 'Let's launch online and let's grow into a global international business."
Being the first to introduce Prada on the UK market gave MatchesFashion a unique buying position that made them stand out in the UK. Learning to be consistent in business management meant to remain true to the MatchesFashion vision and having to step away from certain brands.
"You need to keep the magic of the business, you need to keep its personality, you need to keep its DNA of what it is. You need to accept the fact that sometimes, things just don't have the return they should, but you need to have that representation to really be creative and to create a point of difference."
More importantly their decision making process has always been customer-focused. When it comes to logistics, the company has mastered global distribution and continues to innovate with services like 90-minute delivery in central London.
"I felt that if we were going to have customers who were living in Notting Hill, and they were going to be in Hong Kong, or they were going to be on holiday, or commuting, we should be able to supply them wherever they were in the world."
Drive Episode 7:
Rent the Runway's Jennifer Hyman on Realising Radical Ideas
In episode seven of BoF's podcast series Drive, Rent the Runway co-founder Jennifer Hyman is interviewed about her success story of attracting 10 million members to her platform.
Together with Jennifer Fleiss, her fellow student from Harvard Business School, Hyman launched Rent the Runway in 2009. The idea for creating a rental business model for luxury ready-to-wear and accessories sparked when Hyman`s sister purchased an expensive luxury dress for a typical one-off event – a wedding ceremony. Rent the Runway instantly became the go-to startup for customers looking to rent a tuxedo or a ballgown for a special event.
"The idea of the experience economy today, that people prefer experiences over ownership, is nothing new, but at the time it was radical to assume that the experience economy could be part of the closet and part of getting dressed."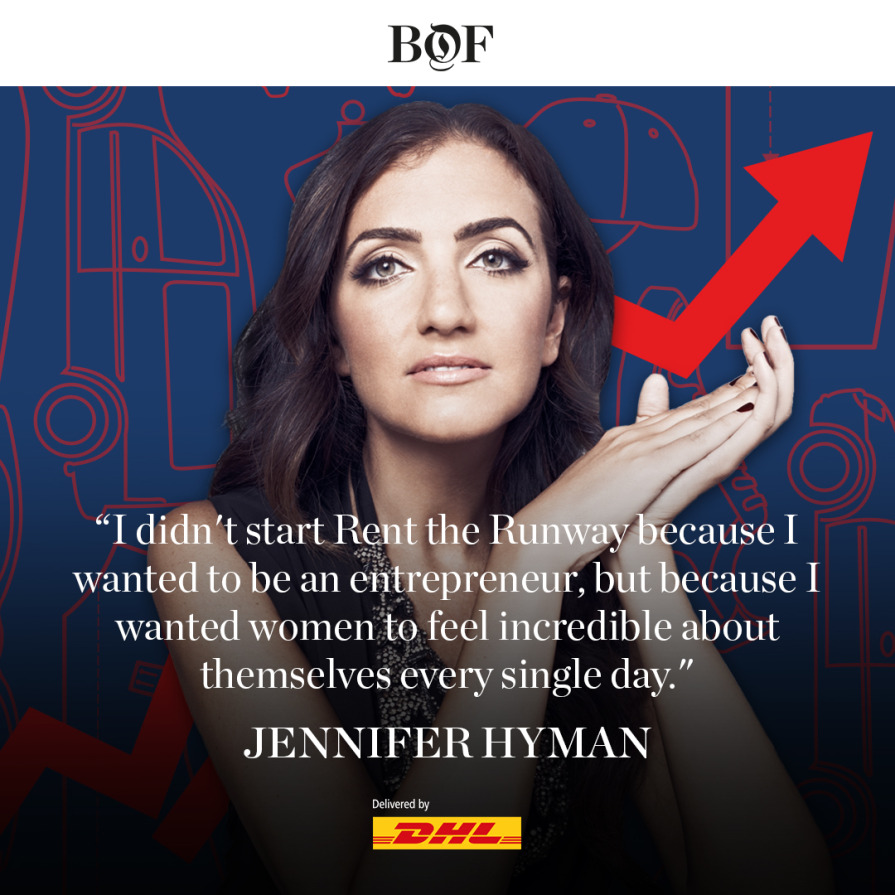 Today, Rent the Runway even offers high-end designer fashion for rental and operates the biggest dry-cleaning warehouse in the world. With Hyman's strategy of disrupting the fashion ownership model by inventing a completely new revenue stream for fashion brands – she raised more funding than any other female-led venture backed business in the United States.
"We're in the business of inbound logistics. Most e-commerce companies focus on outbound logistics. How quickly can I get this product to the customer? In our business, we focus on how quickly can I get this product back from the customer, make sure that it's perfect and ship it out to the next customer."
Now listen to this podcast to witness Hyman's relentless passion and energy that is driving the fast growth and success of her sustainable fashion business.