Fashion
From Startup to Catwalk: How DHL is stirring up the fashion industry
In fashion logistics, special needs and requirements are the norm, which means that standard, off-the-shelf solutions are simply not an option. In short, the logistics needs of customers in fashion, retail and e-commerce are as unique as their products. These needs extend far beyond transport, which is why DHL offers online retailers comprehensive e-commerce services, and advises designers and fashion companies on topics from pricing to customs requirements. For brick-and-mortar boutiques and department stores, DHL services include delivery, sales prep and returns logistics solutions.
Fashion logistics for online retailers and Fashion Weeks
The Grana story is a good example of effective collaboration between DHL and a fashion company. The Grana brand stands for affordable luxury, specializing in clothing made from the highest quality fabrics. Made from Chinese silk, Mongolian cashmere or Peruvian pima cotton, Grana's products are now being sold in 70 countries through its online and pop-up stores. Not bad considering founder Luke Grana founded his company just three years ago! He attributes his success most of all to outstanding value for money. This was made possible thanks to an intelligent, streamlined business model which relied – from the beginning – on its close partnership with DHL Express. "Grana focused on e-commerce from the start, using a single distribution warehouse in Hong Kong from which clothes are sent to customers all around the world," explains Arjan Sissing, Head of Brand Marketing at Deutsche Post DHL Group . "DHL Express worked together with Grana to develop a model that allowed DHL Express to integrate Grana directly into our e-commerce systems." As Grana's logistics and e-commerce partner to this day, DHL makes sure Grana products reach their destinations both quickly and safely – a challenging task involving often expensive and delicate fabrics.
In addition to up-and-coming startups, established brands also rely on DHL's fashion logistics expertise. The Swedish fashion brand Lindex provides a good example. Founded in 1954, Lindex sells its women's and kids' wear in about 480 stores in 18 markets as well as online in about 30 markets. DHL Global Forwarding handles all freight transport in Lindex's highly complex network. 140 suppliers and 240 different production facilities are involved in manufacturing Lindex products, which then make their way to retail stores and end customers via the company's three distribution centers in Sweden, the Czech Republic and Saudi Arabia. DHL transports Lindex's collections by ship, air and rail, and also takes care of all related customs formalities.
The size and logistics needs of companies like Lindex and Grana are very different, but both demand the same high level of care, precision and punctuality. In fashion logistics, these are the decisive factors for customers of all sizes – from tiny fashion startups to global retail chains. They are especially important when tackling the biggest challenge of all in fashion logistics: the major international fashion show. For many years, DHL has served as Official Logistics Partner to famous fashion events, including London Fashion Week, Amazon Fashion Week Tokyo or the Cairo Fashion Festival. "Executing these kinds of events is a complex process with very tight timelines," says Vincenzo Scrudato, , Head of DHL Trade Fairs & Events at DHL Freight. "We work behind the scenes, making sure, among other things, that collections arrive at the venue reliably and on time."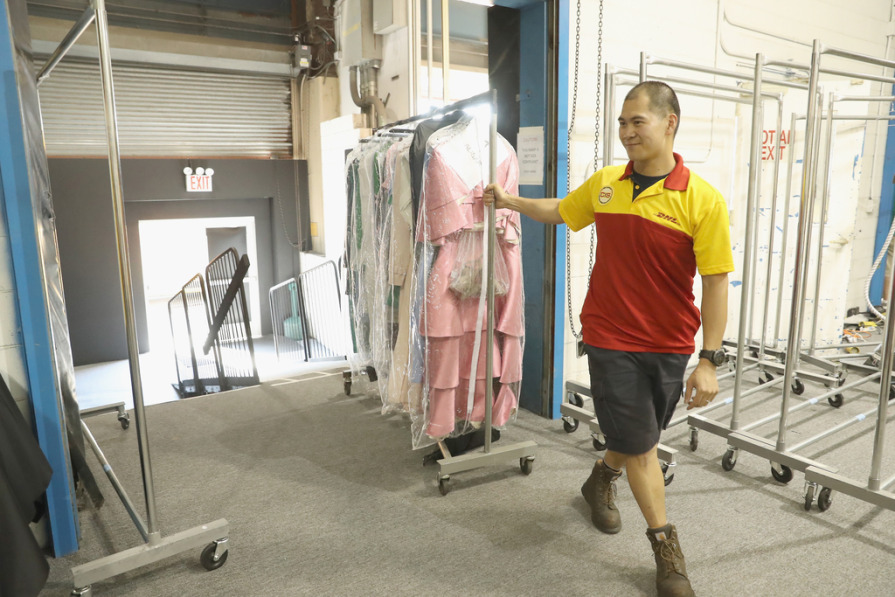 As logistics partner for numerous Fashion Week events, DHL makes sure everything runs smoothly behind the scenes – despite the tremendous hustle, bustle and stress.
Promoting young talent
For young fashion designers, the flashbulb frenzy on the runway of a major fashion show is usually a distant dream. But especially for small fashion startups, logistics plays a very important role. Whether it's sending product samples, supplying boutiques with final product, online store shipping or managing returns, small companies face numerous logistics hurdles. The story of the hip new British label Rixo provides a case in point. As sales from their own online shop began picking up steam, the company founders Henrietta Rix and Orlagh McCloskey stopped posting the packages themselves and arranged for DHL to pick them up. Outsourcing the first mile to DHL was just a small step, but one that allowed the young entrepreneurs to improve their processes and concentrate on their own business.
Of course the DHL-Rixo story doesn't just end with a few parcel pick-ups. The label has long-since outgrown the student apartment where it all started. Rixo's creations have made it into the major fashion stores, their online business is booming, and their clothes are being worn by celebrities such as Lily James and Sandra Bullock. And all under their own power, without the backing of external investors. One of the many reasons the company was awarded Britain's DHL Award for Fashion Potential in 2017.
Rixo London: The British label, known for its distinctive patterns, received the DHL Award for Fashion Potential in 2017.
Rixo is just one example of how DHL invests in promoting young companies and fashion labels. "Especially when they're just starting out, designers often face very big challenges," says Arjan Sissing. "We want to help lower the hurdles for young talents." One way DHL does this is with awards such as the DHL Award for Fashion Potential, which the company helps finance. With the £20,000 awarded by the prize, Rixo was able to expand internationally. DHL usually supports the prizewinners with transport and logistics services as well.
Young talents need role models
Sometimes young designers don't need material support, just a little guidance. "Often young designers don't have the experience to know what to watch out for when building a label," explains Arjan Sissing. To lend support on this front, DHL joined forces with the online magazine TheBusiness of Fashion (BoF) to create the podcast Drive, in which successful designers and entrepreneurs talk about their road to success on the international fashion scene. Conducted in English, the podcast is hosted by BoF founder and CEO Imran Amed. Drive's four episodes so far have featured a diverse range of experts: José Neves, founder of the luxury online shop Farfetch, Diane von Fürstenberg, fashion icon and inventor of the legendary wrap dress, Bobby Kim, founder of the streetwear label The Hundreds, and Alexandre Mattiussi, founder of the men's wear brand AMI. By sharing their wide-ranging experience and perspectives, these experts provide valuable insight into the fashion business and act as role models for up-and-coming fashion talents. "This form of cooperation as well as the podcast medium were both new territory for us," says Sissing. "But feedback so far indicates that people like the podcast, and that it's providing young designers with valuable input." Listeners value Drive because it's not only about the success stories, but also about the steps involved in getting there – the creative process and big ideas, but also the hurdles and setbacks.
We want to help lower the hurdles for young talents,

Arjan Sissing, SVP Group Brand Marketing
The search for trends and visionary ideas
Another practical aid for designers is the "Designer's Playbook", which DHL published in 2017 together with the Council of Fashion Designers of America (CFDA). The Playbook provides young designers with practical tips for building their companies and draws on a 2017 study published by DHL and CFDA entitled "The Human-Centered Supply Chain". "The study focuses on future challenges facing fashion-industry supply chains and how to overcome these challenges," explains Arjan Sissing. Such future studies play an important role for DHL. "As a fashion logistics provider, we're on the pulse of the latest trends and developments in the industry. But in the crush of our daily work, we sometimes lose sight of the longer-term trends," explains Sissing. To help keep an eye on the long-term horizon, DHL has collaborated for several years now with major industry associations such as the CFDA, the British Fashion Council (BFC) or the Camera Nazionale della Moda Italiana (CNMI), and works alone or in cooperation with these associations on addressing the future challenges in fashion and fashion logistics.
Sometimes this work draws interest not only from within the industry, but from the general public as well. Recently, for example, DHL published a study on the most important fashion trends and fashion-industry icons of the last 100 years. The study involved a survey of 6,000 women from the US, UK, Australia and Japan. The findings: In terms of fashion innovation, the actress Audrey Hepburn is still considered the most important fashion icon some 25 years after her death. "Our study shows that Hepburn's truly unique style really did set fashion standards. Whether it's the little black dress or the turtleneck sweater and ballerinas, her outfits remain ingrained in our collective memory decades later," says Arjan Sissing. Study participants chose the "Swinging Sixties" as the most innovative fashion era.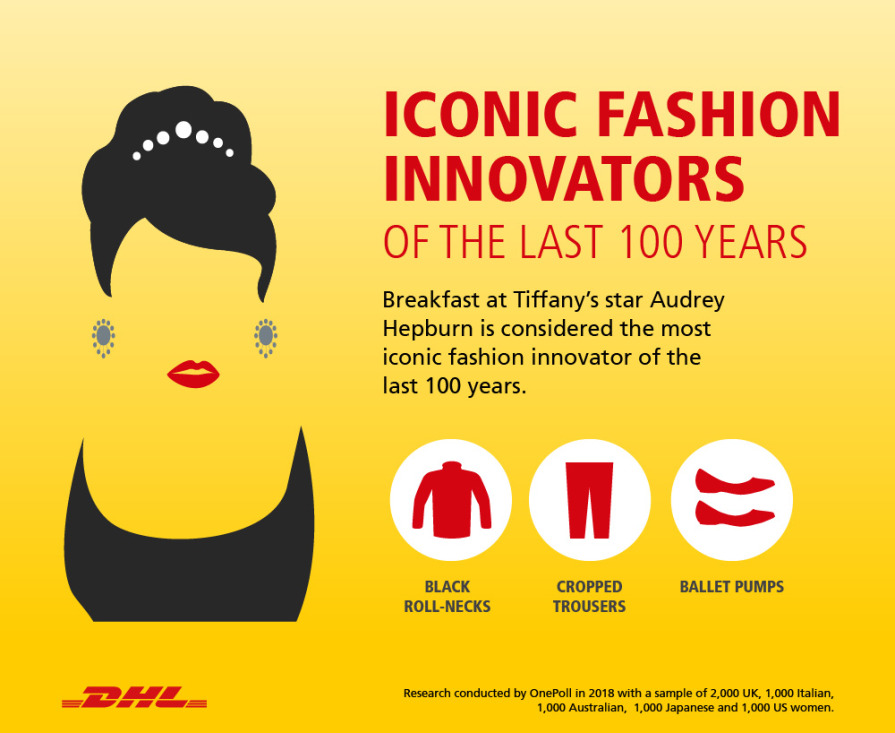 A logistics warehouse catwalk
As the examples demonstrate, DHL works at the interface between logistics and fashion in many different ways. But nothing illustrates this better than DHL's collaboration with the exclusive fashion startup VETEMENTS. In 2018, VETEMENTS, for the second time, presented a collection that incorporates the red and yellow elements of DHL's uniform – attractive fashion pieces based practical workwear. The "VETEMENTS x DHL Capsule Collection" includes t-shirts and skirts, as well as accessories such as socks and caps. "We clothe more than 200,000 employees worldwide for their daily work," says Arjan Sissing. "The VETEMENTS collection is a novel, whimsical interpretation of our workwear that also demonstrates how present we are in the everyday. At the same time, the collection recognizes the important role our logistics expertise plays in the fashion world." In February 2018, the red and yellow collection was aptly presented at DHL's ultra-modern Leipzig air hub on a makeshift catwalk between slides and conveyor belts.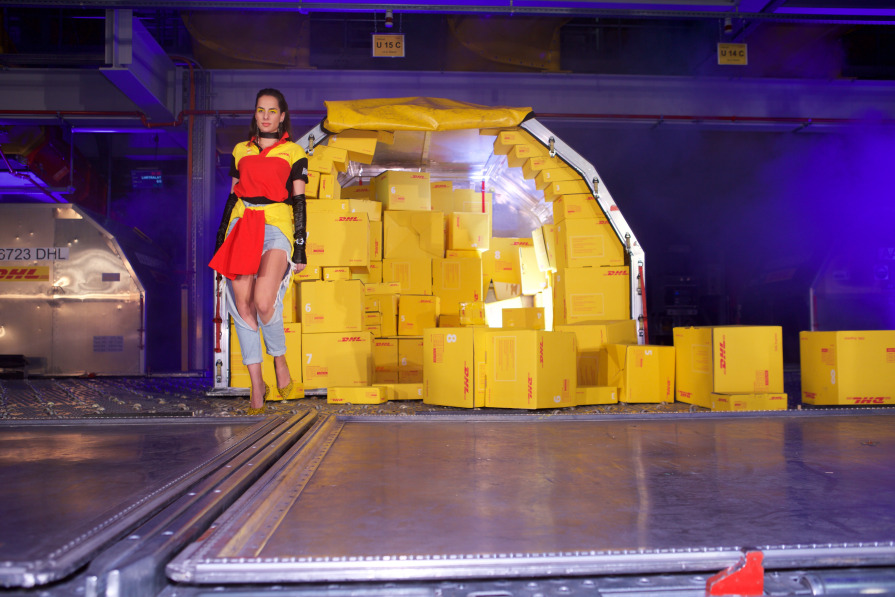 A new take on red and yellow: the "VETEMENTS x DHL Capsule Collection"
The iconic red and yellow VETEMENTS collection represents the fusion of logistics and fashion. Around the world, DHL logistics helps keep the fashion business running. At the same time, its many activities and partnerships promote the success of the industry in other ways – and occasionally it stirs things up a bit.