Rugby
RUGBY. DELIVERED. – WINNERS MAKE THEIR EXPERIENCE EPIC
Key Takeaways
Two winning RUGBY. DELIVERED. teams travelled to Tokyo, Japan for Rugby World Cup 2019™
Despite weather significantly changing the weekend's itinerary, the girls made the weekend's experience truly epic
The RUGBY. DELIVERED. kit travelled 485,000+ kilometers for 68 matches in 42 counties, with 2,210 players taking part
You might call it the perfect storm. While our two winning RUGBY. DELIVERED. teams were preparing for an ultimate experience at Rugby World Cup 2019™ in Japan, Typhoon Hagibis was hurling itself toward the Land of the Rising Sun. With the storm's destructive winds threatening multiple cities over the weekend, Rugby World Cup organizers were forced to cancel a number of matches. That included the England vs France game at International Stadium Yokohama on Saturday, October 12 – the very match Takafumi and his team from Gifu, Japan, and Johann and his team from Stellenbosch, South Africa, were supposed to attend.
Weathering the storm in epic style
Despite the weather, both teams arrived safely on Friday evening. However, the storm forced them to remain inside their hotel until Sunday morning. But that didn't keep the girls from having fun and getting to know each other. At a welcome lunch hosted by DHL Japan, the group played games, exchanged gifts, and danced before being treated to a viewing of "The Brighton Miracle" – the film based on Japan's historic win over South Africa at Rugby World Cup 2015.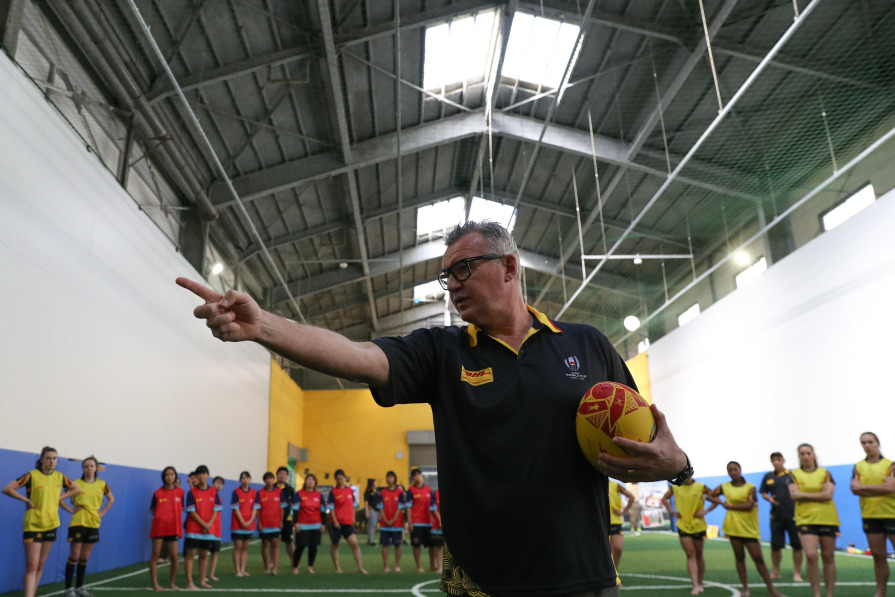 On Sunday, the teams departed the hotel for an intimate training session with DHL ambassadors Sir John Kirwan and Shotaro Onishi as well as our intrepid Race to RWC cyclists Ron Rutland and James Owens. This two-hour private coaching session concluded with some friendly rugby matches between the two teams and proved to be the highlight of the weekend. The girls followed this up with a fun round of karaoke before heading to the jam-packed Tokyo City fan zone to watch Japan's epic victory of Scotland.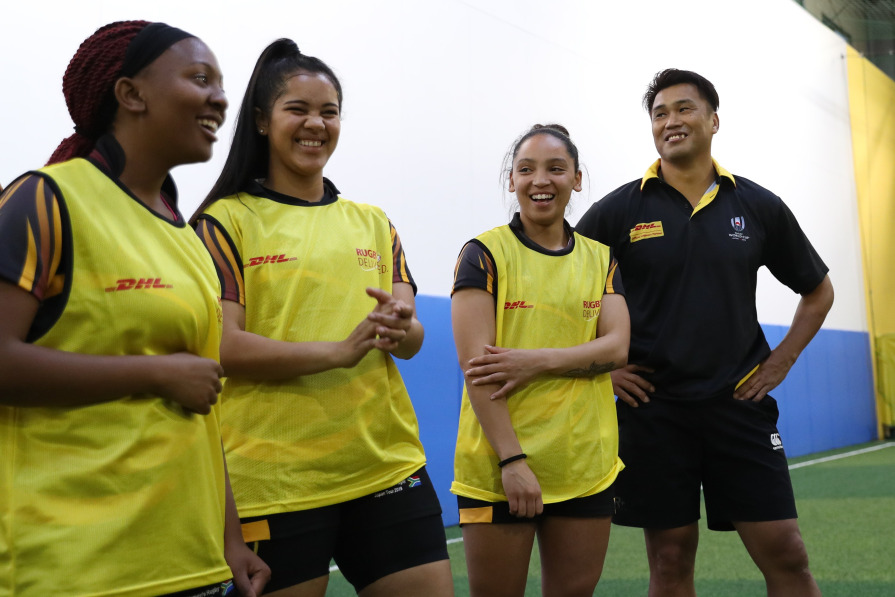 Before saying goodbye and departing Tokyo on Monday, the group took part in a traditional soba noodle making class, which naturally included enjoying the food they prepared. In the end, the typhoon certainly caused changes to the weekend's itinerary.
But that didn't stop the girls from making the most out of their moment – and plenty of new friendships along with it. The comradery between them made the weekend's experience truly epic!
"Through the meetings with South African girls, lessons by Sir John Kirwan and Onishi-san and all, my love to rugby grew much more," said one girl.
"It was so much fun to get to know and become friends," said another.
Before departing, Johann sent this message: "Thank you for an unforgettable experience. I've had so many positive things said from the ladies and its something we will all remember!"
Winning the experience
This year's winning teams were chosen based on the effort and enthusiasm of the match hosts and players as well as the quality of the match day experience.
Takafumi and his team from Gifu, Japan, entered RUGBY. DELIVERED. to raise their city's profile within the rugby community, hosting their match in conjunction with a local community event. On their match day, they also held a tag rugby tournament for elementary school children.
When he heard the news that his team had been selected, Takafumi said: "I'm speechless with emotion."
The girls from Gifu really embody the RUGBY. DELIVERED. spirit with their unwavering passion and desire to grow the women's game across Japan.
Johann and his team from Stellenbosch, South Africa, entered the competition to promote women empowerment and encourage women to take up Rugby in South Africa. His team from University of Stellenbosch is the first ever women's Maties rugby team. The players are all studying sports science.
"This is a massive opportunity for the ladies," said Johann, when he got the news.
The lady Maties and their appetite to empower and encourage women to take up rugby in South Africa made them a worthy fit to join Takafumi and his team as the 2019 RUGBY. DELIVERED. winners.
Delivering rugby to the world
Launched in September 2018, RUGBY. DELIVERED. is a global campaign we organized to celebrate the passion of rugby together with fans around the world. We made an open invitation to fans around the world to host a rugby match using kit we would deliver. Hosts would be entered to win the grand prize – a trip with their team to Tokyo during Rugby World Cup 2019 for an #EpicExperience. One winner would be selected from match hosts Japan and another from abroad.
Launched in September 2018, RUGBY. DELIVERED. is a global campaign we organized to celebrate the passion of rugby together with fans around the world.
Over 469 entries poured in from 48 countries. And over the course of eight months, 68 matches were played in 42 countries. More than 2,200 players competed in everything from 15s and 7s to touch and tag to beach and wheelchair, with an equal number of men and women participating.
All told the tour kit travelled over 485,000 kilometers!
Vote for your #EpicMoments
Following the end of each round of Rugby World Cup 2019, a public vote will launch on Twitter and RugbyWorldCup.com to decide which incredible piece of skill or breath-taking play is the most Epic Moment. Be sure to follow @DHLRugby and @RugbyworldCup so you can log on to cast your vote and let us know which is your favorite.