Rugby
Glendale IPA: The Big Names are Back
The big guns came out firing this weekend to open the HSBC World Rugby Women's Sevens Series 2020. Charlotte Caslick, Michaela Blyde, Alena Mikhaltstova and Bianca Farella – all of whom made the top 10 on the 2019 DHL Performance Tracker – found themselves on the table once again to start the 2020 campaign. If the rest of the series goes anything like Glendale, were in for a hotly contested DHL Impact Player Award this year!
In the end it was Australia's Charlotte Caslick who finished on top with a fantastic 63 points, including 12 tackles and 26 carries. Her 7 tackles and 2 offloads gave her one-point edge over New Zealand's Michaela Blyde. If Caslick can stay fit all season, she'll no doubt be one of the favorites to win the 2020 DHL Impact Player Award.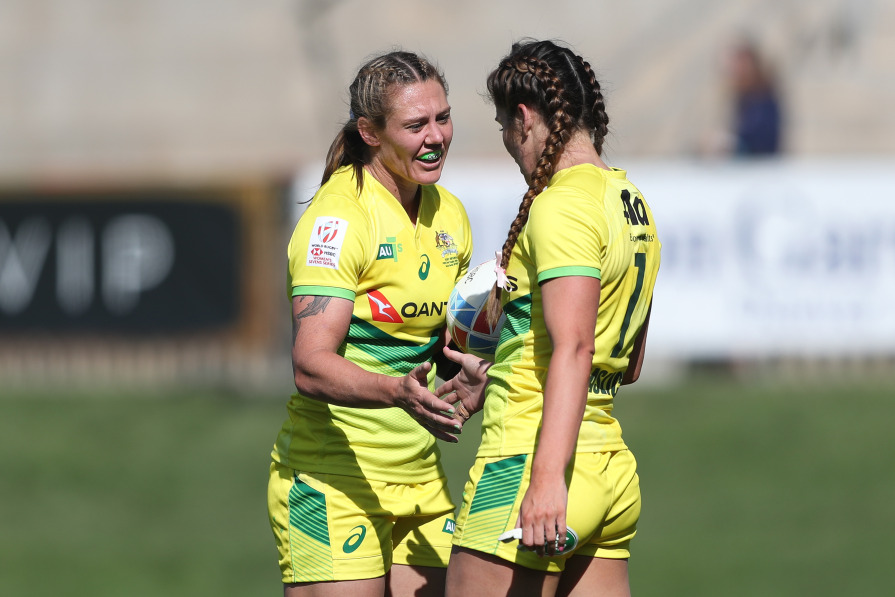 Impact Moments
The DHL Impact Player Award recognizes the individual efforts players make to support their team with carries, tackles, line breaks and offloads. As a company that understands the importance of teamwork only too well, we don't just celebrate the try scorers, we appreciate the try makers. They produce moments of skill and flair that can make a critical impact and change the course of the game.
Using a statistical analysis of individual players' performances measured against four key criteria – offloads, carries line breaks and tackles – we're shining a spotlight on these impact moments again this year. Players who execute these skills during a match are awarded points – 2 for offloads, 1 for tackles, 3 for line breaks and 1 for carries – to create a total score that is tracked on the DHL Performance Tracker.
Winners will be announced at the end of each tournament and the overall series winner will be judged across all 10 legs for the Men's series and all 8 for the Women's series.
Throughout the series, you can also keep an eye out for DHL Impact Moments that World Rugby Sevens will be sharing on social. So be sure to follow @WorldRugby7s and #ImpactMoment.
A fantastic display in the USA
Back to HSBC USA Women's Sevens in Glendale, where fans were treated to some high-altitude, high-octane rugby.
Black Fern Michaela Blyde, who claimed the DHL Impact Player Award in 2017, matched Caslick's 12 tackles and 7 line breaks and had 21 carries and 4 offloads. It was the offloads – scored at 2 apiece – that put her only one behind the leader. Blyde is certainly one to watch this year, finishing 10th on the DHL Performance Tracker last year despite an injury.
In third place was USA's own Alev Kelter, who put on a fantastic display in front of her home crowd with 8 tackles, 5 line breaks, 3 offloads and … wait for it … 30 carries! That puts her at 59 points and just four behind Caslick. Described as having "otherworldly athleticism", Kelter will likely be a present force in the IPA standings this series.
Russia's Alena Mikhalstova, who was our overall DHL Impact Player last year, led at the end of Day 1 but had to settle for 5th place. The beating her team took against Australia in the Cup quarter final certainly didn't help her score. But we can't count out Russia's captain, who is a constant threat on the front foot and exceptionally determined on defense. When she's in control of the game, Team Russia is definitely a formidable threat.
Team USA with consecutive titles
Kelter's home team defeated Australia 26-7 in the Cup final to triumph on home soil for the first time on the HSBC World Rugby Women's Sevens Series. The win also sees USA become the third team, after Australia and New Zealand, to win consecutive titles on the series, having won in Biarritz in the final event of the 2019 Series.
"It feels incredible!"

USA captain Abby Gustaitis
Losing only once to France in their final pool match on Day 1, the Eagles put on a series of solid performances, including a 45-7 win over Ireland. In the knockout stage, they had pulled of a stunner semi-final victory over New Zealand, eliminating the Black Ferns 19-17 in a match that saw Kelter score a try inside the first 17 seconds. And that was after another thriller against North American rivals Canada where a try in the closing seconds sealed the deal.
"It feels incredible," captain Abby Gustaitis told World Rugby Sevens.
Silver medal winners Australia, cruised all the way through their pool and the initial knockouts, arriving at the final unbeaten. In addition to crushing Russia, they routed France 40-0 in the semis.
New Zealand took home the bronze medal, beating France 31-14. With the Black Ferns having dominated the series in recent years, this may be a sign that it's not going to be smooth running for them this time around. That said, the top four look likely to remain similar to last year, with New Zealand, USA, Canada and Australia all looking strong.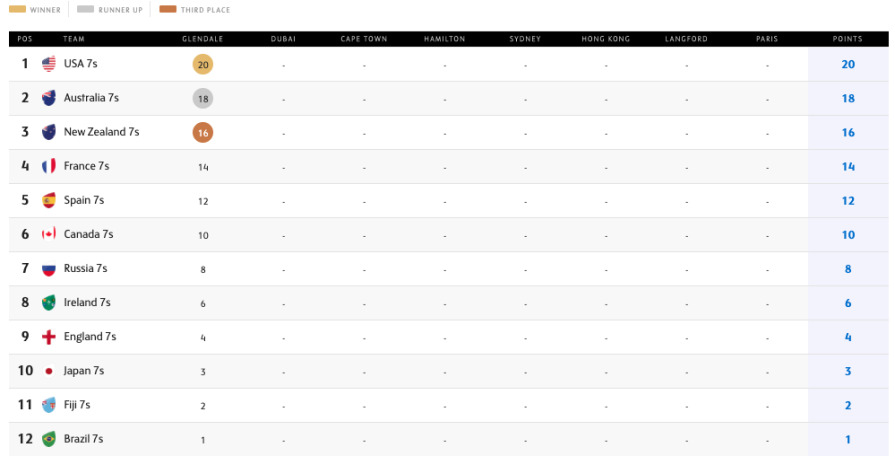 Next up: Dubai
The HSBC USA Women's Sevens in Glendale was just the first of eight rounds in the Women's series this year, with round two in Dubai in December alongside the Men's series opener.
Be sure to follow #DHLImpactPlayer and @DHLRugby on Twitter, Facebook and Instagram for all the updates and insight on the DHL Impact Player Award!
And catch each and every #ImpactMoment throughout the series.