Rugby
RWC 2019: Pool Stage Delivers Many Epic Moments
Thrilling. Historic. Epic. The pool stage of Rugby World Cup 2019™ was all that and more. We witnessed 40 thrilling matches filled with enough drama. We watched Japan make history – again! – with a breath-taking win over Scotland in the final match of Pool A, which came two weeks after the stunning upset of then world No. 2 Ireland. And we were treated to some truly Epic Moments on the pitch, like the pinpoint kick produced by Japan's Timothy Lafaele to set up his team's third try – or All Black TJ Perenara's piece of magic against Namibia, which is already being dubbed as the try of the tournament.
An epic stage
And the list goes on and on. This Asia first has delivered. It's been an unbelievable Rugby World Cup so far.
It all kicked off with an explosive match between Japan and Russia, where the hosts showcased their hometown flare and showed the world what they were capable of.
Then of course we relished the sights and sounds of the heavyweight clashes between New Zealand and South Africa, France and Argentina, and Scotland and Ireland – brilliant gladiator battles that didn't disappoint.
Uruguay surprised Fiji in a huge upset and an epic victory – only their third in Rugby World Cup history.
Naturally there were a number of one-sided affairs with predictable results, yet teams like Russia, Canada, Namibia and the United States performed admirably, winning many hearts and leaving the field with their heads held high.
By all accounts the climax came on the final day – in the final match of Pool A. There was one place left and two teams gunning for it. They came out fast and furious – a ferocious pace that left us exhausted. Japan brought an extra level, looking to match the miracle of Brighton four years ago. Rugby World Cup TV world feed commentator Alastair Eykyn called it "rugby for the soul" – an "all-time classic" that we'll "be talking about for decades". And that just a few hours after Typhoon Hagibis had torn through the country.
An #EpicJourney
Off the pitch, Rugby World Cup 2019 has also delivered. The day before the opening match, DHL-supported cyclists Ron Rutland and James Owens pedaled into Tokyo Stadium to deliver the official opening match whistle to RWC referee Nigel Owens. It was the culmination of a phenomenal #EpicJourney that took them across 27 countries in 230+ days – 20,000+ kilometers in a Race to Rugby World Cup. All for a good cause.
An #EpicDelivery
And as if that delivery wasn't epic enough, we've seen 38 Match Ball Delivery kids take to the pitch alongside rugby legends, delivering the official match ball onto the field. Some very touching moments have developed between the kids and the captains, such as Japan's Michael Leitch and USA's Blaine Scully. All told, DHL's global Match Ball Delivery program is giving a total of 48 lucky children the once-in-a-lifetime opportunity to deliver the official match ball onto the field at the 48 Rugby World Cup 2019™ matches.
An #Epic Experience
Launched in September 2018, RUGBY. DELIVERED. is a global campaign we organized to celebrate the passion of rugby together with fans around the world. We made an open invitation to fans around the world to host a rugby match using kit we would deliver. Hosts would be entered to win the grand prize – a trip with their team to Tokyo during Rugby World Cup 2019 for an #EpicExperience. Despite Typhoon Hagibis significantly impacting the weekend's itinerary, our two winning teams – one from Japan and one from South Africa – made the most of their moment along with plenty of new friendships. Beyond the a private training session with DHL ambassadors Sir John Kirwan and Shotaro Onishi, the girls we're treated to karaoke nights, a noodle making course and a viewing of "The Brighton Miracle" – the film based on Japan's historic win over South Africa at Rugby World Cup 2015.
#RWCEpicMoments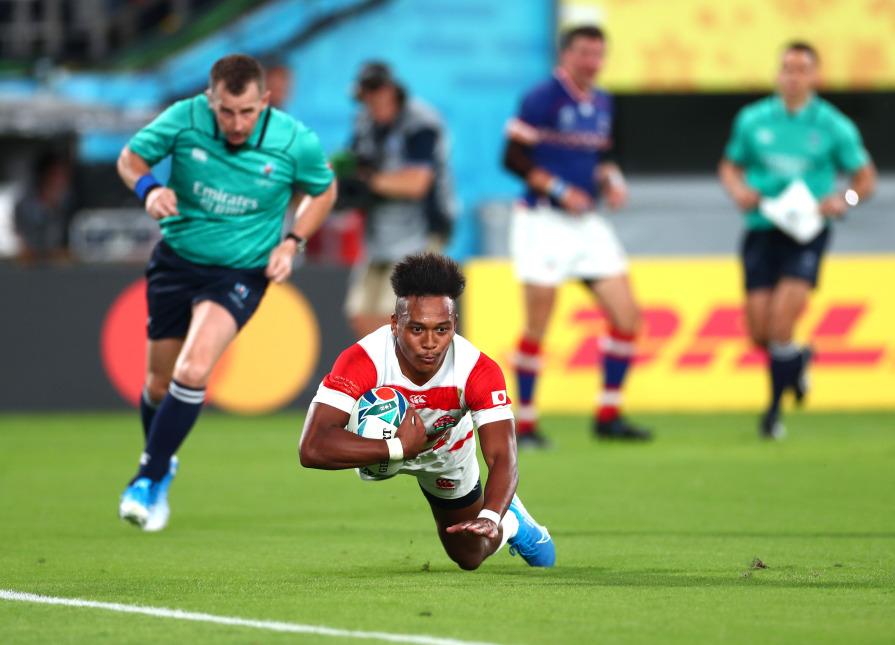 Throughout Rugby World Cup 2019, we are giving rugby fans the chance to choose the Epic Moments of tournament. That's because these are the moments we live for. That silky sidestep, a try-saving tackle or a game-winning drop goal. During the pool stage, we held four rounds, featuring some fantastic play from each round of the pool fixtures. The fourth round was extra special, featuring four Epic Moments from Japan vs Scotland.
Rugby World Cup 2019 is far from over! The final teams embody an epic lineup that is sure to deliver more Epic Moments.
Be sure to follow #RWCEpicMoments and vote for your Epic Moments during the knockout stages.