Rugby
DHL IPA: Kenya's Jeffrey Oluoch Delivers in Group of Death
It seems like the Cathay Pacific/HSBC Hong Kong Sevens delivers in abundance every year, both on and off the field – and 2019 was no different. For many teams, it was a tournament of ups and downs. While some impressed in the earlier rounds, others shined when it mattered most. There were few who managed to maintain rugby excellence throughout the whole weekend.
What remained constant throughout the entire weekend was the wonderful community of rugby respect we witnessed as many teams offered heart-warming gestures to the All Blacks given the horrific recent events in Christchurch. It was yet was another example of how rugby always rallies together.
It also seems like the HSBC World Ruby Seven Series simply can't stop making history. After team USA remarkably retained their crown in Las Vegas last month, it was Fiji's turn to write themselves – yet again – into the rugby 7s history books. The Fijians love playing in Hong Kong – that much is obvious. They played with limitless flare and showcased true team spirit mixed with individual brilliance. In Short, Fiji out-Fiji'd themselves. They've now won the Hong Kong 7s five times in a row, a feat never achieved by any other team at an individual tournament. Although there were many, the real highlight was watching them dismantle New Zealand (24-5) in the final round of pool matches.
With all eyes on Fiji, may have missed the dazzling show Kenya's captain, Jeffrey Oluoch, was putting on in what you could call the "group of death." In Pool C, Kenya faced none other than rugby powerhouses Fiji, New Zealand and Australia.
Real power, real pace, real impact
Oluoch put up some massive numbers in Hong Kong to become the DHL Impact Player, racking up a total of 52 points on 13 tackles, 6 breaks, 7 offloads and 26 carries.
His impact performance is all the more impressive considering the teams Kenya faced and the fact that the Shujaa only bagged a solitary win, beating Canada 19-0 in the Challenge Trophy quarterfinal. Oluoch made some crucial tackles and beat off some top players throughout the weekend.
Oluoch has been described as a beast – a player with amazing strength through the tackle – and we saw that on display in Hong Kong. The man has the power and the pace to make a real impact every time he takes the field.
His point total was six ahead of Fiji's Vilimoni Botitu and Samoa's John Vaili, who both had fantastic tournaments, inspiring their teams to 1st and 4th places finishes, respectively.
Overall, Canada's Connor Braid is still well out in front, sitting at 256 points with a 25-point cushion over Samoa's Alamanda Motuga. Botitu and USA's Ben Pinkelman are in 3rd and 4th place with 228 points.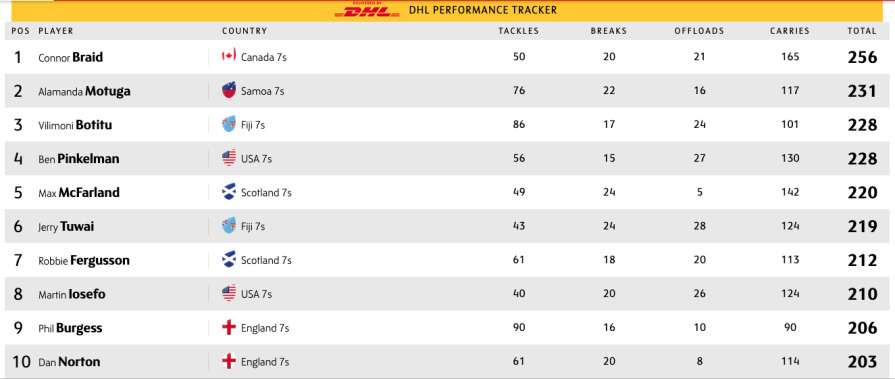 Though Connor enjoys a comfy lead, there's certainly no time to relax with three more rounds left in the HSBC World Ruby Seven Series 2019. The action continues in Singapore this weekend, followed by London in late May and Paris a week later in early June.
USA remains the team to beat
After taking bronze and ensuring a complete set of medals on this year's world series, the Eagles remain the outright leaders with 130 points. After four silvers and a gold, the third-place finish in Hong Kong secured Mike Friday's side another 17 world series points and puts them in a position to potentially secure qualification for Tokyo 2020 in Singapore.
But it's still a three-horse race for the title, with Fiji now seven points back and New Zealand a further five behind after their disappointing result in Hong Kong. South Africa remains nine points clear of England in the race for that coveted 4th spot and guaranteed Olympic qualification.
And though they're not competing for the title, we have to give it up for France, who have really upped their game of late. They found themselves in the final for the second time in a row – and well-deserved, too, after dispatching New Zealand 14-12 in the quarter finals and defeating Samoa 19-12 in the semis. It was the first time they'd ever beaten the All Blacks in Hong Kong. Their achievements were epitomized by the play of Gabin Villiere, who was outstanding across the weekend, racking up 42 points to take 4th place on the DHL Performance Tracker.
There certainly won't be any lack of excitement as we watch the final three tournaments.
Next up: Singapore
A key stop on the world series, Singapore is set to be a thriller as team USA hopes to fight off both Fiji and New Zealand while all the teams compete for vital points in the final rounds. With the Olympic qualification on the line, we're sure to see more enthusiasm and emotion on the pitch as teams look to secure their ticket to Tokyo 2020. And Singapore's world-class National stadium is sure to offer both fans and players a truly unique and electric atmosphere.
Keep up with all the action at the HSBC Match Center.
DHL Impact Player Award
A rugby player produces moments of skill and flair that are critical to a team's success on the pitch, in the same way that DHL uses care and commitment to service your shipments. The DHL Impact Player Award recognizes such moments using a statistical analysis of individual players performances measured against four key criteria: Offloads, Carries, Line breaks and Tackles. The scores are compiled and presented on the DHL Performance Tracker, where the total score for each player is a combination of each criteria.
A winner is announced at the end of each individual tournament and the Overall Series Winner is judged across all 10 legs for Men's and all 5 for the Women's.
Follow #DHLImpactPlayer and @DHLRugby on Twitter, Facebook and Instagram for all the updates and insight on the DHL Impact Player Award!
Want to win a trip to Rugby World Cup 2019?
Join

RUGBY. DELIVERED.

and get your chance
to win the ultimate rugby experience!