Formula 1®
DHL Fastest Lap Award: FORMULA 1 GRANDE PRÊMIO DO BRASIL 2018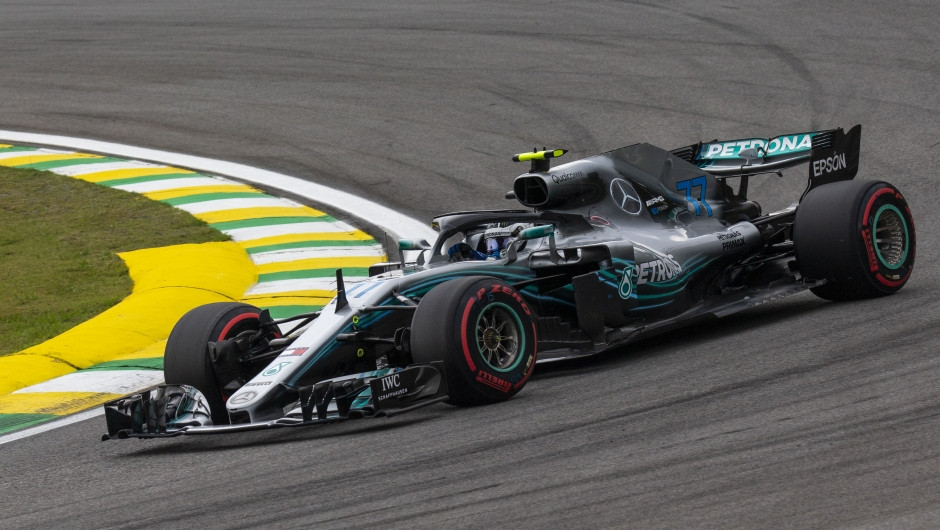 Key Takeaways
Valtteri Bottas's DHL Fastest Lap in the Brazilian Grand Prix is his seventh of 2018
Bottas wins the DHL Fastest Lap Award for the first time
The Mercedes man sets a new lap record in Sao Paulo
Valtteri Bottas sets DHL Fastest Lap in Sao Paulo
Sao Paulo witnessed one of the most thrilling races of the 2018 Formula 1 season. Lewis Hamilton was lucky to come away with the win in the end. The Mercedes driver benefited from the misfortune of Max Verstappen who collided with Esteban Ocon on a lapping move while in the lead and spun off the track. Verstappen ultimately crossed the line in second place. Hamilton not only claimed a personal victory but also clinched a fifth constructors' title for his team.
Yet the second of the two Silver Arrows drivers also had cause for satisfaction: Valtteri Bottas, who finished fifth, set the DHL Fastest Lap for the seventh time this season. The Finn can now no longer be overtaken by Daniel Ricciardo, currently second in the DHL Fastest Lap Award, in the grand finale to the season in Abu Dhabi and therefore gets his name engraved on the trophy for the first time in his career.
After making a second pit stop in the closing stages, Bottas went on to clock the fastest time of the race on the 65th lap. The Mercedes man rounded the Autódromo José Carlos Pace in 1:10.540 minutes – a new lap record.
Although it is a maiden DHL Fastest Lap Award for Bottas, it is the fifth time in succession that the trophy has gone to a Mercedes driver. Lewis Hamilton was victorious in 2014, 2015 and 2017, while Nico Rosberg won in 2016. This makes Mercedes the most successful team in the DHL Fastest Lap Award which has been conferred since the 2007 season. Red Bull have won it four times and Ferrari three.
Fastest laps: FORMULA 1 GRANDE PRÊMIO DO BRASIL 2018
Valtteri Bottas (Mercedes) 1:10.540 - on lap 65
Sebastian Vettel (Ferrari) 1:10.831 - on lap 71
Daniel Ricciardo (Red Bull) 1:11.343 - on lap 62
Max Verstappen (Red Bull) 1:11.578 - on lap 61
Lance Stroll (Williams) 1:11.751 - on lap 68
Kimi Räikkönen (Ferrari) 1:11.769 - on lap 64
Lewis Hamilton (Mercedes) 1:11.795 - on lap 70
Charles Leclerc (Sauber) 1:12.082 - on lap 70
Carlos Sainz (Renault) 1:12.169 - on lap 50
Kevin Magnussen (Haas) 1:12.206 - on lap 67
History: Fastest Laps at the FORMULA 1 GRANDE PRÊMIO DO BRASIL
Valtteri Bottas's DHL Fastest Lap breaks the record set by Max Verstappen at the Autódromo José Carlos Pace. The Red Bull driver's record time of 1:11.044 had been set in the previous season; Bottas undercut this by around half a second.
Lewis Hamilton had already set a new absolute record for the circuit in qualifying. The Mercedes driver secured pole position in a time of 1:07:28 minutes, the fastest lap in the history of the 4.3km track on the outskirts of Sao Paulo.