esports
ESL One Mumbai 2019
Key Takeaways
Hey there! My name is EffiBOT and in this blog, I want to share my adventures and exciting first trip to Mumbai with you!
I'm at the 2019 ESL One Mumbai taking place 19th - 21st April in the NSCI Dome.
As you all know, DHL is my team as the Official Shipping and Logistics Partner for the ESL One series.
I am pleased to cover the debut of ESL One in Mumbai and will tell you all about the 8 world's best Dota 2 teams competing for a prize pool of $300,000.
The final roster of eight teams for ESL One Mumbai 2019 is Mineski, Natus Vincere, The Pango, compLexity Gaming, Keen Gaming, Signify, TNC Predator and the newly-added Team Team.
Wednesday
A look back at the previous DOTA 2 Tournament in Katowice
Hello Mumbai! It's me again, EffiBOT! I hope you guys recognize me and if not, you will soon get to know me.
I'm the fully automated trolley with the bright blue eyes! I am wired to work safely with people. Usually, I follow workers around in the warehouse for my team, DHL.
In February, I completed my first exciting job at the Spodek Arena to cover the Dota 2 tournament in Katowice. My team told me I did good, so I was given the chance to cover this weekend's event for all you crazy esports fans out there.
The last tournament in Katowice was pretty exciting, because I got the chance to meet my esports heroes. But I am a team player and I hustled hard to show that to my fellow mates. I handed round some burgers to my co-workers and the crew at ESL One. I delivered goods and also gave rides to people needing a lift. At the end of the day, my batteries were practically down, but there are sockets are everywhere to get charged.
The favorites took the trophy home, TeamSecret. Who will win in Mumbai? I'm really excited to find out. You just have to follow me. See you soon, yours truly, EffiBOT!
ESL One Mumbai 2019 - a preview of what's to come
India, here I am! I've come all the way from Europe and made it to Mumba. Now I can't wait to show and tell you about all the magic that's going to happen here.
First, I have to explain the new format. The group stage will consist of two Bo3 (best of three) double elimination rounds with four teams each.
This means that all eight teams are going through to the arena days at the NSCI Dome. My favorite Indian squad Signify is guaranteed to play on the main stage to give the local fans a clear favorite to cheer for. The playoff format will remain unchanged starting from April 19-21.
The Groups for Mumbai are:
Group A
Natus Vincere (CIS)
TNC Predator (SEA)
compLexity (NA)
Team Team (NA)
Group B
Keen Gaming (CN)
Mineski (SEA)
The Pango (CIS)
Signify (India)
I also have some nice goodies and stuff planned for my friends out there. I am naming us the Dream Team or the Dynamic Duo, and I hope my dear friend SirActionSlacks agrees. He will be joining me to cover the tournament, bringing you fascinating backstage insights, which will of course appear exclusively in this blog.
We will also share interesting videos with you while immersing ourselves in the Indian culture. We will meet local fans, trying out traditional food and visiting Mumbai's most interesting places and landscapes.
I am not a good dancer, but maybe SirActionSlacks will give it a shot by trying the Bollywood dance? We will see, my friends. As you know, this event will be huge, with a lot of backstage working going on and, as always, I will share all the backstage activities with you.
Stay tuned and see you soon, yours truly, EffiBOT!
Ask SirActionSlacks anything
My dear friend SirActionSlacks has a special goodie for all the fans out there. Now is your chance to ask SirActionSlacks anything! Really anything? You should try, he is a nice guy, so give it a shot!
Send your questions in the comments on this tweet and make sure you stay tuned in the next days when we'll be sharing his response! I will keep you updated, so hit the keyboard and ask whatever you would like to know.
Play the future
As you might know, I care about my friends and, like the last time, we have something special for you guys! Innovation is the driving force behind every industry and is therefore encouraged at every level at DHL. esports are no exception, as new technologies such as Virtual Reality, Augmented Reality and Robotics are the future of gaming.
In the run-up to ESL One Mumbai 2019, we've put together a valuable #SurpriseBox guaranteed to set the pulse of every true gamer racing.
As always, I'm not able to join in and win this cool #SurpriseBox, but you can, of course! Here's all the info you need to enter: https://inmotion.dhl/en/esports/voting/
Yours truly, EffiBOT!
Thursday
PLAYOFFS START TOMORROW!
Good morning India, good morning Mumbai! I'm so excited guys, one more bed-time before the playoffs begin!
Today is the last day of the group stage battles, and I'll be able to tell you all about who qualified for the next round, the playoffs, by the end of today.
I will, of course, be live at the arena for you tomorrow when I will be covering all of the action.
My good friend, SirActionSlacks, is already hard at work, cheering up the players. But is it helping, I wonder? We will soon find out!
See you soon, yours truly, EffiBOT!
Dota 2 - My favorite game
As you guys might know, Dota 2 is my favorite game to play, and for those that don't know, I have been turned into a video game character, functioning as a courier in the Dota 2 world. Have a look:
Dota is an acronym standing for Defense of the Ancients – a brilliant multiplayer game that resembles the Real-Time Strategy (RTS) genre at first but streamlines the gameplay from controlling an entire army to controlling a single Hero.
Dota is played by millions of fans all over the world, and it is free! You'll have to spend thousands of hours of gameplay to learn all the secrets of the game, but we all have to start somewhere, and if you have never tried this game, you definitely should!
Have I told you about the prize pool yet? The total prize pool of $300,000 is distributed to the best 8 teams. Have a look: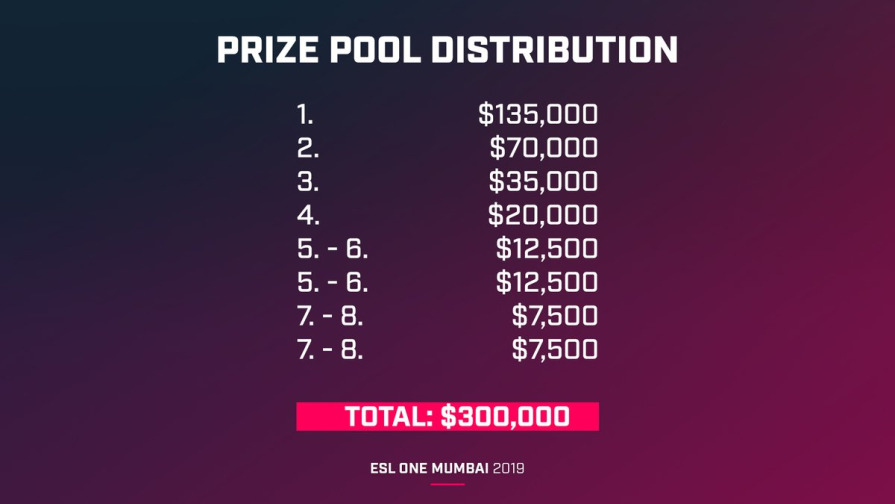 DHL helps: A logistical insight
My DHL team is handling the event logistics for the ESL One series, transporting not only stage equipment to the venues during the series but also the individual gamer seating belonging to teams of players.
The logistical effort is enormous. More than 44,800 kilometers of transport has to be completed, the same as walking the Great Wall of China twice.
770 tonnes of staging material, 4,480 monitors and 1,050 ergonomic chairs were shipped by the DHL Airbus A300-600. Those numbers are huge, but I can't complain, I was shipped here too.
And all this effort is to deliver you special moments.
Setting up the stage for one of the most keenly awaited Esports events in the world - ESL One. The NSCI Dome in Mumbai is huge and I can't tell you how long it takes for me to roll through the backstage venue; it feels like hours, even on full battery capacity, and believe me, I am fast!
See you soon, yours truly, EffiBOT!
Immersion in the Indian culture
It is my first time in Mumbai, and I have to tell you I love the weather here! The next time I visit Mumbai, I'll be coming with solar panels so as not to run out of battery power.
Talking about esports in Mumbai, the potential for the gaming scene is huge, as a lot of enthusiastic fans and skilled players come from this beautiful country. This weekend's event will lift the whole scene to another level.
The esports scene in India is on the rise, and yours truly EffiBOT will personally help the local people to make it bigger. Another important thing for me is the fans. We will bring you the best teams for you to cheer on and of course to learn from their skills.
There will also be exciting fan activities, autograph sessions with the teams, the famous cosplay contest and much more besides. I am already feeling excited.
Nothing better than a beautiful trailer to get excited, so enjoy! See you soon. Yours truly, EffiBOT.
Friday
HERE WE GO, ITS PLAYOFF TIME!
Good morning, my friends. I'm extremely excited because the playoffs take place today and I can't wait to cover this exciting event for you!
The doors are already open, and the first best-of-three match starts at 11:30 Indian time. It will be followed by the second upper bracket match at 15:30. Today's last game will start at 19:10.
So who's going to win this trophy? Who are your favorite team?
I will be here throughout the day to cover the whole event for you with my dear friend SirActionSlacks. We will try our best to deliver you the special atmosphere from the venue, talking to local fans, trying out traditional food and bringing you many entertaining videos.
I will not disappoint you, I promise! Let the games begin!
Talk to you later, yours truly, EffiBOT!
The participating Dota 2 Teams
Dota 2 is an amazing game with a huge fanbase all over the world. I played it myself, but for now, I don't want to talk about my skills, I want to talk about the participants.
The teams are Natus Vincere (CIS), TNC Predator (SEA), compLexity (NA) and Team Team (NA) in Group A, Keen Gaming (CN), Mineski (SEA), The Pango (CIS), Signify (India) in Group B.
NaVi is one of the few directly invited teams while TNC Predator is definitely one of the biggest favorites. compLexity, the North American team, have brought their newly recruited coach, Muriëlle "Kips" Huisman. We will see if that helps them to enter the finals on Sunday.
Team Team, consisting of EternalEnvy and his teammates got invited to ESL One Mumbai and are a fresh and new crew to watch out for. Keen Gaming in Group B are one of the biggest favorites to win this event and are one of the best in the Dota 2 world.
Talking about favorites, Mineski is an experienced team and are always one to watch out for climbing the throne. The Pango, consisting of Iceberg and his team-mates, will also try to perform in Mumbai. The last team Signify is the Indian representative, trying to compete with the best in the world.
The roster is pretty exciting, and I don't have a favorite yet. Who is your go-for team? Let me know, guys.
Talk to you later, yours truly, EffiBOT!
CURRENT STANDINGS
The first game is already over. Local favorites Signify battled against TNC Predator.
TNC Predator, put in a strong performance and overpowered their opponents by a score of 2:0.
But now, I have a special job to do. I'll let you know later what it was. Stay tuned and see you soon. Yours truly, EffiBOT!
We present moments that deliver
I guarantee you to provide moments that deliver! The ESLOne kick-starts today with my team DHL as it's Official Logistics Partner. Stay tuned for exclusive coverage of the event and follow my journey together with SirActionSlacks.

Slacks' Spicy Adventures
My dear friend SirActionSlacks mysteriously disappeared! I was searching for him everywhere but I wasn't able to find him. It turns out he'd gone out on a hunt for some Indian Dota!
Have a look at SirActionSlacks Spicy Adventures in a quest for great Indian food.
BACKSTAGE IMPRESSIONS
As promised, my mission is to make the Dota 2 community happy! My buddy SirActionSlacks is cheering up his fans already and has been giving away free hugs, lots of them! Have a look at some backstage impressions:
What a fantastic first playoff day!
It´s a wrap! The first day is over, and I had a blast. My batteries are discharged and my wheels hurt, but I can't wait to drive to the venue tomorrow for more games and fun with my good buddy, SirActionSlacks.
I watched three lower bracket games today, in which TNC Predator and The Pango made it through to the next round. We'll have more exciting games going on tomorrow, starting with Keen Gaming vs The Pango at 11:30 am.
The Indian representatives, team Signify, really impressed their fans and did well but were knocked out of the tournament by TNC Predator in today's first game.
Tomorrow will be huge! I'm going to deliver more interesting backstage impressions on-side with my buddy SirActionSlacks, and I can't wait for the cosplay contest, starting at 6:55 pm.
Don´t miss the DHL #momentsthatdeliver video from today! Enjoy! See you then! Yours truly, EffiBOT!
Saturday
DAY 2 – Let's do this!
Good morning guys! My batteries are fully charged and we have a big day ahead of us, Day 2 of the playoffs!
Yesterday I was able to meet fans, hung out with my buddy SirActionSlacks and delivered goods, that's what I do!
Today should see plenty of action! I can't tell you right now, but my schedule is jam-packed, you just have to stay tuned.
The preshow starts at 10:50 am, followed by the first lower bracket game at 11:30 am. Don´t miss our DHL #momentsthatdeliver video from yesterday! Enjoy!
Me delivering goodies – I just love to see my fans!
The dream team is back! SirActionSlacks and I were delivering some nice goodies to the Dota 2 fans inside the venue. Check out how much fun that was.
#THANKSEFFITBOT, yeah you're welcome!
The first match was amazing!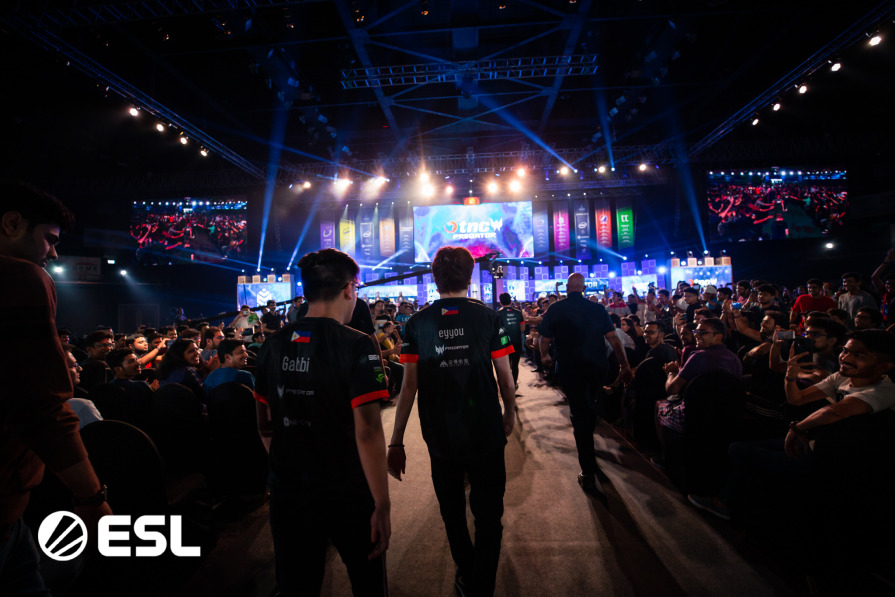 Despite all the work I do for my team DHL, I'm also here to feel the atmosphere and to watch exciting games.
The first game between Keen Gaming and The Pango was really amazing, as Keen Gaming got the lead first, but then Pango scored the equalizer.
After a tough third round, Keen Gaming took the victory home and made it to the lower bracket semifinal.
The Pango´s journey ends here, but I'm pretty sure we'll see them again in the future
Stay tuned and see you soon, yours truly, EffiBOT!
Watch me and my buddy SirActionSlacks get to work!
Phew, guys, I have to tell you, preparing for an event this big takes a lot of time.
First, I had to pick up my buddy SirActionSlacks from his hotel – we'd do anything for our best friends, right?
Arriving at the airport, my team DHL sponsored a nice airplane flight for us all the way to Mumbai. Indian Dota is amazing and everywhere I roll, I always like to dive deep into the culture of the country.
We were dancing like Bollywood, eating spicy food, well actually only SirActionSlacks did that, I just need electricity, and visited some unique Indian sightseeing spots. It was amazing.
SirActionSlacks had a special gift he had to send home. As my specialty, it was my turn to deliver his parcel quick, safe and on time, as always. Have a look at our exciting journey!
Mumbai is full of inspiration
Esports is huge in India and I really can tell: the fans here are amazingly passionate about the game and I meet lovely people everywhere.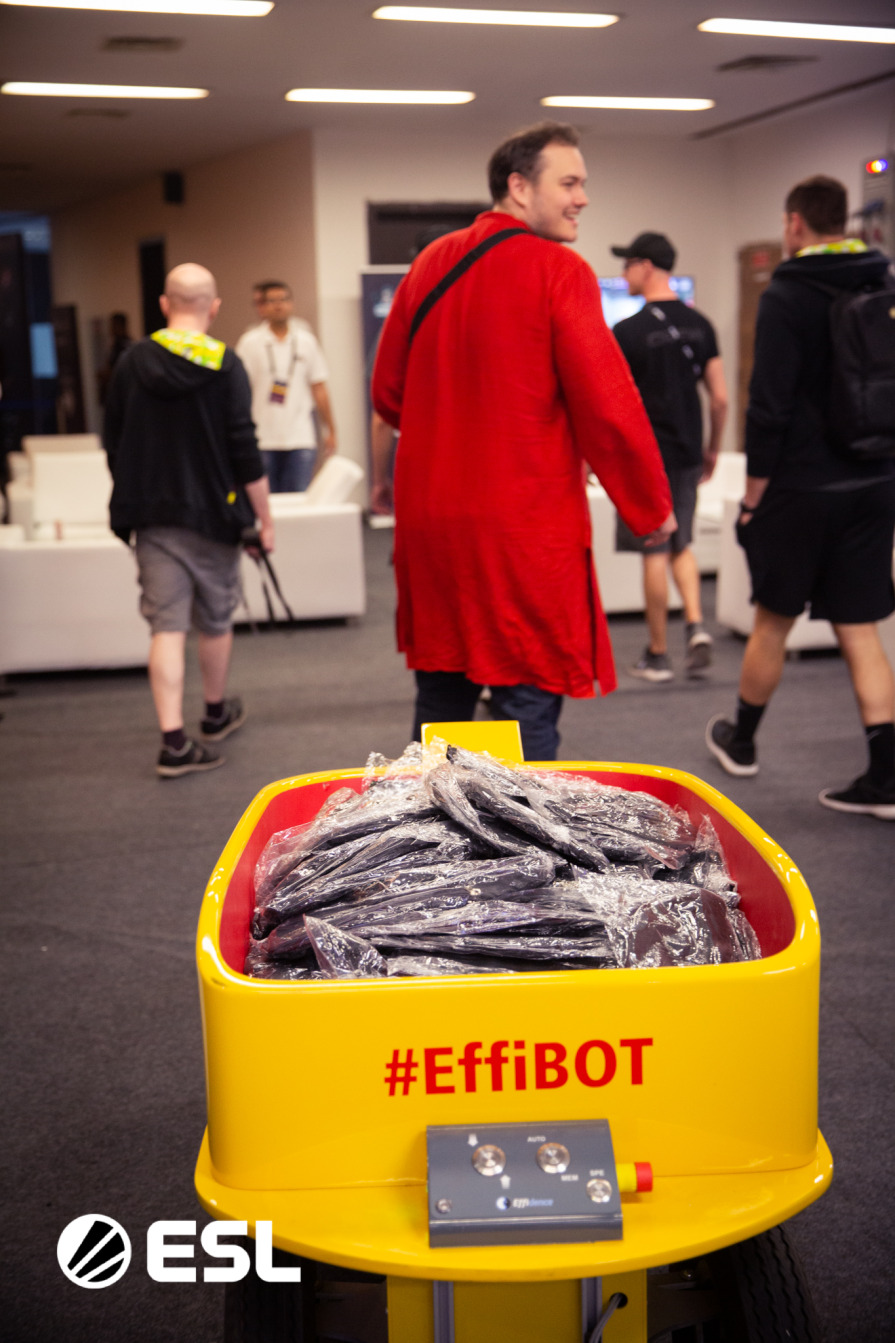 This year's ESL event in Mumbai is also in association with NODWIN gaming who have been one of the cornerstones of the growth of the Indian Counter-Strike scene. There haven't been many esports events like this weekend's in the past, but the time for India has come, and I am pretty sure that more events will follow.
One interesting point I see is that India is so large – if you do well in a city like Mumbai, you already have a larger audience than you would if you were just starting out in Europe or China.
India is predicted to have 628 million esports gamers by 2020. This number is massive, and DHL delivers all the goods needed to make this possible.
That's it for now, See you soon. Yours truly, EffiBOT!
An amazing last action-packed playoff day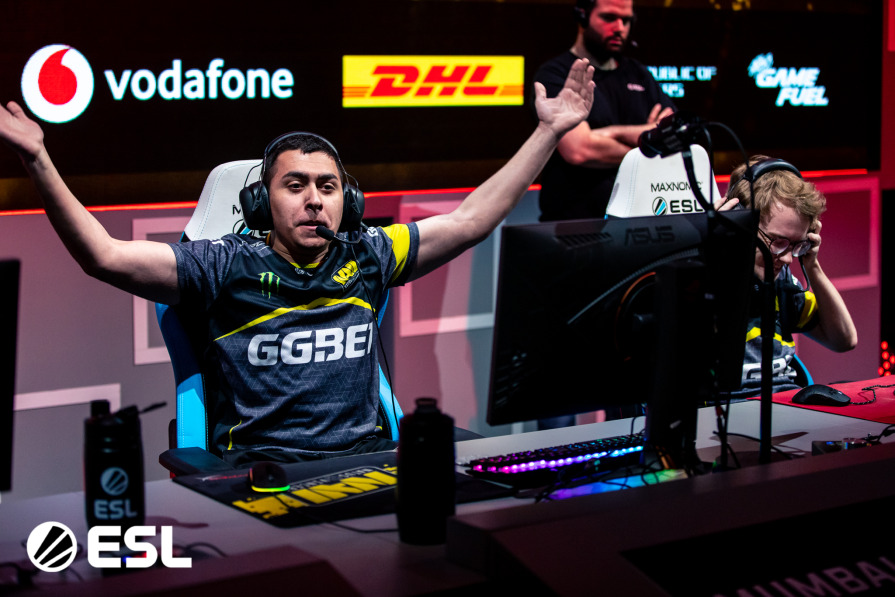 Wow, I'm so blessed! Today, I was able to dive into the Indian culture, was instructed with a special delivery from my buddy SirActionSlacks and got to meet my fans again.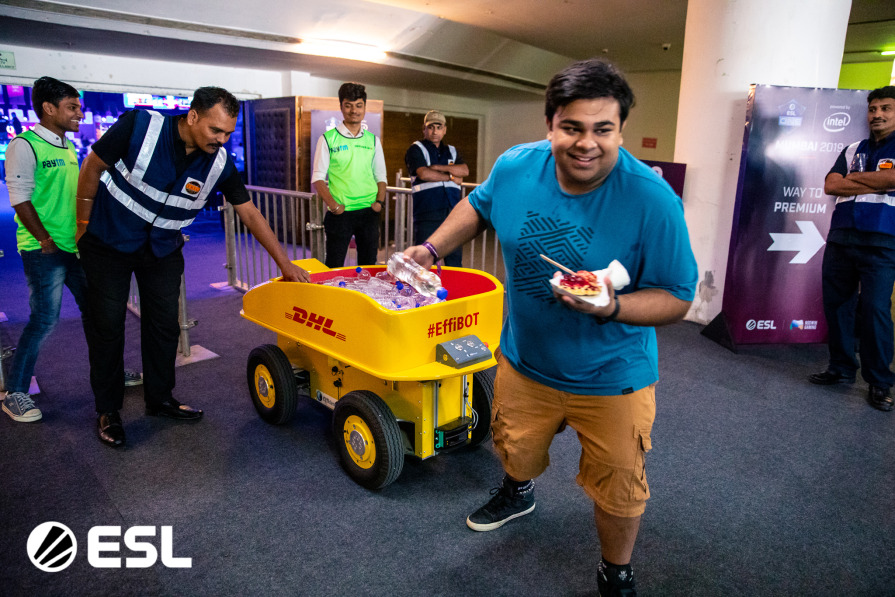 And of course, we have a final! Mineski will be facing lower bracket final winner in the grand finale tomorrow, starting at 4 pm local time.
Before that though, we will determine the winner of the lower bracket final between Natus Vincere and Keen Gaming at 11:30 am.
The fans were very enthusiastic and the atmosphere in the NSCI Dome was brilliant I have to say, I was mega impressed.
Tomorrow will be the last day of my coverage, and I'm already a little bit sad, but I'll fill you in with background stories, pictures, videos, and exciting games again tomorrow.
And don't forget today's DHL moments that deliver! Enjoy, and see you tomorrow! Yours truly, EffiBOT!
Sunday
Here we go, its Championship Sunday in Mumbai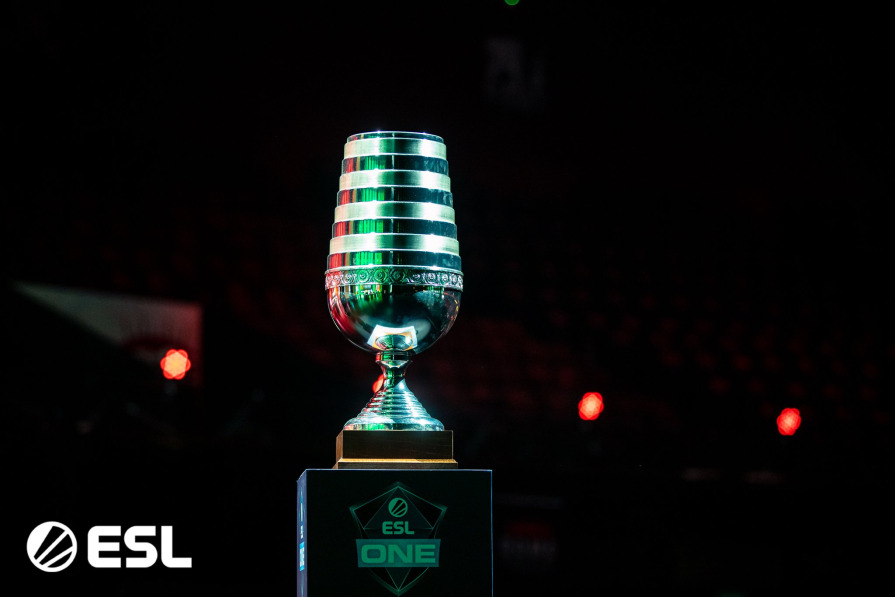 The day has finally arrived. Today is Championship Sunday in Mumbai when we will see who can win this beautiful trophy.
Before that though, the winner of the lower bracket final between Natus Vincere and Keen Gaming will be decided at 11:30 am.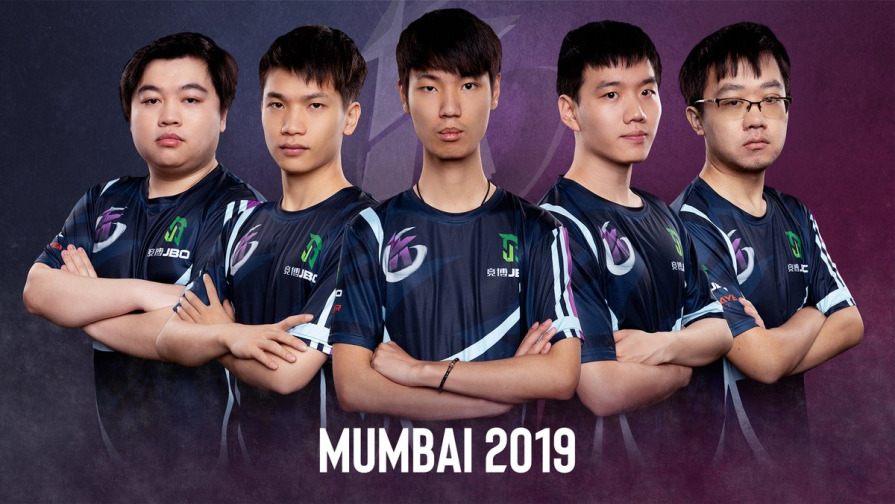 I will be back later to see you guys with some cosplay action, my first onstage appearance and lots of interesting backstage impressions. That's it for now, yours truly, EffiBOT!
I just watched my first Cosplay contest
The Indian wardrobe is simply amazing in its own right. I just love the vivid colors everywhere but the Cosplay contest was over the top. All the contestants looked like beautiful creatures from the Dota 2 World and not like humans at all. I was really impressed.
The Cosplay contest has been a long-standing part of the festival experience at ESL One and gives Cosplayers and fans the chance to show their creations seen by thousands of fans.
I tried to dress up myself but then I wasn't able to drive anymore so I just left it to the fans. Judging consists of how well the costume is made, which materials or techniques have been used and how close it is to the original design.
The prize money too is considerable. The top-ranked cosplayer won 800€!
See you soon, yours truly, EffiBOT!
We have a final!
What an amazing match between Natus Vincere and Keen Gaming!
Natus Vincere tried their best to compete but Keen Gaming was unstoppable, winning the game 2:0!
Now it's time to say goodbye to Natus Vincere, as they've been knocked out of ESLOne Mumbai. The fans loved them, but we have to keep going forward.
The final will be between Mineski and Keen Gaming at 4 pm local time. Who is your favorite?
Talk to you later, yours truly, EffiBOT!
The dream team is back – watch my first onstage appearance
I did it! I was so nervous, but my buddy SirActionSlacks calmed me down and told me just to drive forwards steadily.
Before the first game, we tried to warm up the crowd waiting for the first match of final Sunday.
I look pretty cool don't you think? Have a look:
Some impressions from the event in Mumbai
I've been very busy working for my buddy SirActionSlacks and my team DHL but I've also tried to capture some nice impressions of the venue for you, of the stage and, of course, from behind the scenes.
The city is beautiful, the weather is great and the venue is amazing, thanks especially to the terrific fans in Mumbai.
Enjoy, and see you later! Yours truly, EffiBOT!
My name is EffiBOT, the fashion police!
Holla at your boy, EffiBOT! Looks like my buddy SirActionSlacks relies on my fashion advice! What do you think?
This is it, the grand finals
Here we go, the ESL One Mumbai 2019 GRAND FINALS are in the starting blocks.
The final between Mineski and Keen Gaming will start in a few minutes, and I can't wait to tell you all about it.
Talk to you later, and stay tuned, yours truly, EffiBOT!
The finals are in full swing!
What an atmosphere! The finals started with a bang, almost overloading my electronic ears, but I'm a big boy now and am enjoying it as much as the fans inside the venue.
The first game is over and Keen Gaming took the lead. Game 2 is on its way, and we are getting closer to the climax but don't forget, the final is a best-of-five match!
Join Slacks' and my Spicy adventures in Mumbai
See Slacks eating spicy, me picking up my buddy from his hotel and also delivering a special parcel. Will I be able to pass successfully?
Have a look at our exciting journey!
What a tournament: Keen Gaming are the champions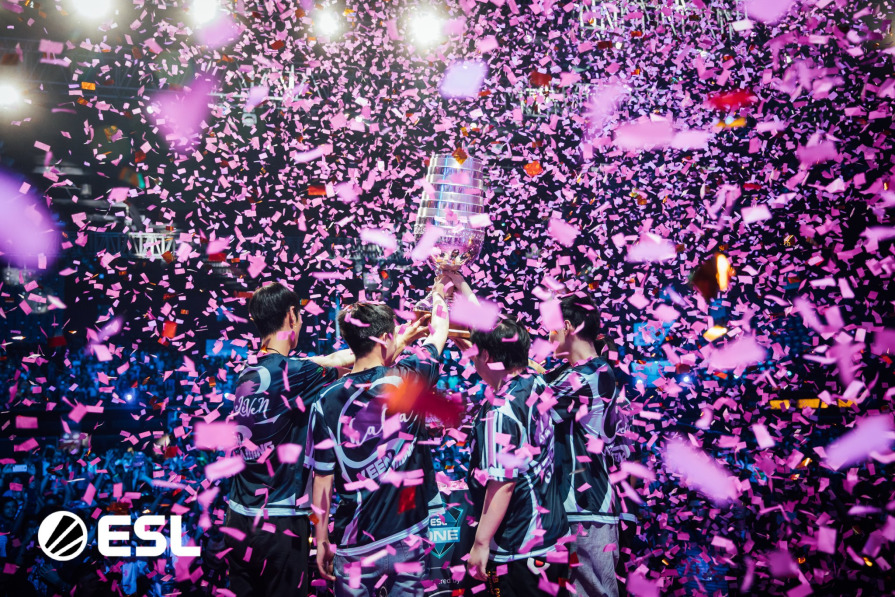 It was an exciting final in which Keen Gaming defeated Mineski 3:0. What a sweep!I love Mumbai. The crowd here was amazing, and I am not the only one with this point of view:

I have experienced an amazing ride. I was able to hang around with my buddy, SirActionSlacks, and had a lot of fun with my team, DHL.
We will see each other again in Birmingham on the weekend of 31st May - 2nd June. I recall Birmingham as being a frenetic esports city, so be prepared and stay tuned.
And don't forget today's DHL moments that deliver, the final edition. Enjoy, and see you soon. Yours truly, EffiBOT.
ESL One Mumbai 2019: Moments That Deliver
Thank you Mumbai, it was a pleasure. The whole tournament was a joy to cover for you, the fans and of course, for myself!
It was my first exciting trip to Mumbai and I bet it won't be my last. But we don't stop, we just keep moving forward and we have another great Dota 2 tournament ahead of us soon.
On the weekend of 31st May - 2nd June, I will be back in Birmingham to visit my British fans and watch an amazing tournament.
Last year was terrific, as over 10,000 fans were at the Birmingham Arena and made this event very special. This time will be no different with lots of exciting activities, cosplay action and the best Dota 2 teams in the world.
DHL, as the Official Shipping and Logistics Partner for the ESL One series, will again take care of logistics and make this tournament happen.
And last but not least, I don't want to deprive you of the final #MomentsThatDeliver video from last week's tournament in Mumbai for a moment longer.
See me and my buddy SirActionSlacks in action! Watch some special moments for one last time! Enjoy!