esports
ESL One Belo Horizonte 2018
Key Takeaways
All you need to know about ESL One Belo Horizonte 2018 here in THIS Blog
Counterstrike taking place from 15th - 17th June 2018 at Estádio Jornalista Felipe Drummond
Eight teams are competing for their share in prize pool of $200,000 USD and chance of another win in first Intel Grand Slam season
Prizes: The winning team will take home $100,000, second-placed team will pocket $40,000 while the third-placed team picks up $17,000
Group A: Faze Clan, Space Soldiers, SK Gaming, Ghost Gaming / Group B: mousesports, Team Liquid, BIG, Não Tem Como
Saturday schedule: At 4pm, Faze Clan facing Team liquid. At 9:50pm, local heroes SK gaming against mouessports.
Winner: FaZe Clan
Portuguese version of the blog
Monday
Belo Horizonte, it was a pleasure!
The tournament is over, and it has been a fantastic ride for all of us. FaZe Clan are the delighted winners who take home the beautiful trophy and, of course, the $100,000 that goes with it.
Immense credit to the Brazilian crowd in Belo Horizonte, always cheering their teams on with passion – you guys were loud!
Thousands of people came through the doors of the Estádio Jornalista Felipe Drummond during the week and were amazed by the perfect organization, thanks to DHL.
And the good thing about it is that we are far from finished this year. The next port of call will be Cologne (6th - 8th July), followed by New York (29th - 30th September), where the teams will again be playing Counterstrike!
In the autumn, we will be back in Germany in the beautiful city of Hamburg (26th - 28th October), where DOTA 2 will be back on the line.
We will cover all these events for you, delivering all the special moments. So stay tuned and check our blog frequently.
Moments that deliver
And while we're on the topic of moments that deliver, here as promised are moments that count, delivered to you by DHL. This past weekend was full of emotions. And nothing shows that better than a video recording of screaming fans and fighting teammates.
Thanks to ESL and DHL we have another treat for you, the final #momentsthatdeliver video to recap the whole week in Brazil. Enjoy:
Grand final player moment of the day
What a game! We said it could be a best-of-five match and they gave that. What an incredible battle!
And as a special service for you, we also have the #momentsthatdeliver of the grand finale presented by DHL and bundled in one video for you guys. Take a look:
Sunday
And it's a wrap!
FaZe Clan are the winners of this weekend's tournament in Belo Horizonte and take home $100,000 and this beautiful trophy!
And we have to say, our Brazilian fans are amazing! You created an absolutely awesome and thrilling atmosphere here at the Estádio Jornalista Felipe Drummond in Belo Horizonte.
Tomorrow we will have some other goodies for you guys, but for today we wish you all a great evening.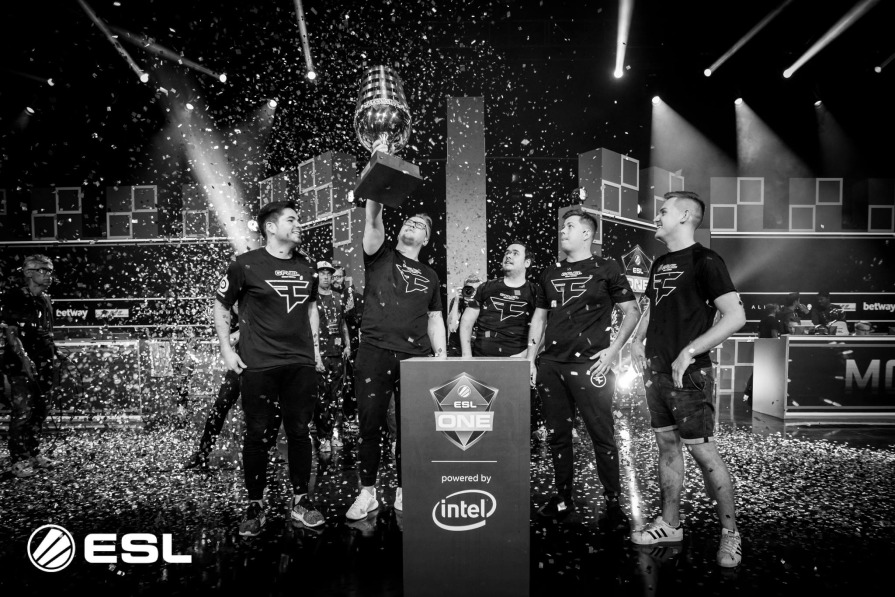 What was your player moment of the day?
As you already know, throughout this week's CS:GO tournament, the fans are able to vote in our daily poll. You can decide which are the most special and favorite player moments. You can access the poll here at the official ESL Counterstrike Twitter account (https://twitter.com/ESLCS) where you can cast your vote for today.
Take a look at this video, presented by DHL, where @n0thing is performing on Dust2 yesterday and was voted Player Moment of the Day. Enjoy:
It 's game Time!
And here we go, the grand finale has startet between FaZe Clan and mousesports and don't forget, it is a best of 5 match so you can expect a minimum of three games and maybe more.
You can watch this game live right now on ESL´s Counterstrike Facebook account (www.facebook.com/ESLCS) and support your favorite team.
The trophy is waiting, who will be the lucky winner?
A closer look at esports in Brazil
"Play beautiful" and "O Jogo Bonito" – that's what most of the sports and esports fans connect with Brazilian sport in general.
Well let's be honest, everybody will think first and foremost about soccer, but even esports has caught on big time in Brazil, where the sun is always shining and the kids play outside on the beach and not in front of a computer screen all the time.
After soccer, there is a big gap before we get to the second-most popular sport, a spot that is shared by basketball, volleyball and surfing. But nowadays, the kids and indeed the adults have another great passion – esports!
The best Brazilian esports team playing CS:GO, Sk Gaming are among the top teams in the world. And they are not just satisfied to be on top; they also like to play beautiful, like the Brazilians do in soccer.
You can also feel the love for esports and the fantastic response to this weekend's event in Belo Horizonte. Everybody is passionate and encouraging towards all the teams, not only those from Brazil.
CS:GO Fun Facts
And here we go – the last day of the ESL One Belo Horizonte CS:GO tournament has arrived, and we have some fun info for you guys. Let's have a look at some obscure and amusing facts about your favorite game, folks:
1. Actually, the plan was for CS: GO to feature cross-platform multiplayer between the PC, Mac, and PS3. Can you imagine how much fun that would have been? :)
2. Previous Counter-Strike games featured only one voice actor for the radio commands for all factions, both bots and players. In CS: GO, we can listen to the familiar voice of Jeff Cliffe.
3. Are you tired of the identical English in-game language? You can change it to pirate language by tweaking things in the launch options. And no, it's not a hack, guys.
4. You can actually withdraw money from the ATM beside the bank in the Overpass map. Yes, you heard right, try the "Use" button and you will withdraw some money, ker-ching.
5. If you want the chicken to follow you, just press "E" and you will have a brave associate.
As you can see, there is always something to discover, even for the pros.
What was your player moment of the day?
For this week's CS:GO tournament, we have something special prepared for our fans. By voting in our daily poll, you can decide the most special and favorite player moments. You can access the poll here at the official ESL Counterstrike Twitter account ( https://twitter.com/ESLCS) to participate and vote.
You guys can decide which of the three special moments has been best of the day. Yesterdays winner was Stewie6k, have a look and enjoy.
The final day has arrived!

Here we are – the final day has come! Today, FazeClan face mousesports for the trophy and $100,000 in prize money.
The game will take place at 17:30 (CEST) at the Estádio Jornalista Felipe Drummond in Belo Horizonte. Later today, we'll also be showing the Player Moments of the Day video and the #momentsthatdeliver video presented by DHL. It's all about the emotions today, so follow our coverage and don't forget to watch the final game!
Saturday
Wrap-Up Saturday
And it's a wrap!
Day 2 has ended, and once again our Brazilian fans surprised us with the amazing atmosphere they created at the Estádio Jornalista Felipe Drummond in Belo Horizonte.
Tomorrow is final's day, and FaZe Clan will be facing mousesports to battle for the trophy and $100,000 prize money. Of course, you can watch this game live on Facebook (https://www.facebook.com/ESLCS/) and follow our coverage on this blog.
In this video, you can see that esports is capable of delivering those special moments by bringing joy and amazing games to its fans. So please join the movement and enjoy this video.
Belo Emotions
In this post, we would like you to see the emotions that esports is capable of arousing. DHL is ESL's new official transportation partner, not least because of the similar characteristics, namely "special moments" (#momentsthatdeliver), speed, accuracy, team play and recognition.
Esports is a new player on the sporting scene, but its profile and popularity are on the rise, and in the pictures below you can see why DHL wanted to be a part of it. We make our customers and fans happy by delivering moments.

Did you know?
We all love facts, and as DHL is the official logistics partner for the ESL events, we thought you would like to know some interesting and fun facts about DHL and courier services in general.
First, DHL stands for Dalsey, Hillblom and Lynn, the initials of the firm's three founders. It was established in 1969 to deliver documents between San Francisco and Honolulu.
The first documented courier service was in Egypt in 2400 BC, where runners would courier documents carved into stone. In 1907, an American entrepreneur named Jim Casey borrowed $100 from a friend to start a messenger service in Seattle, which later became UPS, and the rest is history.
The word "mail" comes from the medieval English word "male" that means "travelling bag".
Last but not least you might want to read some interesting comments. Here you go:
"If you look in your kitchen or bathroom cupboards, the chances are that a DHL employee will have touched the products in there at some point."
"DHL have a disaster response unit that is called into action whenever there is an earthquake or tsunami etc around the world."
"We aren't yellow and red but red and yellow."
What is Counterstrike?
Counterstrike was released in 1999 as a mod for Half-Life.
Through each of its iterations – 1.6, Source, and Global Offensive – Counter-Strike has been the scale of a player's skill. Teams from all over the world pit their ability and strategies against each other in local, regional, and international tournaments.
Professional Counter-Strike gamers have become legendary in the international gaming community. CS:GO is quite unique due to it's item drop system and its community, where players can buy and sell items, for example skins for every item.
Nowadays, counterstrike is played all over the world and even has television air time. Gamewise, it looks very simple, but CS:GO is a highly tactical game. You have to be active, but always take care to beware of ambushes.
And as a special service for you guys, we have some gameplay tips to prepare you for your next online game:
1. Do not utilize all of your money every round. All the pro players go two or three rounds without buying a single thing. If you're in the $0-$1,500 bracket, try not to buy anything. You want to save money until you have at least $3,000!
2. Avoid the dangerous areas or the places on the map where most deaths occur. If you do not have a great gun, don't get into a gun fight. It's best to avoid being detected. Camp when necessary but don't camp around if it's not strategic. If you walk, it increases your chances of getting the first shot. Also try to wear headphones and listen to sounds of the environment.
3. Watch demos of pro players and remember, practice might make you a pro too. This is a great way to copy and learn their amazing skills without fear of being gunned down if you take too long to stop and stare.
4. Don't spray! The best thing to do is to aim precisely and always shoot for the head! Try to hit with as few shots as possible and also burst sparingly – around 3 shots but don't spray!
5. Know the map, it is that easy! If you are new to a map, join a server with zero players, and just explore around. This way you will always have an advantage against other players who just walk around, not knowing where the best spots for infights and camping are.
Last but not least, check this video out, in which you are can see some top plays from the ESL Pro league season 7.
Day Two has arrived: Welcome to Saturday!
Yesterday was awesome: we saw some nice matches and some very happy winners.
So first let's talk about today's matches. At 4pm, we have Faze Clan facing Team Liquid and both performed well on Friday.
The second match will be local heroes SK gaming against mouesesports, and the outcome of this one will complete the line-up for the final on Sunday.
So what do we have to say to our Brazilian friends? You are an amazing crowd! You show passion and make this event special; you create these "moments that deliver". Thanks Belo Horizonte, and let's enjoy Day 2.
Friday
Wrap-up of day one at Belo Horizonte
What a day! SK Gaming, Team Liquid, Faze clan and mousesports went straight into the playoffs tomorrow and will be facing each other. The first of the semi-finals is Faze against Liquid.
We'll be back again tomorrow with some interesting background stories for you guys and of course coverage of the entire second day of the event.
Moments that deliver
It is time to talk about "Moments that deliver" and the connection with esports and especially with this weekend's game, Counterstrike.
CS:GO is a fast-moving game that requires speed, accuracy and – most of all – team spirit. If you are the best player in the world but you are not a team player, you will lose. And that's all you need to know about moments that count, namely winning together with your team-mates.
In CS:GO every moment counts because you never know who is behind that wall, waiting for you. On the other hand, just waiting till an opponent shows up is a risky tactic; you have to be proactive and try to be the first to defuse the bomb and hit your opponents.
Well, we at DHL know all about this conflict, because although we are always at the right location with the right package, sometimes our team-mates (yes, that's how we see our customers) are not at home, so we change our tactics and deliver to a neighbor. The similarity is uncanny: we always try to get the job done.
SHOW ME THE TROPHY!
It is all about the win! After the first games, we have three winners so far: Faze Clan, the locals SK Gaming and mousesports. Now it's on BIG and Team Liquid to join the group for the playoffs tomorrow.
And don't forget, the winner will take home $100,000 and this beauty – the trophy! Have a look
HEY FRIENDS, DID YOU KNOW?
As you guys will probably already know, this year's ESL One CS:GO event is taking place in Belo Horizonte, a beautiful city in south-east Brazil. With almost two million inhabitants, it is the sixth largest city in Brazil.
It was founded by João Leite da Silva Ortiz, a bandeirante from São Paulo exploring for gold. DHL has a special relationship to this city, as DHL organized the transportation of the famous World Cup goal of the 7:1 game (Sorry, Brazil) to Germany to raise donations for needy children in and around Belo Horizonte.
But this weekend, DHL is doing its best to guarantee a special tournament for the Brazilian fans and for you guys to experience "moments that deliver".
GET READY BRAZIL, ESL ONE IS ON ITS WAY!
Game on again! Belo Horizonte marks the return of big ESL tournaments to Brazil after São Paulo last staged the Pro League Season 4 Finals in 2016, and this time around, the game is none other than Counter Strike Global Offensive. From June 15th - 17th, eight teams will compete for the win with a prize pool of 200,000 US$.
The group stage matches will take place this Friday with the semifinals on Saturday and the grand finals on Sunday. It will all go down in Belo Horizonte at the stádio Jornalista Felipe Drummond.
SK Gaming are the local favorites and will endeavor to produce plenty of fantastic moments for their fans. CS:GO is one of the most played games and has come a long way with lots of fans now playing it themselves. The list of participants is outstanding with top teams like FaZe, Team Liquid and mousesports.
"We're very excited to announce the arrival of ESL One Belo Horizonte 2018," said Leo De Biase, CEO of ESL Brazil. "This means a lot to the region, as it will definitely foster growth in the local esports scene and inspire more players to join ESL at grassroots level, chasing the dream of becoming legends in their own right and following in the footsteps of their heroes."
We're expecting thousands of fans and plenty of fantastic CS:GO battles. Counter-Strike: Global Offensive (CS:GO) is a multiplayer first-person shooter video game with the aim of saving hostages and defusing bombs, but ultimately, it's all about teamwork and accuracy.
In our blog, you can find everything you need to know about the tournament and a lot of interesting background stories, proudly presented by Official Shipping Partner, DHL, who handle event logistics for the ESL One Series. Stay tuned and enjoy the ride to experience #momentsthatdeliver.