WEC
DHL to partner FIA WEC during longest season in history
Key Takeaways
FIA WEC is embarking on the longest season in its history
In its capacity as official logistics partner to the racing series, DHL will be transporting equipment to eight races on three continents
Formula 1 stars Fernando Alonso and Jenson Button join the driver line-up
The race calendar for the 2018/19 WEC season shows some big changes. Because in the future, the season will be continuing through the winter months, with the 24 Hours of Le Mans in June as the season finale. The upcoming season is therefore a transitional arrangement, running from May 2018 through to June 2019.
It starts on 5th May 2018 with the 6 Hours of Spa Francorchamps and ends on 16th June 2019 with the 24 Hours of Le Mans. The 2018/2019 "Super Season" of the WEC will therefore feature the endurance classic at Le Mans twice.
In March 2019, the WEC will also be returning to the American Sebring in Florida. There will be a 1000-mile race on the same weekend as the famous Sebring 12 Hours.
FIA WEC Calendar 2018/19:
5th May 2018: 6 Hours of Spa-Francorchamps (Belgium)
16th/17th June 2018: 24 Hours of Le Mans (France)
19th August 2018: 6 Hours of Silverstone (Great Britain)
14th October 2018: 6 Hours of Fuji (Japan)
18th November 2018: 6 Hours of Shanghai (China)
15th March 2019: 1000 Miles of Sebring (United States)
4th May 2019: 6 Hours of Spa-Francorchamps (Belgium)
15th/16th June 2019: 24 Hours of Le Mans (France)
LMP1: Toyota looking for Le Mans win with Fernando Alonso
After the departure of Porsche, Toyota are the only remaining factory team in LMP1, the top class of the WEC. For the Japanese manufacturer, nothing less than victory at Le Mans will do. It is a victory that they have been pursuing for decades and which has proved elusive for a variety of reasons – some bizarre, some tragic.
Toyota have brought a celebrated driver on board to boost their chances. Formula 1 star Fernando Alonso will be sharing a cockpit with Kazuki Nakajima and Sebastien Buemi throughout the 2018/2019 season.
Toyota may be the only LMP1 factory team, but they are not being given a free pass. There are also five private teams – ByKolles, Manor, SMP, DragonSpeed and Rebellion – entering vehicles in the LMP1 class and competing for victories in the general classification. Unlike Toyota, they do not have a hybrid powertrain, only a classic internal combustion engine. For this reason, the privateers are expecting an unequal struggle against the hybrid Toyota.
Their best hope lies in the quality of their squads. WEC champions and former Porsche drivers Andre Lotterer and Neel Jani are back, this time for Rebellion. The 2009 F1 world champion, Jenson Button, will be joining SMP Racing at the 24 Hours of Le Mans and for the remainder of the season. Ex‑Formula 1 team-mates Button and Alonso will thus be meeting again as opponents on the track.
The LMP1 field 2018/19:
#1 Rebellion / Oreca-Gibson: A. Lotterer / N. Jani / B. Senna
#3 Rebellion / Oreca-Gibson: T. Laurent / M. Beche / G. Menezes
#4 ByKolles / CLM-Nismo: O. Webb / D. Kraihamer / T. Dillmann
#5 CEFC TRSM / Ginetta-Mecachrome: C. Robertson / D. Stoneman / L. Roussel
#6 CEFC TRSM / Ginetta-Mecachrome: O. Rowland / A. Brundle / O. Turvey
#7 Toyota: M. Conway / K. Kobayashi / J. M. Lopez
#8 Toyota: S. Buemi / F. Alonso / K. Nakajima
#10 Dragonspeed / BR1-Gibson: H. Hedman / B. Hanley / R. Van der Zande
#11 SMP Racing / BR1-AER: M. Aleshin / V. Petrov / J. Button
#17 SMP Racing / BR1-AER: S. Sarrazin / E. Orudzhev / M. Isaakyan
GTE: Returners BMW to challenge top dogs
In the 2018/2019 season, the best GT manufacturers in the world will once again be vying for the GT Endurance World Championship title in the GTE PRO class. It may not be about overall victory here, but the battle for the class win is always fierce.
A newcomer on the grid is the BMW M8 GTE. BMW are returning to Le Mans after a six-year absence, and DTM veterans Augusto Farfus and Martin Tomczyk will among their squad.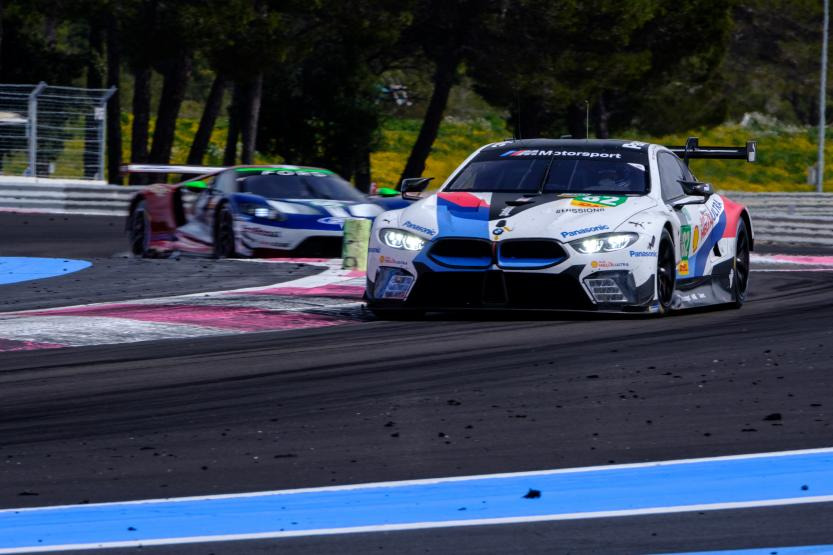 They won't have an easy time of it, as they will be up against the GT factory teams of Porsche, Aston Martin, Ford and, not least, the 2017 Ferrari. The contest for class victories will be unrelenting, as Aston Martin are also launching a completely new car while Porsche, Ferrari and Ford are relying on their proven models.
Gianmaria Bruni is back in the GT line-up. After a year off, the former Ferrari man returns to the 2018/2019 WEC for Porsche alongside Richard Lietz.
The GTE-field 2018/19:
#51 AF Corse / Ferrari: A. Pier Guidi / J. Calado
#66 Chip Ganassi Racing / Ford: S. Mücke / O. Pla
#67 Chip Ganassi Racing / Ford: A. Priaulx / H. Ticknell
#71 AF Corse / Ferrari: D. Rigon / S. Bird
#81 MTEK / BMW: M. Tomczyk / N. Catsburg / P. Eng
#82 MTEK / BMW: A. Farfus / A. Felix Da Costa / A. Sims
#91 Porsche: R. Lietz / G. Bruni
#92 Porsche: M. Christensen / K. Estre
#95 Aston Martin: M. Sörensen / N. Thiim / D. Turner
#97 Aston Martin: A. Lynn / M. Martin / J. Adam