WEC
DHL and the WEC – logistics in motion
Key Takeaways
DHL is responsible for overseas transport and logistics requirements of FIA WEC
About 500 tons of freight travel to each of the overseas race
"The constant changes to plans and keeping everything under control are the biggest challenges for our motorsport logistics team," says Christina Splettstoesser, General Manager at DHL Motorsport Logistics & Events.
The facts speak for themselves. In 2016, this massive worldwide logistics operation included 1,995 tons of air freight, 250 TEUs of sea freight, over 158,000 litres of fuel transported by sea freight, 6,700 tyres by both air and sea, and more than 250 express and ad-hoc shipments. Some 500 tons were in transit for the five overseas races, with the addition last year of the Mexican round making the numbers quite substantial.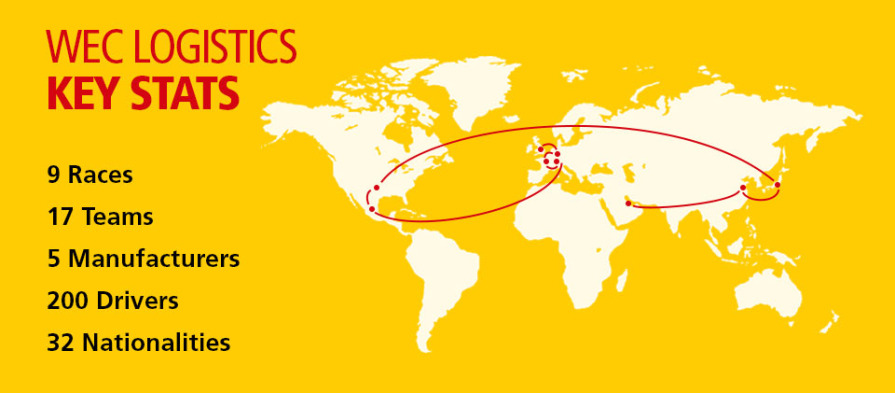 DHL delivers the WEC around the world
DHL is responsible for all the overseas transport and logistics requirements of the Championship, which includes organisation, booking and customs clearance of the sea, air charter and ground freight.
DHL also runs calculations and prepares load plans, coordinates on-site handling, provides packing materials, handles ad hoc shipments, assists with loading and unloading, not to mention checking, double-checking and triple-checking all the documentation! It's painstaking work that requires a meticulous level of attention and perfectionism.
DHL really feel a part of something special

Christina Splettstoesser
For organisers and competitors alike, it's always a special moment when the cars are delivered on time and in place on the grid, with everything having worked according to plan. This year about 500 tons of freight will travel to each of the overseas race – everything from the 28 prototype and GT racing cars and two safety cars to spare parts, tyres, fuel, TV equipment, timing, race control and related equipment.
Due to this wide variety of freight and its diverse shipping requirements, the DHL motorsports crew not only coordinates with the WEC's organisation team, but they also work closely with the racing teams, manufacturers, other suppliers and customs agencies to make sure they know every detail about the cargo.
Well-oiled machine
Now in a sixth season with the WEC, the partnership runs like a well-oiled machine. The processes are carefully orchestrated and the teams are always looking to fine-tune the operation – anything to stay ahead of the clock. And it doesn't hurt that all the logistics professionals involved love motorsports and the exciting atmosphere at each track.
Immediately after the 6 Hours of Nürburgring, the teams will pack up all the freight in containers to be sent by sea to Mexico for the 5th round of the championship on 3rd September. This will depart from Antwerp on 18th July.
"There is an extraordinary team spirit at the race track," says Splettstoesser. "DHL really feel a part of something special. It makes our very time-intensive jobs worth it. I wish good luck and great success to everyone. May the best win!"