Rugby
DHL IPA: Hannah Smith Helps Scotland Seize the Spotlight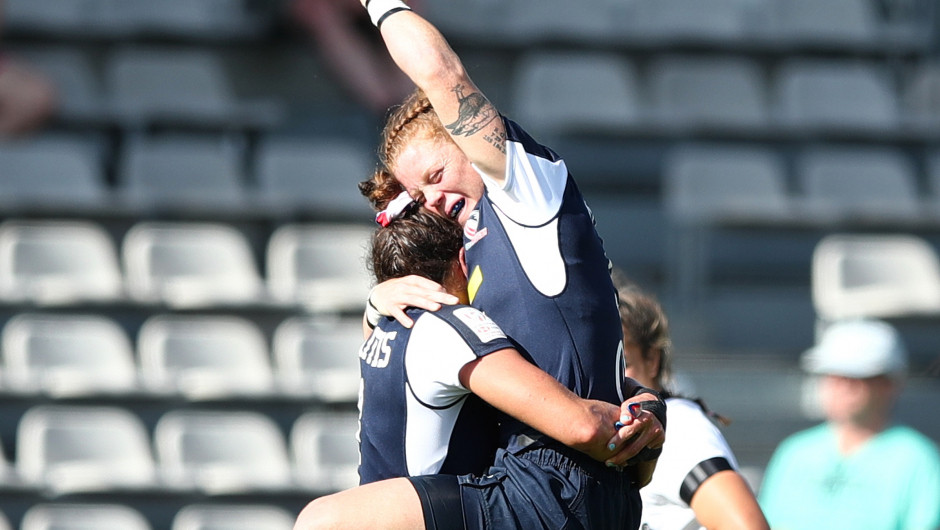 Watching Scotland's center Hannah Smith maneuver methodically around the rugby pitch, her day job shouldn't surprise you. The veterinary surgeon, who has been playing rugby since the age of 17, is no stranger to clinical operations – both on and off the field. Smith made her full international debut for Scotland Women against France in the 2013 Six Nations. She was named player of the match in the 2017 Sarah Beaney Cup final, which her club side Hillhead Jordanhill lifted. She was also selected for the Scotland Women 7s squad ahead of the 2017 Rugby Europe Women's Sevens Trophy.
Now she has the DHL Impact Player Award to add to her already impressive resume. Smith finished on top of the DHL Performance Tracker at the HSBC France Women's Sevens, making her the DHL Impact Player for the tournament. She made the biggest impact over the weekend and contributed to her team's success – a guest appearance that included a big, ego-boosting victory over Ireland that was the first win by an invitational side all season!
Big names, big numbers
As her team faced some big names, Hannah Smith put up some big numbers. With 12 tackles, 3 breaks, 12 offloads and 25 carriers, she finished three points ahead of Russian star Alena Mikhaltsova – this year's overall IPA winner.
Scotland went up against some of the best in the business, starting with the New Zealand.
"It is just cool to test yourself against the best in the world," team captain Helen Nelson told Scottish rugby blog, The Offside Line, after the tournament.
"It is just cool to test yourself against the best in the world."

Helen Nelson, Scotland team captain
Scotland then went on to two tough matches against England and Russia before finishing on a high with the win against Ireland.
"Throughout the weekend we have improved and learned," added Nelson.
Mikhaltsova's second place finish gave her the points she needed to take the overall DHL Impact Player Award for the 2019 series – and by some margin. She finished 20 points ahead of Ireland's Amee-Leigh Murphy Crowe, who ended the season as the series' top ty scorer. New Zealand's Sarah Hirini finished another twenty points behind on 239.
Mikhaltsova, who was the first IPA winner of the 2019 series, ended the series with 74 tackles, 32 breaks, 26 offloads and 127 carries.
Eagles soar to first Cup
As the curtain came down on a record-breaking HSBC World Rugby Women's Sevens Series 2019, team USA claimed a piece of history for themselves with their first-ever Cup title, running 26-10 over New Zealand in the final. The Black Ferns Sevens had already claimed the series crown – their fifth in seven series – by reaching the semi-finals but were denied a double celebration at the Stade Aguilera in Biarritz by an inspired USA performance.
It was an amazing tournament overall for team USA. The Women's Sevens Eagles went undefeated throughout the weekend, with notable victories against Fiji (14-12), Russia in the quarter-final (27-12) and New Zealand in the final (26-10). With three bronze and a silver to their name, it was about time they got their hands on a title.
Black Ferns crowned champions
New Zealand were crowned overall series champions after their second placed finish, finishing 10 points clear of USA and a further six of Canada. They ended the series with 110 points, while USA and Canada finished with 100 and 94 points, respectively. Australia finished fourth with 86 points and claimed the final automatic Olympic Qualification place.
As well as third overall, Canada won the bronze in Biarritz after a very impressive display that saw them defeat an in-form Spain side 19-14 in the bronze final.
Spain themselves had a great tournament, which included a fantastic win vs. Australia in the cup quarter finals (14-15) after having lost to them the previous day.
At the other end of the standings, Fiji and China finished in joint-last place on 21 points, but it's worth noting China enjoyed their best tournament by far, getting eight points in Biarritz, with their previous best being four.
Looking ahead to 2020
Although we now break until the fall, we already have an exciting, expanded tournament ahead of us in 2020. The Women's Series will showcase eight rounds, six of which will be alongside the men. It's going to make for some exciting and action-packed weekends. We can't wait for it all to kick off again!
DHL Impact Player Award
A rugby player produces moments of skill and flair that are critical to a team's success on the pitch, in the same way that DHL uses care and commitment to service your shipments. The DHL Impact Player Award recognizes such moments using a statistical analysis of individual players performances measured against four key criteria: Offloads, Carries, Line breaks and Tackles. The scores are compiled and presented on the DHL Performance Tracker, where the total score for each player is a combination of each criteria.
A winner is announced at the end of each individual tournament and the Overall Series Winner is judged across all rounds.
Follow #DHLImpactPlayer and @DHLRugby on Twitter, Facebook and Instagram for all the updates and insight on the DHL Impact Player Award!
WIN TICKETS TO THE FINAL OF RWC 2019™!
As Official Logistics Partner of Rugby World Cup 2019, DHL will be supporting the freight movements of all 20 participating nations, enabling deliveries in and out of Japan.
In the build-up to the tournament, we want to see your deliveries in everyday life. Capture your very own #EpicDelivery by showing us your best examples of rugby skills anytime, anyplace, using everyday items. Then share on social media for your chance to win signed DHL goodies and two tickets including flights and accommodation to the final of RWC 2019!
Enter your #EpicDelivery today!