MotoGP
MotoGP™

– New Film Series: Geared Up!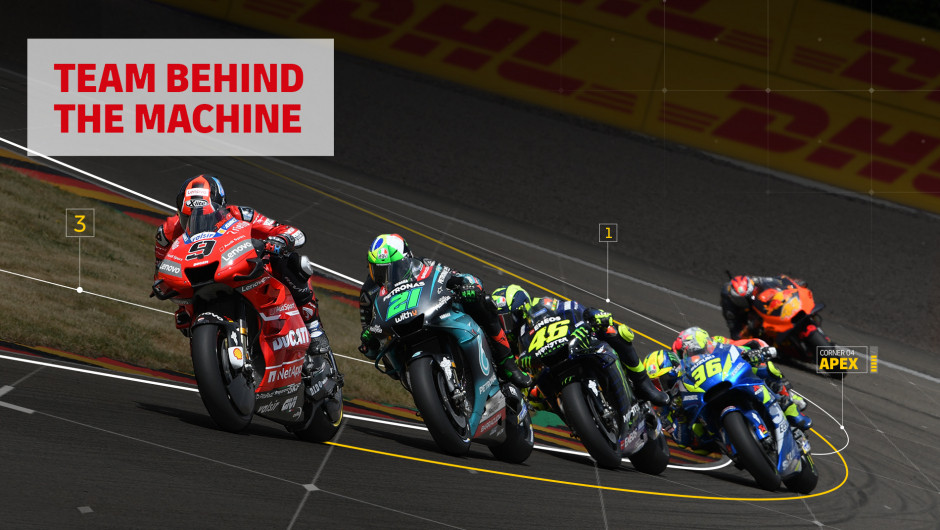 Key Takeaways
An in-depth exploration of this highly technical sport
Episode 1 & 2 out with a look into how bikes are prepared, what exactly they look for during winter testing, and more
More episodes on the way so stay tuned!
If you ask someone what they love about MotoGP™, they might say it's watching riders lean into a corner at over 100 mph, epic passing maneuvers, or simply the thrilling atmosphere of a Grand Prix weekend. You probably won't hear them rave about how brilliantly the professional problem solvers in the garage perform under pressure.
Until now.
At DHL, we've been celebrating the Team Behind The Machine all season – the innovation behind MotoGP™, of which the mechanics play a massive part. Now we're starting a new film series to take you behind the scenes for a first look at what it takes to deliver one of the world's most challenging sports.
Geared Up Series, Delivered by DHL
Geared Up is all about shining a light on previously unseen aspects of MotoGP™ – those which are not covered in the TV broadcast. It's an in-depth exploration into the inner workings of a highly technical support system – from mechanics trying everything to eke out the best performance for their riders to uncovering the latest innovations in motorcycle technology.
We're taking you into the garage to talk to the crew chiefs and mechanics to discover how they perform under pressure, shave seconds off lap times, and much, much more.
Episode 1: Performing Under Pressure
When you're racing at 340 kph, you need to have ultimate confidence in your team! In the first episode of our Geared Up series, we go behind the scenes with KTM Factory Racing, Pramac Racing, and LCR Honda Team to discover how they perform under pressure.
"We are used to a high level of pressure all the time."

Giacomo Guidotti, LCR Honda Crew Chief
Find out what it means to be a MotoGP™ mechanic under pressure, how they prepare the bikes, what considerations are made to achieve top performance each race weekend, and the thought-processes behind crashes and preventing them.
Episode 2: Innovating at 340kph
When the difference between first and second is a matter of milliseconds, innovation is everything. In Episode 2 of our Geared Up series, we speak to crew chiefs at KTM Factory Racing, Pramac Racing, and LCR Honda Team to discover where seconds can be shaved from lap time and what the next big thing in motorsport might be.
"You almost need an 'inventor' inside your own project who thinks of the crazy ideas."

Paul Trevathan, Red Bull KTM Crew Chief
Learn about the make-up of a MotoGP™ garage team, what exactly the teams look at during winter testing and the limits of tire performance.
Stay safe and happy riding!
Follow @DHL Motorsports on

Instagram

,

Facebook

, and

Twitter

be the first to know when the next episode of Geared Up is released!