Manchester United
UNITED. DELIVERED. – The Greatest Pitch in the World
Key Takeaways
Entries: 3750+ entries from 125+ countries
Matches: 95 games played in 77 countries
Registration open until March 31
In this unprecedented time, Manchester United fans around the world are left longing for their heroes to return to the Old Trafford pitch. While our beloved club uses this time to relive great goals and magical moments and share how the players are training at home, we thought we'd look back at some highlights from the UNITED. DELIVERED. Global Football Tour.
Since August, 95 matches have been played in 77 countries. We've received over 3750 entries from more than 125 countries, and the entries keep coming in. Registration is still open until March 31.
Our match kit and ball have travelled to many places for the first time this year, such as Croatia, Uzbekistan, Cape Verde and Jordan! The passion is palpable at every stop. Match hosts and their teams feel a connection to Manchester United and their fellow fans across the globe like never before.
With more and more of us practicing "social distancing" around the world, UNITED. DELIVERED. can bring us back together and remind us that distance really doesn't matter – we are United!
So, join us now as we take you to Jordan, Bulgaria, Malta and Malaysia.
Amman, Jordan
Even before the UNITED. DELIVERED. Global Football Tour touched down in Jordan for the very first time, match host Hasan was filled with anticipation.
"It is a great honor to represent Manchester United," he said.
"This is a great opportunity to show the world what Jordan has!"

Hasan, Jordan Match Host
Hassan has an obvious passion for this historic club and the many legendary moments the team has delivered to us over the years.
"[The club has] a great history," he says. 2It represents a football heritage for all the fans that love this game."
Standing on his home pitch under the bright blue Jordan sky, there's a twinkle in his eye as he stares off into the distance.
"Visiting the Theatre of Dreams will mean so much to me. I will be very happy and excited to step on the greatest pitch in the world and see where Sir Alex Ferguson and the other legends were having their glory."
For now, he squints into our camera and seems to savor the moment – this moment for him and his friends to join hundreds of others who have made their home the greatest pitch in the world, even if only for a day.
"I think this is a great opportunity to show the world what Jordan has," he says. "I just want to say thank you for everything. It was a great pleasure and honor to participate in this event."
Burgas, Bulgaria
You don't have to spin the globe too far to find our next destination, where match host Diyan is equally ecstatic.
"For me it's a great pleasure for me to be part of this incredible event," he says.
"To have this chance to play with my best friends and colleagues is amazing today!"

Diyan, Bulgaria Match Host
Although it was a cold one compared to Amman, this beautiful day in Burgas – not to mention the chance to make unforgettable Man Utd memories – brought Diyan and his friends out to make their pitch the greatest in the world.
"To have this chance to play with my best friends and colleagues is amazing today," he says.
With a huge grin and a thumbs up, he strides onto the field. The kit is opened, the bibs are admired and even kissed, the teams are picked, and the stage is set. In the end, the boys from Bulgaria didn't want it to end, taking the game into extra time. Team Yellow ultimately won on penalties, but it was clear that every man on this great pitch was claiming victory. That's because this tour is much bigger than one match, and they all knew it.
That's why Diyan wanted to end the day with a message: "The game was superb, emotional and great organized. Thank you Manchester United – and good luck to everyone!"
Valetta, Malta
Another short hop and we find ourselves on the Mediterranean island paradise of Malta, where Match host Stefan hoped the UNITED. DELIVERED. Global Football Tour would make is already close connection with the club complete.
He and his fellow United fans kick the ball around a lot, but never like this before.
"It feels good to be a part of the Global Football Tour," he says. "It gives a match that we play often that extra meaning and makes it extra special."
"It's nice to be a part of something like that, it makes your life more complete."

Stefan, Malta Match Host
He adds that Manchester United has a huge following in Malta. Geographically they aren't too far from the hollowed Old Trafford ground, and it's obvious they feel it.
"In Malta, being a United fan, you still have a big connection to the club," he says. "There are many, many United supporters. Watching United is a passion, so it gives you a sense of belonging, feeling, happiness."
So, what could possibly make him feel any closer? Simple – hosting a UNITED. DELIVERED. match.
"I love anything associated with Manchester United. It's nice to be a part of something like this, it makes your life more complete."
Selangor, Malaysia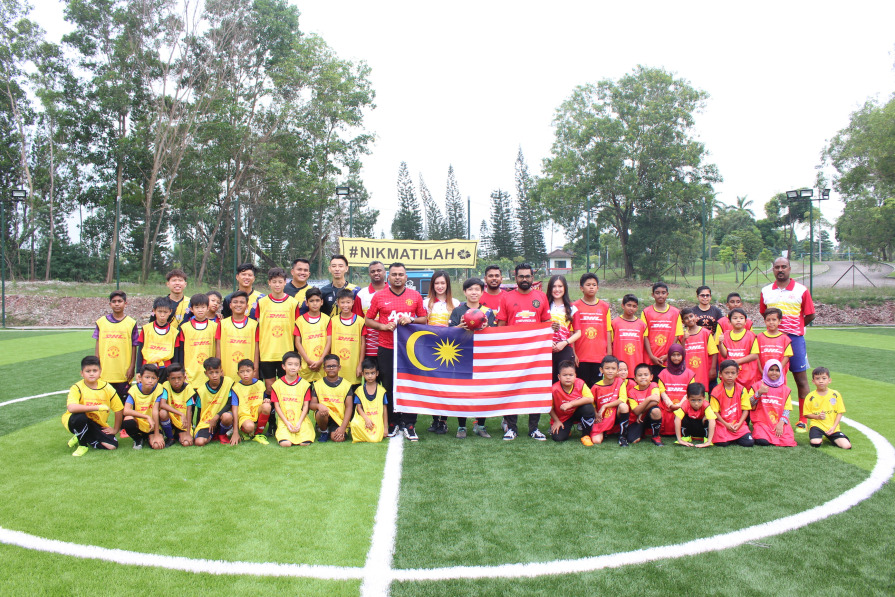 Another country, another match, another group of fanatical footballers. This time we find a pitch full of pint-sized players, organized by Gravin, our Malaysian match host.
Gravin and a group of his friends founded a community-based football club, aptly named "First Touch Football Club." Their aim is to encourage grassroots football among kids in Malaysia. He saw the UNITED. DELIVERED. Global Football Tour as way to expose the kids to his favorite professional club and excite them to play the sport.
"It's a meaningful day for them and for us as well."

Gravin, Malaysia Match Host
When he registered to host a match, he told us it was "because it is important to develop grassroots football in our country, as a Manchester United fan it is our responsibility."
Talk about a persuasive argument.
In Selangor, he told us: "Although we could have chosen to play amongst ourselves, we gave the chance to the kids for the day, for the exposure and the experience to play here."
The smiles on the kids' faces and the laughter in the air – we think Gravin made the right choice!
"I love to play football," one child tells us. "One day I want to play for Manchester United."
"I've been supporting Manchester United for nine years," says another boy.
We can't help smiling ourselves as we watch the match and talk to Gravin and the kids. This day has really meant something to them. Today this patch of grass is the greatest pitch in the world.
"It's a meaningful day for them," says Gravin. "And for us as well."