Formula E
The Visionaries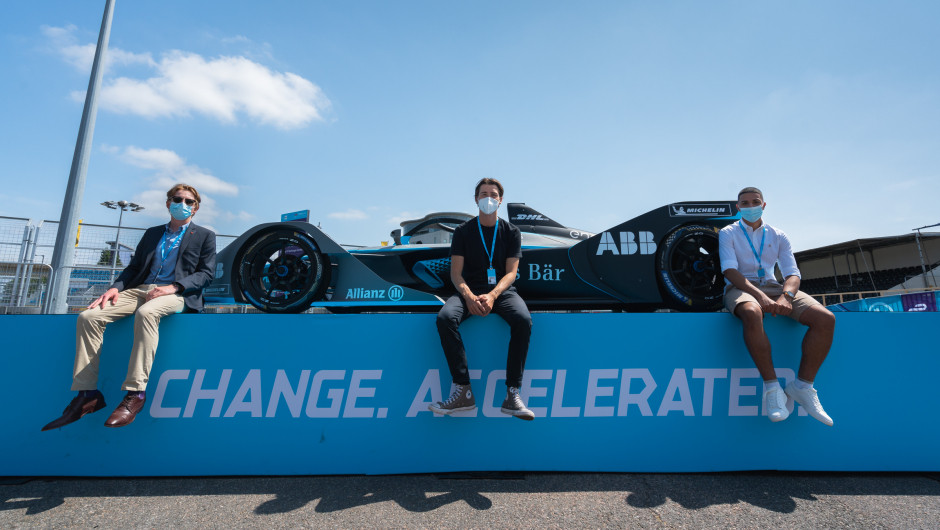 The remaining entrants had the daunting but exciting challenge to present their ideas to a judges' panel of sustainability experts from Formula E, DHL and ABB. Such an esteemed panel gave an opportunity for the finalists to build a network with some of the greatest minds in sustainability, and the judges were stunned by the pioneering ideas presented by the finalists during this virtual forum. After much debate amongst the judges, we found our two inspirational DHL Visionaries: William and Ahmed.
William's idea centred around turning waste paper into hand sanitiser using bioethanol, and Ahmed's a revolutionary stadium concept powered by the kinetic energy of sports fans themselves. Extraordinary ideas deserve extraordinary rewards, so the two winners received a Formula E experience like no other: a 'Day in the Life' experience joining the DHL Motorsports and Formula E teams behind the scenes at the 2021 London E-Prix.
Accompanied by Finn Harries, they experienced everything from the pit lane to hot laps to the races themselves, experiencing first-hand DHL and Formula E's efforts towards a greener future. They also met the leaders behind DHL and Formula E and the people who share their vision, including Formula E CEO Jamie Reigle, Mercedes' Head of Motorsport Toto Wolff and even some drivers. Both also received a €2,500 bursary to put towards their future career or studies.
Who knows, if you believe that #EveryMoveCounts towards a more sustainable future, then maybe you have what it takes to be a visionary too. Here's to going green in Season 8!