DHL X BEEN LONDON: THE CIRCUIT COLLECTION
A LIMITED-EDITION CAPSULE COLLECTION MADE FROM RECYCLED FORMULA 1® MATERIALS.
The limited-edition collection is the result of multiple conversations about circular design and the possibilities of giving a new life to DHL Formula 1® advertising banners. Working with BEEN London, we've followed an 'impact first' approach to transform the banners into one-of-a-kind, unisex, collectible items that would help to drive forwards Formula 1®'s zero-waste initiatives.
There are only 23 sets available, in honour of the largest race calendar we've ever delivered. Items: Duffle Bag, Backpack, Laptop Case and Card Holder.
Shop the collection
Advertising banners are tricky to recycle, so the best use for them is to give them a new life.
Our DHL banners were found trackside on the side of a Formula 1® circuit during the 2021 season, and were collected by our DHL Motorsports team to avoid waste.
The banners have been supplemented with 100% recycled leather to create a timeless collection that combines the DHL yellow and red with spirit and design aesthetic of Formula 1®.
The lining of our laptop cases are made from felt using discarded company textiles and corporate uniforms.
The tapes of our polyester zips are made from single-use plastic bottles which have a short lifespan but for hundreds of years harm our wildlife and oceans. The plastic waste is broken down and pulverised before being spun into yarn and made into zips.
Once collected by the DHL Motorsports team, the banners were sent to the BEEN London studio in East London to be assessed by the workshop team. Each piece of the Circuit Collection has been handcrafted by the BEEN team, and as each item has been made with a different section of the banner, the pieces are truly unique.
BEEN London's 'impact first' approach means they worked carefully to create the products in line with their core principles - zero waste pattern cutting, thinking about its end of life (no glue, only stitching) and working with corners in creative ways using stitching and folding techniques.
The Perfect Collaboration
BEEN London are an award-winning brand that makes fashion accessories entirely from recycled materials. Described by British Vogue as one of the most innovative fashion companies in the world, everything they do is founded on their zero-waste and impact first approach.
Every BEEN London piece is made entirely by hand in one of the last remaining East London leather workshops, packaged by Londoners with learning disabilities and on average has a carbon footprint 10 times smaller than a high street equivalent.
Learn more
All proceeds from the collection are going to a social enterprise closely aligned with our values.
Plastic Bank reduces the amount of plastic entering waterways and oceans by establishing ethical collection branches within 50 kilometres of oceans and waterways.
Learn more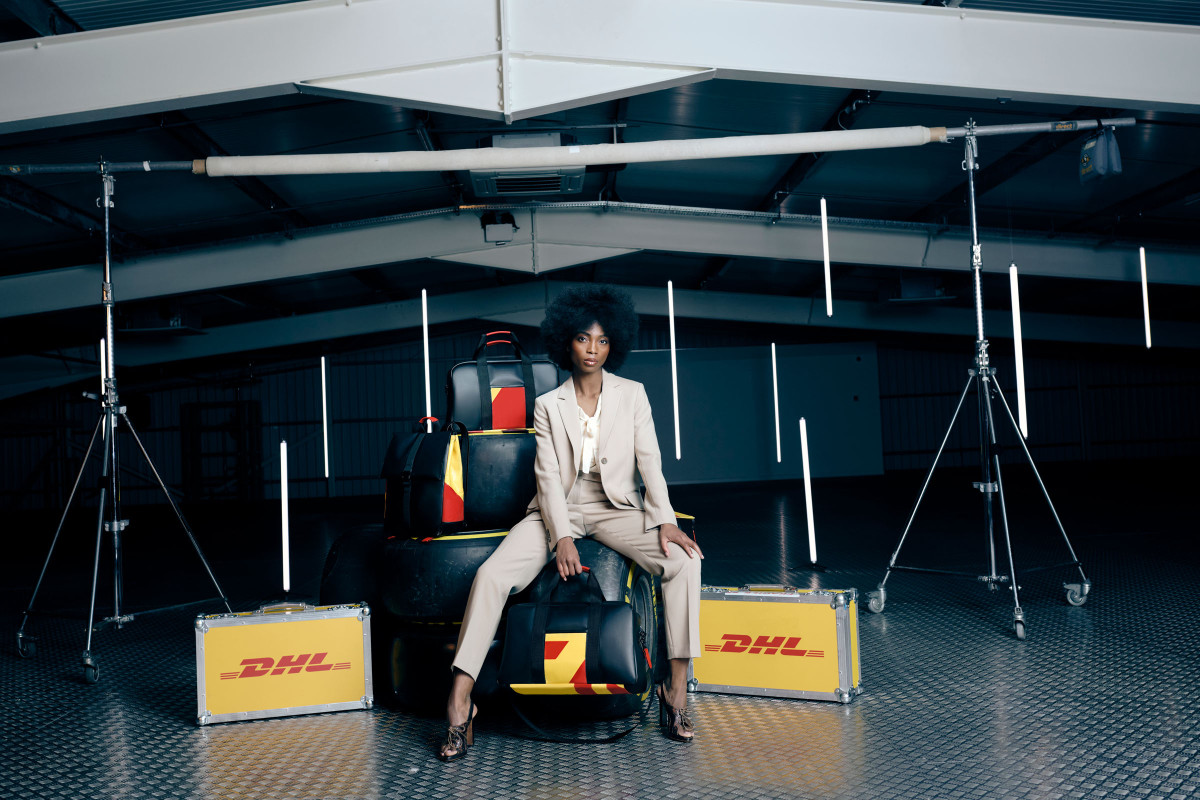 As part of our broader Group mission to become zero-emissions by 2050, this project has been created with sustainability at it's core. As F1 focuses more of it's innovative power on sustainable transport technologies, we wanted to call attention to the smaller positive impacts that could be taken at the track.
Our focus on driving forwards zero-waste initiatives through the creation of our Circuit Collection allows us to take one step further towards helping Formula 1 reduce its overall environmental impact.
Shop the collection
Positive Fashion is close to our hearts at DHL, and we are committed to making a substantial contribution through sustainable logistics.
We enable ambitious fashion brands with our industry and logistics expertise, and we are the proud partner of some of the world's leading fashion councils.