Formula 1®
Catering at Formula 1: a glimpse behind the scenes
Key Takeaways
Do & Co organizes the Formula One Paddock Club
Up to 5,500 guests per day
International menus with a regional touch
The Formula One Paddock Club is one of the world's finest examples of sports hospitality. Austrian caterer Do & Co has organized the Paddock Club since 1992, meaning it is responsible for ensuring that guests are treated to the finest possible cuisine. It did this for just a few races in the beginning, but has since been put in charge of the catering for 17 races. The only countries not served by Do & Co are Australia, Brazil and Singapore.
It all started with a chance recommendation. "In 1992, the caterer in Budapest had to pull out. Bernie Ecclestone asked Niki Lauda if he knew anyone who could step in and Lauda gave him our name. This was our first chance and we took it," says Gert Kretschmeier of Do & Co International Ltd in his interview with DHL-In-Motion.com.
Lauda and Do & Co naturally have a longer history. In 1986, the Viennese company took over catering for Lauda Air, the three-times Formula 1 World Champion's airline. Since then, Do & Co has become responsible for organizing the entire Paddock Club and is also in charge of hospitality for the Mercedes team.
A custom kitchen for every race
For Do & Co, each race weekend begins long before the Grand Prix itself. Depending on the size of the event, the set-up crew and staff arrive around 10 to 14 days before the race to buy in provisions. In the run-up to each event, the kitchen – measuring between 500 and 2,000 m2 – is delivered and constructed in-house by Do & Co.
In facing these logistical challenges, Do & Co relies on the extensive experience of DHL, the Official Logistics Partner of Formula 1, which mainly supports the company on far-flung overseas trips. "There is a longer lead time in Abu Dhabi, for instance, because the shipping containers first have to be unloaded," explains Kretschmeier.
Do & Co has 28 international kitchens worldwide, covering a production area of 2,000 m2, meaning it has so-called 'preferred suppliers' around the globe that supply the company with regular deliveries of meat, fish and dry goods. Meanwhile, fresh produce like vegetables, milk and cheese are procured locally for each race.
International approach, local touch
When designing the menu, Do & Co aims to provide a balance of international and regional cuisine. "We try to add a local touch to our food in every country – but our guests are international, so we have to adopt an international approach," explains Kretschmeier.
Beef fillets, something spicy, and Thai and Indian food are served at every race, but the Paddock Club in Barcelona features a tapas bar, for instance. "We always add a little local color, but try to cater to most tastes in each country." While the race guests in Asia are typically locals themselves, European audiences are much more diverse.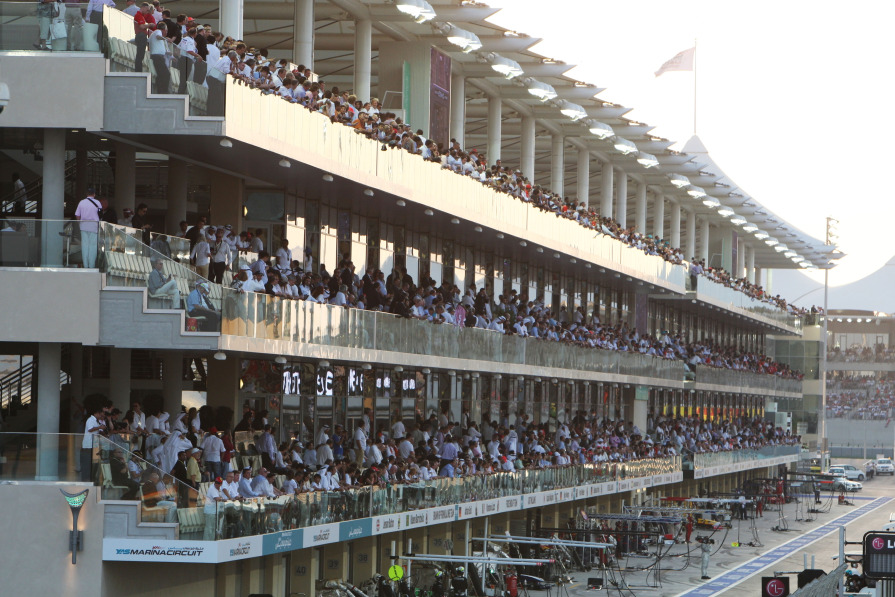 Abu Dhabi: a race of extremes
In order to provide an excellent service to each guest, Do & Co employs a team of 200 staff for each race, swelling to 1,000 people depending on the size of the event. "At European races, we might welcome 1,000 to 3,000 guests per day, but in Abu Dhabi that figure rises to 5,500 – that's a dramatic difference," adds Kretschmeier.
Abu Dhabi is generally considered a race of extremes. In the season finale on the Yas Marina Circuit, 17,000 to 18,000 meals are prepared, requiring up to 20,000 pieces of cutlery. If the Paddock Club is fully booked, the company will need to buy in one ton of beef fillet and 1,000 liters of cream, as well as 2,800 to 3,000 lobsters – half a lobster for every guest. These lobsters are flown in from Canada; the food at Formula 1 is as international as the racing series, itself!