Rugby
RUGBY. DELIVERED. – It's Everything
From Calgary, Canada to Kandy, Sri Lanka and from Espoo, Finland to Sydney, Australia, this past month has seen the RUGBY. DELIVERED. tour crisscross the globe. So many special rugby moments, we wish we could highlight them all. Here are just a few that remind us rugby how much the sport really means to us!
Hong Kong
At Repulse Bay, one of Hong Kong's most beautiful beaches, DHL was part of Asia's largest beach festival – the Beach 5s. Over 1,000 people competed in five different sports in front of 20,000+ spectators. The tournament's rugby portion became an exciting stop on the RUGBY. DELIVERED tour.
Kiwi expat Katherine was our match host in Hong Kong. A passionate rugby fan from one of the most crazed rugby nations in the world, she made sure a lot of her friends and family came out to play and watch.
"We all come from different clubs in New Zealand, so it's brought us together as friends, family," says Katherine. "Rugby means everything."

Building friendships
Rugby truly means the world to so many people – and that was on full display at Repulse Bay. People from all over the planet came to play. After many hard fought matches on the sand, one luck team walked away with tickets to Rugby World Cup 2019.
"Rugby means everything."

Katherine, RUGBY. DELIVERED. host in Hong Kong
"Rugby is like what builds a lot of friendships," said one of the winning players. "People find a lot of things through rugby – and it teaches a lot of commitment and hard work. Rugby is a great sport."
Katherine's Kiwi girls' team was ecstatic. What an opportunity to bring such a large group together and generate loads of attention for their national sport and the fact that a world cup was going to be played in Asia for the very first time.

"Without these guys being here, we as a team probably wouldn't be here as well," said Katherine. "It's a privilege for us that it's brought us together as a team. It means heaps so thank you!"
Hòa Bình, Vietnam
While rugby is mainstream in Hong Kong, in Vietnam the sport is still in its infancy. But it's gaining traction fast, not least due to the efforts of ChildFund Pass It Back, a sport-for-development program that uses the power of rugby as a tool to bring children together and equip them with life skills.
"In poor rural areas like this, young people have very few opportunities to play sports, especially organized sports," says Huong, our RUGBY. DELIVERED. match host in Vietnam.
ChildFund Pass It Back was a partner of the event in Vietnam.
Huong capitalized on being selected to join the RUGBY. DELIVERED. tour by organizing a huge tournament. It was her community's "biggest sporting event of the year," she says.
"More than 1,000 children participated in the games," says Huong. "They had opportunities to play in teams and show the spirit of sports as well as the values of rugby, including solidarity, discipline, integrity, passion and respect on the pitch."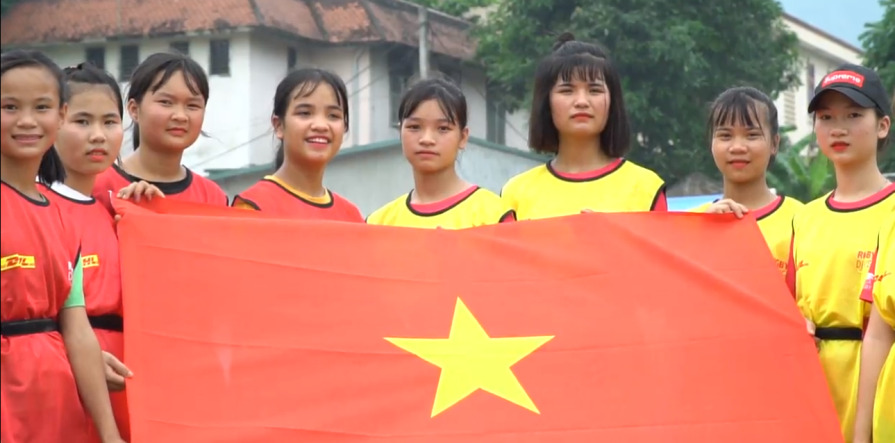 Building resilience
It was an opportunity she just couldn't pass up. In her country, there are virtually no team sports for girls.
"For women in rural areas, they are faced with a lot of barriers to participating in sports activities," she says. "This is an opportunity for them to learn, grow, show their talents, and socialize with other friends in the community."
"This is an opportunity for them to learn, grow, show their talents, and socialize with other friends in the community."

Huong, RUGBY. DELIVERED. in Hòa Bình, Vietnam
And what does she think about a chance to take her team from a patch of grass to world rugby's greatest stage?
"The trip would be a lifetime chance for them to travel oversea, and see the competitive games in their own eyes," she answers. "It would build their resilience to deal with many first experiences, such as flying, communicating in different languages, staying far from their home, and seeing excellent rugby games."
KYOTO, JAPAN
From rural Vietnam, the RUGBY. DELIVERED. tour made its way to urban Japan – to the country's former Imperial capital of Kyoto. Though the historic city will not host a Rugby World Cup 2019 match, the city is home to many rugby fans. One of whom is proud father, Yoshida, who registered to host a rugby match for yet another chance to be close to his son – the person who brought him to the game.
Building father-son ties
"The reason I like rugby is that my son plays rugby," says Yoshida. "I can watch games together with him and train together with him, which is really fun."
Yoshida's son plays at the Kyoto Nishi Rugby School. And it was on graduation day when he registered to give the kids what he calls a "new beginning."
"With the hope that they would share their dreams and hope of joining the World Cup in the future," he says."
Now that he's hosted a match, he's ready for RWC 2019 to come to his country. It's no surprise who he'll be rooting for.
"As the Rugby World Cup is being held in Japan for the first time, I think Japan will win."
Sign up now and play!
If rugby means everything to you, too, then don't miss this chance to be a part of the biggest rugby tour on the planet. Register to host a DHL RUGBY. DELIVERED. match today! And continue to watch this space for more stories from the tour.
Sign up now for RUGBY. DELIVERED. and get your chance
to win a trip to Rugby World Cup 2019™!
DHL partners with ChildFund Pass It Back to promote the game of rugby and the interests of underpriviledged kids. Please join us. Make a donation here.