JOIN FC BAYERN ON THE AUDI SUMMER TOUR 2019
FC Bayern will touch down three times in the USA 15th-24th July, 2019
First stop: Los Angeles (15th-18th July) / FC Bayern- Arsenal 1:2
Second stop: Houston (19th-21st July) / FC Bayern - Real Madrid 3:1
Third stop: Kansas City (22nd-23rd July) / FC Bayern - AC Milan 1:0
Return to Munich (24th July)
As Official Logistics Partner, DHL will be with the team for the whole of their Summer Tour and will ensure that the team's equipment and materials arrive on time: www.inmotion.dhl/FCBayern
Meet our FC Bayern Super Fan
29th July 2019
Can we introduce you to: "JP"!
You may already know Super Fan "JP" from pictures taken in Houston and from the first video of our Summer Tour.
In our second video, we go behind the scenes at FC Bayern with "JP"!
In the video clip, he shows how we load equipment at the hotel and stadium and how FC Bayern's locker room is set up in time for the match.
A lot of logistical expertise is needed to ensure that the players' jerseys, track suits, shin pads and boots are ready in time for them to warm up.
Fortunately, the German record-breaking champions can rely on the know-how of Official Logistics Partner DHL on their international travels.
As a result, everything runs like clockwork even when transporting more than two tons of freight needed for the Summer Tour.
FC Bayern and DHL: A real Global Family!
Highlights of the 2019 Summer Tour
24th July 2019
9 days. 3 cities. 3 high-caliber opponents. 2 wins. And more than 2 tons of equipment.
Just a brief summary of FC Bayern's Audi Summer Tour 2019.
After Tuesday's victory against AC Milan in the final fixture of the tour, the record Bundesliga champions were able to look back with satisfaction.
"I have been on many tours, and I have the impression that this was the most satisfying, most interesting and – at the end of the day – most successful one that we have ever embarked upon," said club chairman Karl-Heinz Rummenigge.
In addition to the three games against Arsenal, Real Madrid and AC Milan and various training sessions in Los Angeles, Houston and Kansas City, the players also attended a number of other events on their itinerary.
Some of these were social events, such as the opening of the Holocaust exhibition in Los Angeles and joint training sessions with youngsters in the context of the Freekicks campaign.
There were, of course, a lot of fan events and autograph signings at the three match venues, where the FC Bayern fans got to see their favorite players close up and personal.
Two club legends – Giovane Elber and Lothar Matthäus – were also on hand to sign autographs and pose for photos, including on the final day of the tour at the Fan Fest in No Other Pub in downtown Kansas City, where the fans had their photo taken with the Championship Shield (Bundesliga trophy).
The occasion was also an opportunity for fans to join in Giovane Elber's 47th birthday celebrations.
Happy Birthday, Giovane!
To ensure that every aspect of the Summer Tour could proceed without delay or hitch, the hard-working staff of Official Logistics Partner DHL worked around the clock to transport the equipment.
Our Kit Van team shifted approximately 780 kilos of training and matchday kit to the hotels, the training grounds and, of course, the stadiums at all three venues.
But at other events too, our yellow Kit Van was never far away – and that was very important! After all, we also delivered 150 kilos of autograph cards to the US. Just as expected, these were in great demand among the team's many North American fans.
All in all, DHL transported more than 2.1 tonnes of team equipment to the USA – more than for any of FC Bayern's previous summer tours.
And then, of course, there were the usual special deliveries for our Kit Van team to take care of. For example, our crew had to organize the beloved "Spinning Bikes" for a spontaneous training session in the hotel and bring them to the gym. A job that really gets the sweat glands working overtime in such high temperatures.
We are so proud of our Global Family.
In Houston, for example, our superfan JP joined our valiant Kit Van team to help load and unload FC Bayern equipment at the hotel and at the NRG Stadium.
JP had the chance to take a sneak peek into the "inner sanctum" on matchday – the neat and tidy FC Bayern dressing room.
We'll tell you more about this in one of our upcoming vlogs, so be sure to stay tuned!
However, the biggest surprise came on the day after the 3-0 win against Real Madrid when local members of our FC Bayern Global Family got to meet Kingsley Coman and shoot a video with him.
There's a trailer for it in our first vlog:

The Summer Tour may officially have come to an end today, but these fantastic nine days will live long in the memories of all concerned.
So, as we said above, stay tuned, because we will soon be offering you more Behind-the-Scenes videos featuring our superfans and obviously Kingsley Coman, Manuel Neuer, Robert Lewandowski and teammates.
Plus, of course, there is a third and final jersey worn by one of the Bayern stars in the match against AC Milan to be won by one lucky fan.
What do you have to do to win it?
Quite simple: Become a member of our Global Family, upload a fan photo of yourself and, with a bit of luck, the matchday jersey could be yours.
But if you don't win, no worries because, as a member of our Global Family, you can expect many more exciting competitions and unique experiences in the future – delivered by DHL.
A win to finish off
July 23rd, 2019
They've done it!
After winning against Real Madrid, FC Bayern took another win on Tuesday evening to conclude their Summer Tour in the USA.
This time, the Munich side beat AC Milan 1-0. The goal came from Leon Goretzka just after half-time after being set up by Joshua Kimmich.
The German record-breaking championship team thoroughly deserved their win in front of a sell-out crowd of 18,496 spectators at Children's Mercy Park, home of Sporting Kansas City.
Thomas Müller and David Alaba even had the chance to increase the lead in the closing stages of the game just after Sven Ulreich had ensured that his team's three points remained intact with a brilliant save against Patrick Cutrone.
FC Bayern are currently in second place at the end of their games in the International Champions Cup (ICC), having taken two wins from three matches.
At the moment, only London team Arsenal are one up on FC Bayern with seven points after beating them 2-1 in the opening round in Los Angeles a week ago.
There are eight more games still to be played in the ICC where teams can collect points towards the overall standings before the competition concludes on August 10th.
Niko Kovac's FC Bayern team flew home soon after the match to begin an intense round of pre‑season preparations in readiness for the opening games against Energie Cottbus and Hertha BSC Berlin in the DFB Cup and the start of the Bundesliga season, mid-August.
Big surprise on DHL Kit Van!
July 23rd, 2019
Gearing up for final round!
While the team prepare for their last match of the summer tour against AC Milan tonight in Kansas City, we've got a very special treat for you:
Our first behind-the-scenes video from this year's tour.
With DHL super fan "JP" and none other than FC Bayern star, Kingsley Coman!
Take a look behind the scenes with "JP".
See how Official Logistics Partner DHL gets FC Bayern to the US, how we go about our mission and watch as three really well-known guys sign for delivery...
The Global Family meets...
22nd July 2019
Greetings form the final destination on our tour. FC Bayern have arrived in Kansas City.
Before the flight, however, the hard-working DHL kit van crew were kept exceptionally busy in Houston. Their job on Sunday evening was to prepare all the team equipment and cargo for the last stopover of the tour.
Departure for Kansas City was scheduled for 7am on Monday morning. So, for the last time before the return flight to Munich, the 780 kilos of match kit, the 140 kilos of trainers and football boots and the 115 kilos of footballs plus the rest of the two tons of equipment were made ready for loading.
Fortunately, this is not a problem for our experienced crew, so everything was ready for transport to the airport on the eve of departure.
But it was not only our kit van crew who had a busy Sunday. Our superfan "JP" was once again on a special mission. This time, however, he had reinforcements in the shape of other fans from our Global Family.
They lined up together in front of the camera for one of our vlogs and were then joined by our surprise guest.
FC Bayern star Kingsley Coman had insisted on saying hello to our Global Family representatives and shooting a few scenes with them.
What was the theme of the video? We're not going to reveal that just yet. But rest assured that it will be posted here on our tour blog very soon.
Fifty years on
21st July 2019
Thank you, Houston!
As FC Bayern were saying goodbye to Texas at the end of an enjoyable and highly successful stay, their 3-1 victory over Real Madrid was only a secondary topic of discussion for Houston residents, whose thoughts were turning to the moon landing exactly 50 years ago.
Depending on time zone, the Americans celebrated the anniversary on either the 20th or 21st of July. To mark the occasion, Bayern sent a small delegation headed by club chairman Karl-Heinz Rummenigge, Germany's most-capped player Lothar Matthäus, Javi Martinez and Thiago to the Johnson Space Center in the southeast of the city.
On Saturday, when the players arrived at their hotel and later during the warm-up before the match against Real, they wore special T-shirts commemorating the moon landing. The first of these shirts was designed by former NFL player Arian Foster, while the second bore the inscription "Apollo 50".
Incidentally, the moon landing is not the only event that is being remembered fifty years on in 2019. DHL, the Official Logistics Partner of FC Bayern, is also celebrating its 50th year of trading, with a variety of promotions and events, one of which is the roving BTHVN on Tour exhibition.
For FC Bayern too, 1969 was a very special year. The Munich-based outfit won the German league championship in the 1968/69 season. Their only previous title had come in 1932, well before the Bundesliga was founded.
What's more, the 1968/69 campaign ended with FC Bayern doing the double – in the final of the DFB Cup played at the Waldstadion in Frankfurt, the team defeated FC Schalke 04 by a score of 2-1 to win the national knock-out competition for the fourth time.
Both of Bayern's goals were netted by Gerd "Bomber" Müller – no surprise there. The legendary goal-scoring machine still holds the Bundesliga record for goals per match (365 in 427 games). In the championship-winning season, he became the division's top-scoring player for the second time with a tally of 30 goals.
Celebrities in the changing room
21st July 2019
Everyone was in a good mood on Sunday. After the 3-1 victory against Real Madrid on the previous evening, the FC Bayern players did some light training in Houston. Joining them for the session were some buoyant emissaries of the FC Bayern family.
Most of the fans will certainly have celebrated long into the night. First there had been that exhilarating display of football on the lush green pitch of the NRG Stadium, then a no less extravagant party in Houston.
Our super fan is also back in action today. Together with a few other members of our Global Family, he is on a secret mission. We're not ready to reveal the exact the nature of that mission, but we promise that the answer will be worth waiting for.
By the way, it was not just soccer fans who celebrated their team's stunning victory against the "Royals". Basketball star James Harden of the Houston Rockets also paid a visit to the team to congratulate them on their victory and to josh around with the players.
There was a lot going on after the match in the "catacombs" of the NRG Stadium. In fact, there was a veritable traffic jam in front of the FC Bayern changing rooms, with even the stars of Real Madrid stopping by to say hello to the Reds. And yes, our superfan "JP" bumped into a few celebrities while doing his rounds on Saturday and also got a hug from mascot Berni.
For FC Bayern, the visit to Houston has proven to be a huge success in so many different ways.
The next and also final stop on the summer tour is Kansas City which will host the last match of the International Champions Cup in which Bayern come up against the might of AC Milan.
But anyway, don't worry about any of the arrangements: DHL will provide its usual fast and reliable service for team and all of its equipment. Rest assured that nothing stands in the way of a lavish feast of soccer at the end of the US tour.
We are looking forward to it, and we guess you are too.
First win on Summer Tour
20th July 2019
What a superb match!
At Houston's NRG Stadium, FC Bayern beat Real Madrid 3:1 in front of 60,413 fans. Many Global Family members were in the crowd.
The unstinting efforts of super fan "JP" and everyone in the DHL Kit Van Team to get the team prepared really paid off!
In a fast-moving game, the Munich side went one up after just 15 minutes thanks to Corentin Tolisso.
After half-time, Robert Lewandowski and Serge Gnabry scored another two goals within minutes of each other, giving FC Bayern a 3:0 lead.
In the 84th minute, Real finally put the ball in the net to make the score 3:1 after goalkeeper Sven Ulreich had been shown the red card for a foul on Rodrygo, who then converted the resulting free kick.
After playing in Los Angeles and Houston, FC Bayern will now head off to Kansas City which is the final stopover on this year's Summer Tour.
On Tuesday at 8.00 pm local time, 3.00 am CET, the German record-breaking championship team will go up against AC Milan in Children's Mercy Park, Kansas City.
And yes, as you've probably realized by now, DHL will transport more than two tons of team equipment another 1,700 kilometers or so by air to the north of the USA.
But here's another thing: Second game, second chance to win!
After the Houston match, you will, of course, get another chance to win a match-worn jersey belonging to one of FC Bayern's stars!
Sign in to our Global Family site, upload fan photo and maybe the jersey will soon be on its way to you!
A glimpse inside the "holy of holies"
20th July 2019
It's matchday in Houston!
This evening (19:00 local time), FC Bayern encounter no less distinguished an opponent than Real Madrid in the second match of the summer tour.
The NRG Stadium is all spruced up for the occasion: the pitch is a lush green, more than 70,000 seats await the arrival of the fans, and the yellow-and-red DHL logos are already lit up on the LED perimeter boards.
A lot of work has gone into the preparations for this match. Since the team touched down on their flight from Los Angeles, the DHL kit van with its hard-working crew has been zooming around Houston non-stop, transporting the equipment of the record Bundesliga championship winners from the airport to the hotel, from the hotel to the training ground, and from there to the stadium.
We accompanied the DHL kit van as it navigated the streets of Houston and made this video for you:
Our kit van cuts a dashing figure in front of the city's impressive skyline, wouldn't you agree?
By the way, the fancy key visual of Manuel Neuer, Robert Lewandowski and Kingsley Coman on the side of the van attracts admiring glances wherever it goes.
Some fans even took selfies standing next to our van.
Only in the big Global Family of FC Bayern will you find passion on this scale.
Meanwhile, preparations for the match continue apace in the stadium.
Hard at work alongside our tireless kit van crew is FC Bayern super fan Juan Pablo.
You'll get to know "JP" better in our upcoming vlogs, but for the moment, suffice it to say that this super fan is helping to carry the team equipment into the stadium.
In the process, he is getting some unique insights into what goes on behind the scenes, and he is even allowed to get a look inside the holy of holies – the FC Bayern changing room.
Anyway, no worries because, as you can see from the photos, everything arrived on time, as it always does of course.
The red jerseys, shorts and football boots of Lewandowski, Martinez, Thiago and co are already hung up neatly on hooks.
Win a matchday jersey
19th July 2019
Goodbye Los Angeles, and hello Houston!
Yes, it's hard to believe, but we already have the first stop on the Summer Tour behind us.
The players and support staff of FC Bayern have just flown 2,200 kilometers from Los Angeles in California to Houston in Texas where there will again be a great reception from fans looking forward to seeing the star players of the record Bundesliga champions in the flesh. On Saturday, the team goes back out onto the pitch again, this time for a match against Spanish "royalty", namely Real Madrid!
And this is where you can also take on a competitive role: as a member of our great Global Family, you could be the lucky winner ofa jersey worn by an FC Bayern player on match day – there are three games and three jerseys to be won.
Have we sparked your interest?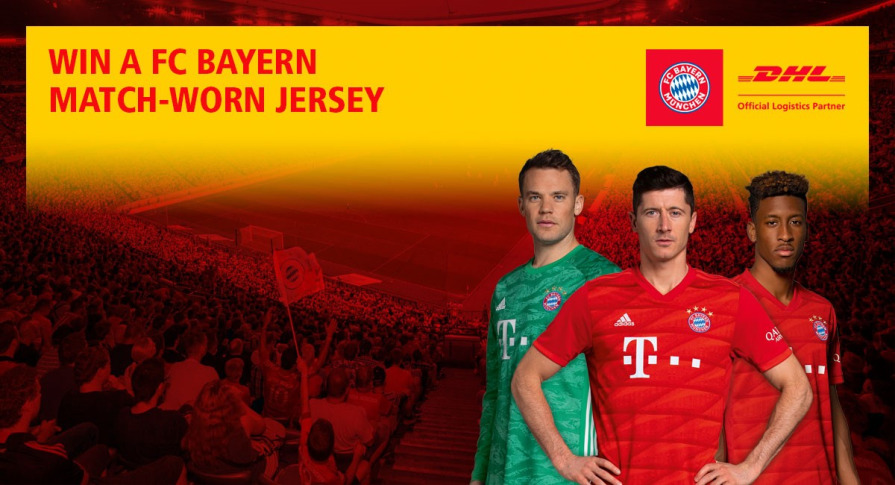 It's easy to enter our competition:
Go to our Global Family page, upload your fan selfie and, with a bit of luck, one of the three matchday jerseys could soon be yours.
On the subject of Global Family, have you joined yet? Or maybe this is the first you've heard about it?
If not, then it's about time we got you signed up.
Since the 2016 season, FC Bayern fans have been immortalizing themselves in our community by posting their fan photos here. There are also competitions with great prizes to be won and opportunities for unique experiences such as getting a glimpse behind the scenes of the Summer Tour in the role of DHL Fan Reporter.
So far, almost 58,000 fans from 165 countries have registered as members of our Global Family. There is no good reason why you shouldn't sign up too.
And while you're at it, tell your friends and any other fans you know that we would also like to welcome them into our Global Family and to see their photos.
Believe it or not, we already have more than 65,000 images (equivalent to approximately 46 gigabytes) stored on our servers.
Help us to keep expanding our global photo album for FC Bayern fans.
We promise you won't be disappointed.
Delivering FC Bayern to the World
18th July, 2019
There's always a whole bunch of things to do when FC Bayern hit the road.
Bear in mind, they don't travel lightly, as 463 shipping crates, 560 kilos of suitcases and over two tons of equipment must arrive on time at the hotel, before training and, of course, before every game.
Fortunately for the players, they don't have to carry the 115 kilos of footballs or the 780 kilos of training gear and sportswear to and from the various tour stopovers!
Oh no! The German record-winning championship side prefers to rely on the trusted and reliable services of long-term, Official Logistics Partner DHL.
And that way, the 150 kilos of autograph cards always arrive punctually for every autograph-signing session, for training and the games. After all, fans in the United States want to get as many autographs as possible from their favorite players!
DHL is able to deploy years of experience and plenty of expertise as it goes about its work. Since 2015, we have been with FC Bayern all the way on international trips – and the amount of team equipment transported has increased steadily with every year.
DHL transported 1.5 tons in total to China for the first joint summer tour in 2015, but this year, more than 2.1 tons need shipping from Munich to Los Angeles, Houston, Kansas City and back to base.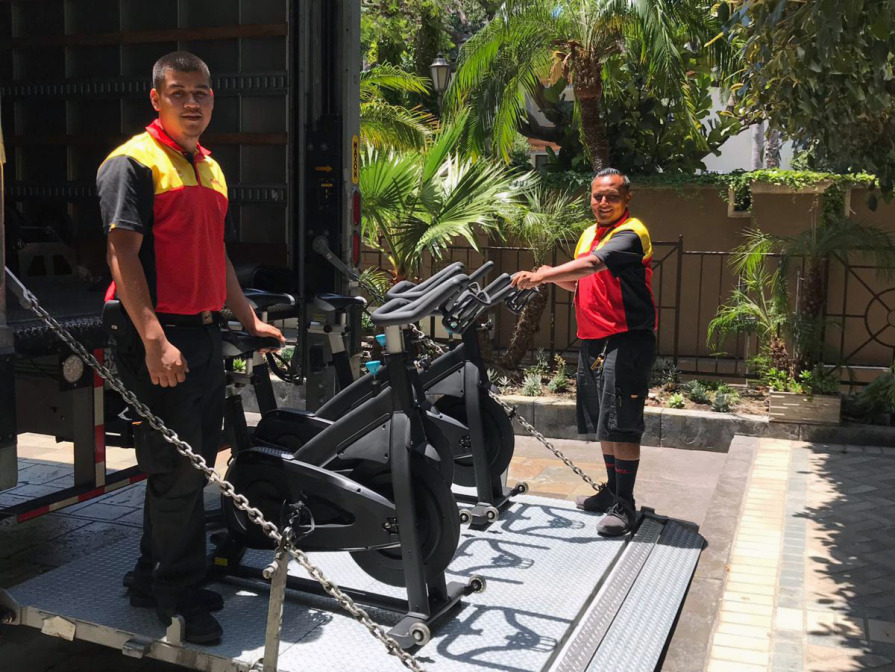 There are also special jobs that have to be taken care of, for example, when the trainer tells us he needs certain fitness equipment at short notice for a session in the hotel.
And that's how on the first stopover in Los Angeles, we came to meet up again with some "old buddies" – Yes! The spinning wheels are back!
Remember last year in Miami when our hard-working DHL Kit Van team had to put in an extra nightshift? (read all about it here).
But all was well again this time in the end: Mission accomplished!
We just love statistics, but what about you? Check out our infographic to discover exactly how much equipment we've shipped for FC Bayern in recent years on their international trips!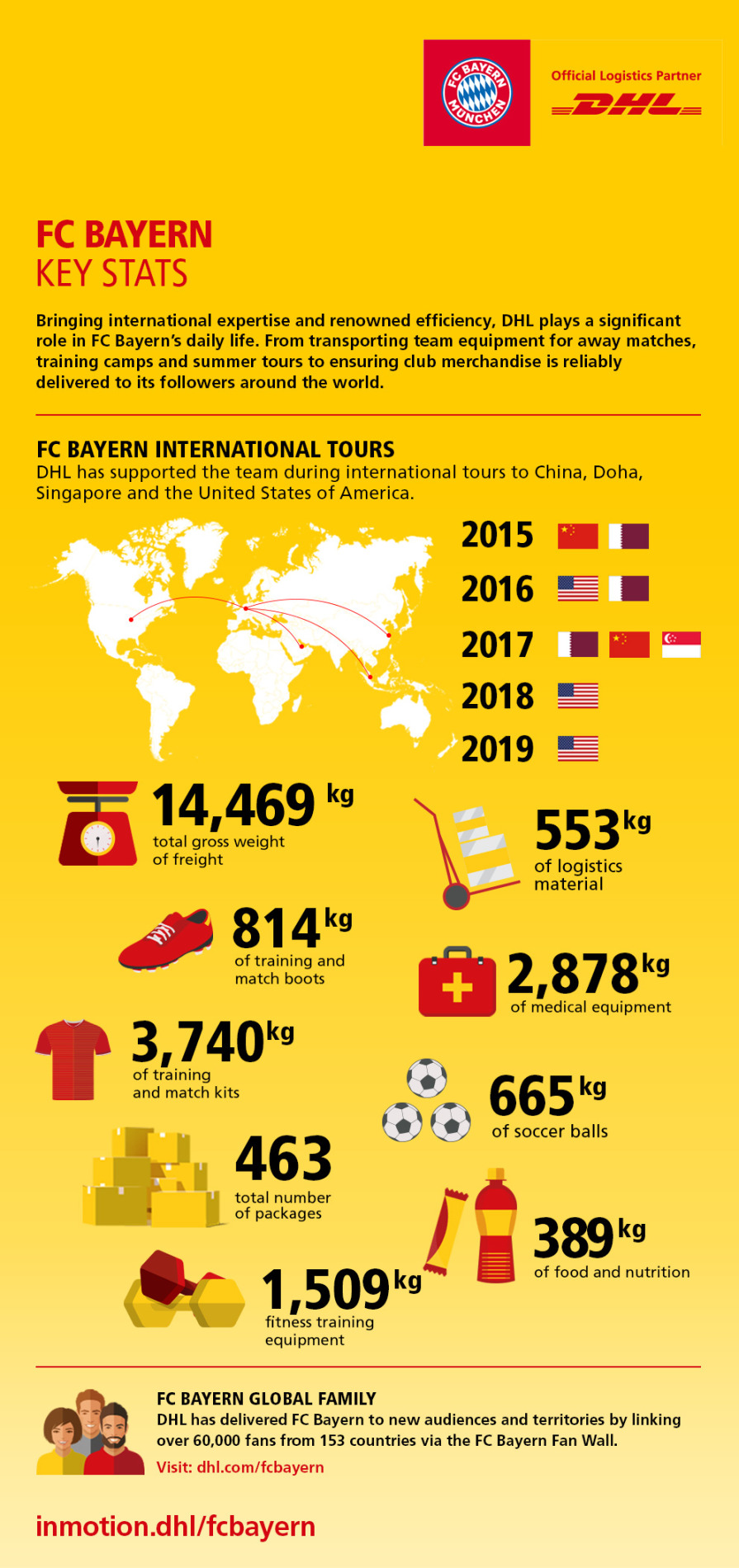 New season kicks off!
17th July 2019
FC Bayern get the ball rolling!
FC Bayern started the new season with a high-profile match against Arsenal last night.
The first match of the new season for coach Niko Kovac's team took place in front of 26,704 spectators at the sold-out Dignity Health Sports Park in Los Angeles.
In the end, the German champions narrowly lost 1:2. A goal by Munich striker, Robert Lewandowski, in the 71st minute of play had enabled the side to draw level for a time.
FC Bayern's game against Arsenal was the first of three on their Summer Tour. Matches against Real Madrid in Houston on Saturday and AC Milan in Kansas City on Tuesday are set to follow.
All three games form part of the International Champions Cup which has been held annually during the summer break since 2013.
Twelve teams in all are taking part in this year's competition. FC Bayern are the only German team in the field and are joined by three English clubs, four from Italy, two from Spain and one from Portugal and Mexico.
And how does the competition work?
Well, it's quite simple. Each team contests three games with three points for a win as usual. If the sides are even after 90 minutes, teams go directly to a penalty shoot-out and the winners get two points in this case. The losers still come away with one point.
The team with the most points are declared the overall winners after the 18 games have taken place. Tottenham Hotspur won through last year and were crowned International Champions Cup winners.
PS: And don't forget, after each of FC Bayern's matches on this US tour, you can win a match-worn jersey belonging to one of the stars! Join in now: www.inmotion.dhl/FCBayern
One big, red family
17th July 2019
FC Bayern has arrived in the USA, twice over!
Shortly before the Summer Tour began, the Munich side welcomed the 150th official fan club from North America (spread across 43 states). To celebrate this special occasion the Allianz Arena was decked out in stars & stripes!
All over the world, some 340,000 fan club members from more than 4,400 official fan clubs keep their fingers crossed for FC Bayern. No other German club enjoys more support.
That's also reflected in the number of members. With over 291,000 club members, FC Bayern is the largest sporting club in the world – all in all, just one big, happy global family.
This is also why DHL set up the FC Bayern "Global Family" to unite fans of the record-breaking German championship winning side from every continent with one another.
But take a look for yourself:
We met a very special fan club from the USA ahead of this year's American tour:
Introducing the Red Ladies!
If you haven't come across the Red Ladies already, they are the first all-female FC Bayern fan club in the world with 250 members from 14 different countries, including Malaysia and the Netherlands.
In the run-up to the Summer Tour, we visited some of the fan club members in New York where they watched the DFB Cup final together, and, of course, cheered on FC Bayern's 19th cup win!
But what inspired fan club founder Kristin to create the Red Ladies? How was she able to make friends all around the world through the fan club?
The answers to all these questions and much more is revealed in our video "Meet the Red Ladies":
The initial responses to our video show the scale of the passion of the female FC Bayern fans in the "Global Family".
"We received so many wonderful reactions from women from all over the world," said Kristin. "We gained 20 new members overnight after the release."
Including the first members from Australia and Lithuania!
"We keep growing by the minute," Kristin continued. "That has never happened before."
That's the power of the Global Family!
#MomentsThatDeliver on the Summer Tour
16th July 2019
Your attention please, Los Angeles. "Mia san Mia" has now arrived in California!
The team landed in Los Angeles on Monday to an enthusiastic welcome from local fans.
Today, we're heading out to the first training session in the United States followed by several autograph-signing sessions. After all, supporters here in Los Angeles should get to see as much of the stars as possible.
So, while the players sweat it out training in the Californian heat and then make their American fans happy with selfies and autographs, we're going to take a little journey back in time.
DHL first accompanied FC Bayern on its summer tour in 2015 when the German record championship winners traveled to China.
We went together for the first time to the land of unlimited opportunities the following year. Back then, our DHL Fan reporters sent in copy directly from the tour. You can read their stories in our 2016 tour blog.
Scott, Matt and Jimmy gave the viewers a look behind the scenes in our vlogs. They were even allowed to enter to the holy of holies - FC Bayern's team cabin:
Oh, don't you just get real feelings of nostalgia when you look back at those pictures!
But we don't want to keep you too long, because there are just as many spectacular impressions from our second joint summer tour with the team to look at!
Before the start of the 2017/18 season, the tour took us to Cathay, the Middle Kingdom. Four more fan reporters went with the team from Shanghai via Shenzhen to Singapore on our behalf.
You can read all about the experiences of Even Chao, Ji Yuyang, Terry Lee and Terence Ong in our 2017 Tour blog.
But don't worry if you prefer fewer words and more photos, you can take a look at the most beautiful snapshots from the Summer Tour here in our picture gallery:
And as you can imagine - that's by no means everything, not by a long way!
We again traveled to the USA with FC Bayern last year, heading to Philadelphia and Miami before the start of the 2018/19 season.
In Philly, the players from the German record-breaking championship winning side did a whole bunch of cool things. They followed in the footsteps of Silvester Stallone, climbed the 72 steps of the Philadelphia Museum of Art and raised their arms in the air like former movie hero, Rocky Balboa!
From Philly, DHL transported the Munich team's equipment a good 1,600 kilometers as the crow flies further south to Miami, Florida.
But there was no time for sunbathing. Instead, DHL's hard-working Kit Van Team faced a special assignment.
Even though as Official Logistics Partners, we had already shipped almost 300 kg of fitness equipment to the USA, coach Niko Kovac still needed "spinning bikes" for a training session in the hotel.
No sooner said than done. Our Kit Van Team from DHL Trade Fairs & Events quickly jumped into action and brought 25 these training bikes from Barry University to the ballroom in the team's hotel.
It was just after midnight when our dedicated crew was able to announce: Mission accomplished!
You can read about these and other stories from last year's Summer Tour in our 2018 Tour Blog.
And as you may already have realized by now, there will certainly be plenty more surprises waiting for our ever-flexible Kit Van Team during this tour...
Summer tour here we come!
15th July 2019
Off on our travels again!
It's become almost a tradition by now as FC Bayern embarks on its summer tour before the new season begins in earnest.
The German record championship winners are off to the USA again as they did last year.
Back then, the team was in Philadelphia and Miami, but this time around, fans in Los Angeles, Houston and Kansas City will get the chance to see the stars close up.
And of course, whenever FC Bayern goes on tour, Official Logistics Partner DHL is close by.
As always, DHL will again call on its international expertise to ensure that the team's equipment arrives on time and is ready and waiting for the players at every training session and for every game on their summer tour.
By the way, FC Bayern will face three more high-profile opponents again this year on this American tour.
The reigning German double championship winners will go up against London side, Arsenal, on Wednesday, 17th July in Los Angeles to get the tour started.
The second round on Saturday, 20th July in Houston will feature a classic shoot-out against Real Madrid.
To round off the Summer Tour, the German record cup winners will play AC Milan in Kansas City on Tuesday 23rd July.
In this tour blog, DHL will be with FC Bayern every step of the way from the team's departure in Munich to the three tour venues and back to the Bavarian state capital.
As the tour progresses, we'll give you exclusive behind-the-scenes insights into what's happening, plus the chance to get to know fans and fan clubs from all around the world, and of course, we'll also have a little competition for you!
And this is what's up for grabs. We're giving away a match-worn jersey belonging to one of the FC Bayern stars after each of the three games. So you see, joining in makes plenty of sense!
Taking part is very easy. Simply upload a fan photo of yourself to our FC Bayern Global Family and you're in with a chance.
Click here to take part: www.inmotion.dhl/FCBayern
You want to see some summer tour action now?
Well, here's just what you've been waiting for! Here's a video clip with the best scenes from 2016 (we'll show you more highlights from previous summer tours tomorrow!):