Fashion
New Study Lays Out Vision for Future of Fashion Industry's 'Human-Centered' Supply Chain
Key Takeaways
'The Human-Centered Supply Chain – Delivered by DHL' study with CFDA released
Pioneering study in collaboration with Accenture, highlights four key areas of focus for building a design business in the new fashion landscape
Exploring why and how the fashion supply chain is changing, the report, titled "The Human-Centered Supply Chain – Delivered by DHL," presents the most important challenges, disruptions and changes influencing the fashion industry today and how these, in turn, affect both the supply chain and the fashion designers themselves.
The results of the study point to a human-centered model, which shifts from a sequenced approach of siloed operations to a flexible network of participants and partnerships that will enable agile and adaptable supply chain operations.
With a human-centered lens on design, manufacturing and delivery, this model puts designers at the center of supply chain operations, empowered to build their networks through collaboration and by using digital tools and new business models to increase their flexibility in an industry that is currently in flux.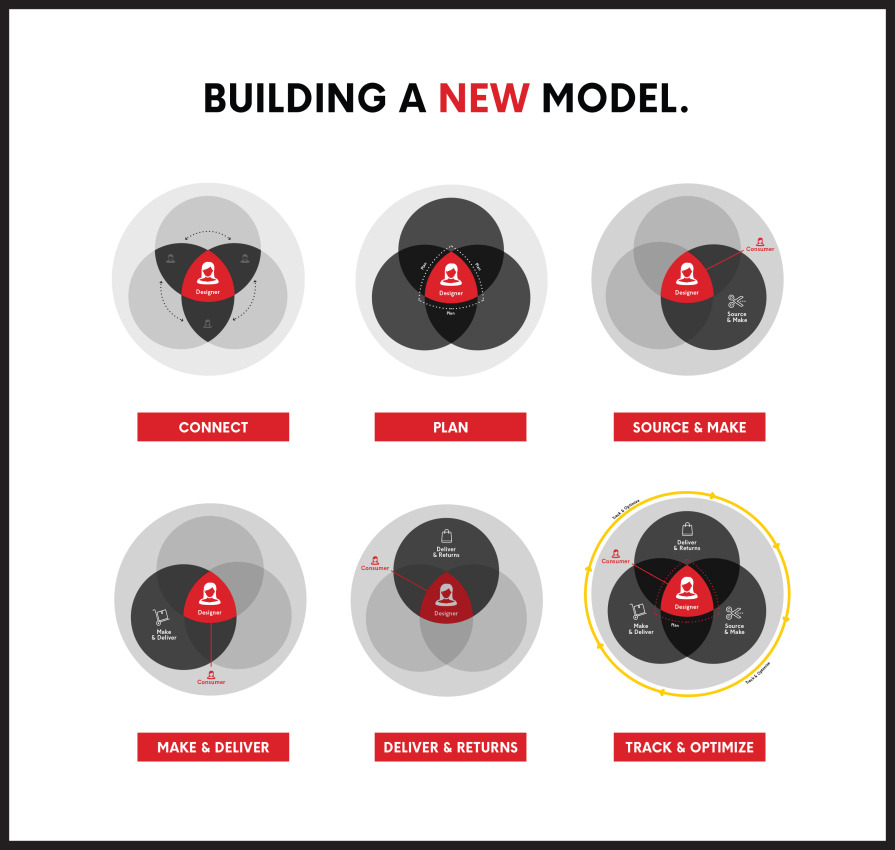 Step-by-Step guide
The study includes a Designer's Playbook — a step-by-step guide for building a design business in this new landscape — and a Point of View, outlining the key findings.
"Today's fashion designers know the frustrations and challenges that occur between the planning of a new design and its ultimate delivery to retailers and consumers," said Greg Hewitt, CEO of DHL Express U.S. "Along the way there are communication failures; delays and changes with source materials; manufacturing problems; and changing distribution requirements. The idea behind the new supply chain is not just to overcome these challenges, but to eliminate them altogether, using technology and new shipping and logistics tools to streamline the process."
The supply chain is critical to the transformation of the fashion and retail industry

Claudia Gorelick
"The supply chain is critical to the transformation of the fashion and retail industry," said Claudia Gorelick, business design lead at Fjord, which is part of Accenture Interactive. "As digitalization continues to affect the industry, designers must view the supply chain as an essential piece of strategy and brand-building — and adopt a collaborative, relationship-based mindset with suppliers and partners along the way."
According to the report, the human-centered supply chain benefits partners across traditional supply chain steps — from designers and material suppliers to factories and logistics partners — by focusing on relationship-building; enabling the sharing of expertise across partners; adopting collaborative approaches and shared communications; employing a networked approach to reduce costs and overall waste; and connecting partners across traditionally siloed steps to increase operational flexibility.
Four key areas
The report identifies four key areas of focus to anchor insights and opportunities, driven by digitalization and the increase of e-commerce:
Process ownership. A process with clear communication channels across partners will increase flexibility in sourcing, producing and delivering collections, and a well-defined — but flexible — approach will create more successful refinements. The key is to focus on process as a major component of design, integrating partners early on with clear communication of requirements about traceability and sustainability (if relevant), and including a dedicated step to integrate learnings from season-to-season.
Relationship building. Developing and nurturing relationships with partners across the supply chain, from mentors and experts to like-minded peers, is critical to success. Companies should focus on a relationship-first rather than transaction-based approach that identifies partners to collaborate with—to fill gaps in expertise, leverage passion points (such as sustainability), and create opportunities for sharing and collaboration.
Brand operations. Establishing clear operations and avoiding continual reinvention of the brand has proved to be an effective way to avoid unnecessary costs and confusion for consumers and suppliers. The key for retailers is to make the supply chain part of their brand story, with a test-and-learn model for manufacturing partners and retail, while developing clear ownership for relationships with shipping and retail partners.
Actionable information. Information feedback loops between suppliers, designers and consumers enable operational improvements and greater collaboration. Success will require integrating information at every step for more proactive and iterative decision-making, with an established cadence for reviewing sales and consumer data with retailers, and analysis of emerging trends and consumer behaviors from both inside and outside of the industry.
"The CFDA is always looking to provide its members with new ways of looking at their businesses in this rapidly evolving fashion industry," said Mark Beckham, Vice President of Marketing of the CFDA. "Through our partnership, we are able to leverage supply chain and international expertise to deliver this groundbreaking thought-leadership study around an often overlooked but critical link to success in our industry."
Methodology
For the report, CFDA, DHL and Accenture conducted extensive industry secondary research, fashion graduate research workshops, immersive designer workshops and interviews with supply chain partners. They analyzed the industry landscape, market trends, design operations, supply chain and logistics processes, and firsthand designer experience.