All the key information about the #DHLChallenge at Hack Days
Inaugural #FCBayernHackDays, 19th - 22nd January 2018 in the Allianz Arena, Munich
Fans, students and experts work together in teams to develop innovative fan experiences
DHL is official partner to Hack Days and organizer of the #DHLChallenge
#DHLChallenge: Participants are set the task of developing creative ideas for Global Family 2.0
Workshops and lectures by experts on innovative technologies and future developments
Each member of the winning team in the #DHLChallenge receives a selfie drone
The main prize for the overall winners is a trip to see FC Bayern playing an away match in Europe
Become a member of the Global Family at www.dhl.com/FCBayern
Finale of the #DHLChallenge: And the winner is....
So, we've come to the end of an exciting four days in the Allianz Arena: team building, a lot of hard graft, a 4:2 home win for FC Bayern Munich against SV Bremen, even more work and, last but not least, a lot of pitches to be made.
The last day of #FCBayernHackDays was all about these pitches. There was only one rule to be observed: you've got three minutes, so make it count! First of all, the seven teams competing in the #DHLChallenge gave a presentation of their projects to the panel of judges. We were really impressed to see what can be achieved in such a short time.
It wasn't just the various ideas that we found persuasive but also their technical implementation. The teams came up with fully functional virtual reality applications, interactive live maps and much more besides. All the participants earned our utmost respect!
But ultimately, it's like in the Bundesliga where there can only be one champion. So it was that the #DHLChallenge judges awarded first prize to Team Loom. The four-man outfit from Germany comprising Daniel Elsner, Constantin Mense, Christian Sedlmeier and Markus Springer were worthy winners on the basis not only of their concept but also its technical implementation.
Under extreme time pressure, the quartet managed to put together an online quiz and get it up and running. The microsite automatically detects the location of the user and is able to adapt the language to the user. On a single day – and without any additional publicity – 200 fans took part in the quiz. The prize was a Bayern Munich home jersey which, of course, will be delivered by DHL to the winner. Below, you can watch the team making their pitch.
At the end of Day 4, the winners of the individual challenges were invited to make their pitch again, this time to a high-caliber panel of judges. Overall victory went to the adidas team. DHL congratulates the winners! But we are sure that everyone involved in #FCBayernHackDays would agree with the Olympic ideal that it's not so much about winning as participating.
Q&A with the winners
First prize in the #DHLChallenge went to Team Loom. The concept which the all-German outfit came up with was judged to be the best. Each of the four team members was presented with a selfie drone. We can therefore expect even more spectacular selfies to be uploaded to the Global Family in the near future. Here's what the winners had to say:
What will you be taking away from FC Bayern Hack Days, apart from your prize of a selfie drone, of course?
Constantin Mense: Definitely the memory of four stimulating days – it was a great experience! We all learned a lot. We had good moments, and we also had stressful moments. But all in all, it was a super-cool team experience and an exciting event with interesting insights and cool people.
What was the biggest headache for you in the #DHLChallenge?
Christian Sedlmeier: The balancing act between FC Bayern and DHL. Having to bring these two key international players together and build customer loyalty to DHL by means of the FC Bayern connection. And I think we managed to do that with our product.
How would you briefly describe your concept?
Markus Springer: We set out to connect Bayern fans around the world with the aid of an app. The app is all about gamification. It's a platform that allows fans from all over the world to enter quizzes and competitions. There are various daily challenges for the fans. The ultimate aim is to win a team jersey. There are games that connect fans. The fans can chat, and there are even rewards for them if they get really involved.
What was your highlight of the four days here at the FC Bayern Hack Days?
Daniel Elsner: The highlight for me was clearly our success within a relatively short time in developing a fully functional game which immediately attracted 200 players. And then the fact that we were able to award a prize to the winner – an active member of the FC Bayern fan community – which proved that the concept worked.
Game over, but the finals are still to come
#FCBayernHackdays are entering the home straight. The penultimate day was not entirely devoted to fine-tuning concepts in the #DHLChallenge, as there was also the small matter of a football match.
The participants were inspired by the excellent form of the record championship winners as they beat SV Werder Bremen 4:2 in Sunday's home match, with Thomas Müller and Robert Lewandowski each scoring twice. Some Hackdays participants had a very special view of the action...
Stack Overflow CEO and programming guru Joel Spolsky delivered a presentation from the DHL platform, which was the perfect inspiration for the teams to further develop their ideas and implement them.
In fact, Team Loom got their implementation stage underway with a "field trial" (no cause for alarm – the pitch was undamaged!) You can find more information and a link to the prize quiz below.
So it may be game over on the pitch, but the finals are still to come. Monday is going to be really intense for the #FCBayernHackdays participants. As the four-day event reaches its climax, they will be aiming to impress the panel of judges with the merits of their projects. But in the meantime, please take a look at the photos from Day 3 in our gallery.
First prototype, plus a chance to win something!
Team Loom have come up with an idea and a plan for putting it into practice. The four German participants aim to produce a quiz that will become integral to the Global Family in an ingenious app, along with various ways of getting involved. A first prototype will be available for testing today – and there will be something to win as well! Help the guys in this first phase of testing. Show off your knowledge in the FC Bayern quiz and win one of this season's home jerseys. This has to be what you would call a win-win situation!
Try out the beta version of the competition here!
Q&A: Q & A: Engineering analyst and blogger, Andreas Schulz, mixes with participants
Day 3 is underway, and we've already heard a lot about the participants, the various teams and their ideas. We've come across a number of experts from many different areas at the #FCBayernHackDays, for example, Andreas Schulz, who blogs at Ingenieurversteher.de and is reporting on the event for DHL. So now it's time to turn the tables and ask Andreas what he's managed to learn so far at the #DHLChallenge.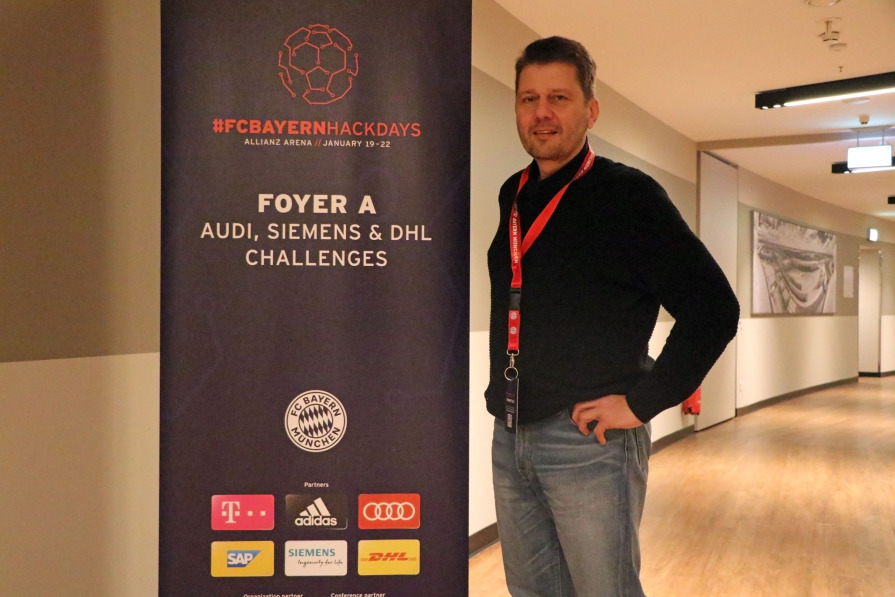 Tell us a little bit about yourself. What's your name? What do you do and how did you hit on the title of 'Ingenieurversteher' or Engineering Analyst?
My name is Andreas Schulz, and I run the blog Ingenieurversteher.de. I studied Mechanical Engineering and am therefore a proper engineer, but not a typical one. My forte is more in Marketing/Sales, which is not necessarily one of the strong points of your typical engineer. We have terrific engineers and some great solutions in Germany, but the marketing of those ideas is to some extent sadly lacking. The challenge that faces engineers is to develop technical solutions that also encompass brands and PR.
What do you think of the FC Bayern Hack Days?
What I really like, quite apart from location, is the general atmosphere. There are many talented and very able young people here with innovative, sometimes even crazy ideas. I've also been very impressed with the way the teams have got together to work in conjunction with one another, as that's the only way they can actually find solutions under the constraints of time. Their ways of communicating and their methodical approach are really exciting.
What do you find particularly impressive about the #DHLChallenge?
I think it's terrific to see how focused and motivated everyone is in their approach. I've already seen many ideas produced by the teams. It's great that they've actually managed to come up with some solid suggestions that I think DHL will pick up on. These ideas could actually add value to both the community and DHL.
The Global Family is growing, and it's all about teamwork
What a day! After the fascinating kick-off on Friday, the second day of #FCBayernHackDays really got down to business...
The participants in our #DHLChallenge split up into smaller groups to work on their ideas for Global Family 2.0 and to sharpen up the fine points of their projects.
Are you ready? In the north, in the south, in the west and in the east? Here come FC BAYERN...
Hang on a minute. We're quoting a line from legendary stadium announcer Stephan Lehman. Best to wait until tomorrow, because that's match day when Bayern play SV Werder Bremen in the Bundesliga.
So, let's try again:
Here are the #DHLChallenge teams and their ideas in brief. First up today are an international trio drawn from three teams – the FANtastics, FCBpulse and SDAEHTIHS.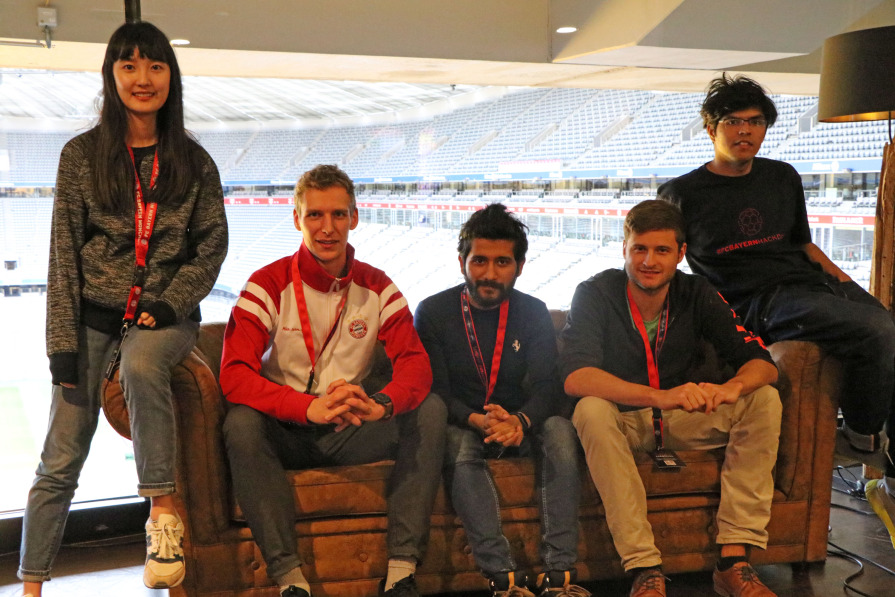 The FANtasticFive team chose their name for a reason a purpose: Jiaqi Wang from Shanghai has been a fan of FC Bayern for many years. And as we can see from what they're wearing, she is not the only one on the team. Her idea is to create a dedicated social network within the Global Family. In addition to user-generated content such as photos and videos, there would also be regular challenges. In this way, fans can show how much they support the club and ultimately win prizes.
Obviously, the biggest concentration of Bayern fans is to be found in Munich itself. It's the home city for the club and where the chant of "Mia san Mia" rings out loudest ...;) But where else can Bayern fans be found? Team SDAEHTIHS – with members from the USA, Russia and Pakistan – not only wants to collect selfies from like-minded people all over the world, but also to see their locations. Where are other Bayern Munich hotspots apart from Munich itself? An interactive map enables everyone to see that instantly.
Bayern fan meets Bayern fan – and not only in the virtual world, but in real life too. This is the suggestion made by Team FCBpulse. Fans would be able to check an interactive map to see where something is going on. If they like, they can organize their own meeting and invite fans to come and watch the Bayern match in their homes. For top events of this kind, a DHL courier could deliver drinks just ahead of kick-off. And if your home is not big enough to function as a movie theater, the meeting could be organized for a bar where the game is being shown.
Incidentally, we are not the only ones here who are enthusiastic about the creativity and innovation of #DHLChallenge participants!
Best Pictures from Hack Days so far
#FCBayernHackDays are in full flow. We're learning a lot. It's not just technology and society that are undergoing rapid change – the same goes for the weather. Anyway, the teams don't have much time left to soak up the stadium atmosphere. The participants have already come up with some interesting concepts that we'll be looking at in greater detail later. Until then, here are some impressions of Day 2 in the Allianz Arena.
In search of innovation with the FC Bayern Global Family
Servus from Munich!
This morning, we immediately set to work chasing down ideas, innovations and new technologies.
We were aided and abetted in this by participants from nine different countries of the world including China, Romania and the USA.
Our hunting ground is one of the most modern and probably most visually appealing football stadiums in the world. That is, of course, wholly subjective. But that is surely the prerogative of a DHL Fan Reporter! ;o)
The event in the Allianz Arena is a home match for DHL as Official Logistics Partner to the record Bundesliga championship-winners.
Ideas for Global Family 2.0
The business for today was not putting the ball in the back of the net Sepp Herberger-style but rather allowing creativity to blossom off the pitch.
Today, the neat one-twos weren't being played by wingers Robben and Ribery but by the nearly 30 participants in our #DHLChallenge.
The first task for our mental dribbling artists sounds simple on paper, but its importance is not to be underestimated: to come up with original ideas. This was the basis for project work in smaller groups.
So what did this task involve?
Quite simple: Our FC Bayern Global Family already has more than 50,000 members. The participants in our #DHLChallenge are trying this weekend to find new technological approaches to launch Global Family 2.0 and to connect even more fans worldwide.
The quest for digital solutions
For FC Bayern, the Hack Days event has an enormous strategic importance, so CEO Karl-Heinz Rummenigge went all out in his opening speech to get the participants in the right mood.
Hack Days are the opening shot in our push to do better in this area and to achieve our goal of becoming the global benchmark for the digitization of a football club.

Karl-Heinz Rummenigge
"We have decided that, in 2018, the digitization of our club will be key for our off-pitch activities. Hack Days are the opening shot in our push to do better in this area and to achieve our goal of becoming the global benchmark for the digitization of a football club."
Key concepts such as digitization, social media and virtual reality are nowadays part of everyday life in many different contexts. A series of special workshops and lectures by experts brought this home to the participants, explaining vital details that would assist them in completing their tasks this weekend.
We can confirm from our own experience that this is more than just theoretical. For example, so-called "smart glasses" are already being tested in DHL Supply Chain warehouses. These are data glasses that help employees to pick products off the shelves more efficiently.
The so-called "Internet of Things" – in short, a global infrastructure of information companies – is already being tested by DHL in warehouse environments throughout Germany, Poland and the Netherlands in a quest for enhanced efficiency. These were just two of the topics on today's agenda for the Hack Days participants.
Teamwork as a success factor
The opening day was therefore all about absorbing knowledge. When we left the Allianz Arena late on Friday evening, the sun had long gone down.
With the home ground of the German record championship winners now flashing red and white against the starless Munich night sky, the participants in our #DHLChallenge still have some tough nuts to crack.
But no worries. No matter how tough the nut may be, a creative brainstorming session in a close-knit group will always bring some unexpected solution to the fore. The key is teamwork!
And so it all starts again tomorrow when we'll be looking at how to implement these ideas.
#PackMas!
Here are the key facts and information about #FCBayernHackDays
This weekend is when it all happens: FC Bayern will be playing their first Bundesliga home match of the year on Sunday in the red-lit Allianz Arena. But that's not all: this weekend (Friday through to Monday) also sees the first ever #FCBayernHackDays.
As Official Logistics Partner to the record German championship-winning club, this is obviously an occasion that we're not going to miss. Our DHL Fan Reporter will be mingling with the participants on each of the four days and taking a look at what's going on behind the scenes. Always in search of new innovations and technical delights...
What are #FCBayernHackDays?
The terms "HackDays" and "Hackathon" signify an event at which experts from various disciplines work in teams on technical, business or design issues. The objective is to jointly develop innovative and creative software, to build prototypes and to generate ideas. In this way, we aim to come up with innovations and new technologies that will bring FC Bayern fans even closer to their club, both inside and outside the stadium.
What will happen?
For the participants, there is only one guiding principle: "Let your creativity run wild!" In the unique atmosphere of one of the most beautiful and modern stadiums in Europe, they will be pooling their efforts to find solutions. Fascinating workshops and lightning talks by experts will provide inspiration and set them off in new directions. The four-day program also includes some unique entertainment and a few surprises.
Who will be involved?
#FCBayernHackDays are a creative blend of technology, design, science and football. The participants will include fans, entrepreneurs, programmers, innovators, designers, hackers and various other categories. The #DHLChallenge, for example, will bring together almost 30 participants from nine different countries around the world, including China, India, Romania and the USA. The perfect mix to come up with new ideas for the Global Family!
What is the #DHLChallenge?
The #DHLChallenge is one of seven tasks to be tackled in the course of Hack Days. To this end, the participants in each challenge will split into small teams of three to five members. They will then set about discovering new ways to add value to the Global Family, to grow the organization and to open up new horizons. Various creative project ideas, apps and websites will emerge that will take Global Family 2.0 to a new level.
What prizes are to be won?
The final pitches of the competing teams will be made on Monday 22nd January. The judges will then choose the #DHLChallenge winners as well as the overall winners. The winners of the #DHLChallenge each receive a selfie drone. The main prize for the overall winning team is a trip to see FC Bayern playing an away match in Europe.
That certainly sounds exciting, doesn't it? We'll stay on the ball for the entire weekend and report on the creative ideas of the participants in our #DHLChallenge. Follow us on Twitter and Facebook. Then you are guaranteed to miss nothing.